Surveying technology - a bright future
By Mike Hayes09 July 2021
The next generation of surveying tech is ready to be used by a new generation of construction pros
In construction, the surveyor's job is, in many ways, becoming much easier, given the number of tools at their disposal. At the same time – and for the same reason – it's never been more complex.
While the days of surveyors walking sites with theodolites are not yet a thing of the past, it's clear that total stations, drone surveys and robotic dogs will be taking much of the strain in the future – and doing it with more accuracy, more speed, more multi-function capabilities and a significantly reduced risk of human error.
As with everything new, though, contractors need to take the next step at the right time. There will be those who can afford to experiment with new technologies, and those who need to be convinced of the potential return on investment.
The tipping point seems to have come now, at least in relation to larger projects, with many developers expecting to see next generation surveying techniques and technologies as part of the tendering process.
Action stations
Topcon's sales manager on geomatics, Leighton Davies, says, "The future of surveying is digitised, accurate and accessible. The power of precise data is being realised across all aspects of the surveying process, and this is where the next generation of technology will help to improve efficiencies and accelerate economic recovery in a post-pandemic world.
He adds, "Digitisation in surveying not only allows for increased efficiency on site, but when pairing this with integrated workflow and software solutions, real-time data can be communicated between field and office teams with the click of a button. This simplifies collaboration amongst teams, improves logistical issues and can even help to avoid costly rework on projects further down the line."
Topcon often recommends hybrid surveying solutions for surveying, such as pairing its small and lightweight GT Series robotic stations with one of its Hiper GNSS (global navigation satelliete system) receivers. The company says the technology helps boost productivity by streamlining the way teams work in the field, with the data gathered being more accurate and shareable than ever. This shareability, of course, includes all stakeholders, who can independently view and analyse the data.
As construction projects – and with them jobsites – become more complex, so too must surveying technology.
Combination technologies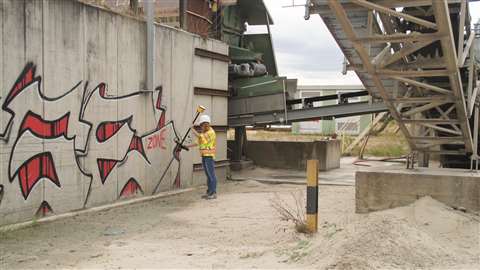 Technology giant Trimble says 'traditional' surveyors can appreciate having access to more sophisticated equipment.
Didier Colin, director of sales, EAME & India, with Trimble Civil Construction Field Systems & Marine division, told us more about the company's Siteworks Positioning System for construction surveyors.
He said, "This consists of the Trimble Siteworks Software, the SPS986 or SPS785 GNSS Smart Antenna and either a handheld, Trimble TSC5 or TSC7 Controller, or a Trimble T7 or T10 tablet.
"The key here is a combination of a portfolio that fits different people's different skills, ways of working and offers scalability. Tilt compensation on the GNSS smart antenna boosts productivity as the surveyor is now able to measure up close to structures and under challenging circumstances.
"The Siteworks software serves as the heart of the field operation. It is available in multiple editions, from an entry level to a full-fledged version. The interface, graphics and natural interactions offered by Siteworks make it intuitive and easy-to-learn.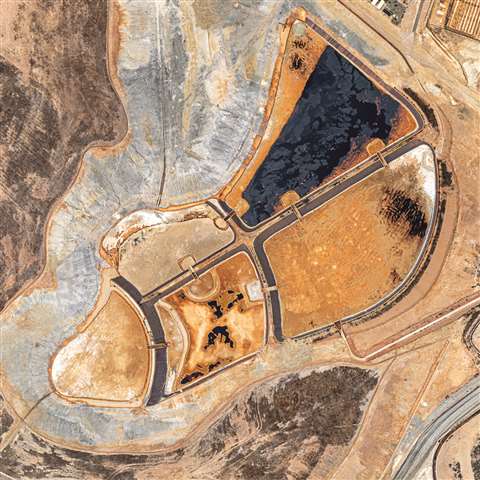 "It is fully adaptable to the user's way of working and personal needs, which makes it extra suitable for the current generation, which has grown accustomed to a certain way of working, as well as the next generation of surveyors, which thrives on the personalization of their toolkit.
"By visualising data in 3D while it is collected, all surveyors can rely on the equipment to help minimise errors and rework."
Aerial alternative
While feet on the ground can still be extremely valuable, there are occasions when teams managing expansive sites might need to turn to airborne surveying methods.
As an example, Portugal-based Aerisurvey was recently asked by Portugal's Ministry of Economy to survey 20 quarries – and given just a 60-day deadline to get the job done.
The company had to undertake hundreds of drone flights, as well as covering over 12,000km driving between locations.
A Microdrones mdMapper1000DG UAV mapping solution was used to produce on-time deliverables including orthophotography, contour maps, ground points showing different densities, individual records for each GCP, point cloud, ready-to-print maps, a full 3D model and aerial videos.
Nuno Santos, Aerisurvey's founder and CEO, worked as pilot, operator and data specialist on the project.
He said providing the same amount and quality of data through traditional surveying means would have cost significantly more, adding that the client "…had never seen such quality data, especially in such a short amount of time."
Aerisurvey's mdMapper1000DG is equipped with the Sony RX1R II camera with 42.4 megapixels, paired with a custom, light-weight, vibration-free, nadir mount.
It also incorporates Microdrones' Direct Georeferencing feature, which connects aerial images to their position on the ground by measuring true 3D coordinates and orientation angles of any sensor. This reduces the amount of time needed to collect and post-process data, and eliminates the need for ground control points.
Spot the difference
While the notion of robots on the jobsite is still science fiction to most construction professionals, it's worth noting that they have been operating in sectors such as demolition for some time.
Now, in surveying terms, realistic robotic solutions are on offer; they include the widely publicised Spot robotic platform from Boston Dynamics. Once the fascinating dog-like machine had been fully developed – with its incredible ability to walk up and down stairs, over uneven ground and navigate around obstacles, while staying upright – Boston Dynamics worked with Trimble to develop its capacity as a platform for GNSS and data collection technology.
The combined solution now has the ability to continually monitor site progress in a number of ways, including capturing 360-degree snapshot images and video, or via BIM model capture – by equipping Spot with a laser scanner, the robot can remotely measure critical areas of the site and compare as-built conditions to the model, detecting clashes and minimsing rework.
Extended reality
While some surveyors may feel threatened by the wealth of tech solutions out there – after all, they do offer a range of virtually human-free alternatives – the fact is, these solutions are empowering for the next generation of surveying professionals, allowing them to do significantly more with the data they gather.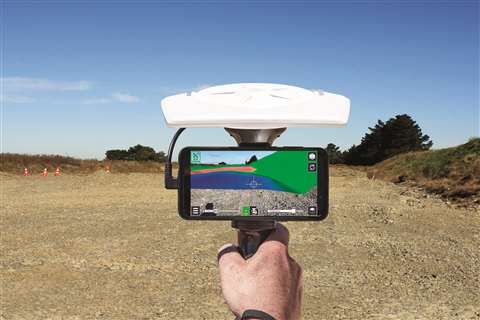 GIM International, the magazine for geomatics professionals, said, "As data collection becomes more efficient and sensors become more powerful, the emphasis is shifting to the office software, feature extraction and modelling automation.
"For those construction surveyors willing to expand their worldview and their business, there is the possibility of mastering the positioning requirements of various models beyond the pure positioning data.
"By getting an understanding of digital construction, these surveyors can in fact better understand the endgame and use that knowledge to improve on the way their work is adding to the efficiency and productivity of projects."
This thinking is clearly demonstrated by the arrival on site of augmented reality devices such as Trimble SiteVision. This handheld solution lays a digital model over reality, enabling surveyors to compare the actual situation with the shared model stored in the cloud.
In this way, a surveyor can visualise the design in-the-field, getting a clear picture of how a plan is likely to affect the surrounding environment.
So, whether the data is derived from a UAV solution, a BIM model, digital twin, augmented reality system or robotic dog, it is incumbent upon today's – and tomorrow's – surveyors to learn how to interpret that data.
This is a step beyond 'traditional' surveying, by which data was merely delivered, but a step that allows it to add more to a construction project than ever before.
Sky's the limit for new Hexagon tech
HxDR will host a digital twin of the whole of the Netherlands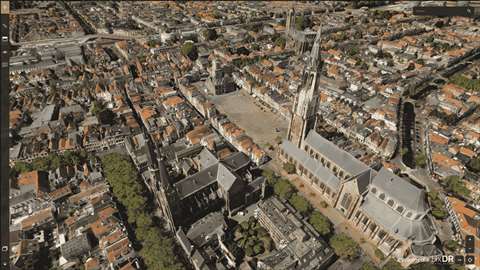 Cyclomedia is a Dutch company specialising in the large-scale visualisation of environments, based on 360-degree panoramic aerial photographs.
The company called on Hexagon Geosystems to help it create a digital twin of the Netherlands. Hexagon provided HxDR, its cloud-based visualisation and collaboration platform, as a host for a virtual representation of the country, known as 3DNL.
Hexagon worked with Cyclomedia, flying the Leica CityMapper-2 solution – a hybrid imaging and LiDAR technology that it says offers unmatched data accuracy for mapping urban areas.
CityMapper-2 is designed for use with unmanned aerial vehicles (UAVs or drones), capturing 150 megapixel images – two nadir (of the ground, taken vertically) and four oblique – every 0.9 seconds.
Leica said of its technology, "With a new generation 2 MHz pulse rate LiDAR, this sensor breaks all conventional barriers of urban mapping".
The system also uses a newly-developed Leica MFC150 optical system, equipped with mechanical forward-motion-compensation; meaning the CityMapper-2 can capture high-quality imagery, even in difficult lighting conditions.
The sensor allows the creation of extremely detailed geospatial base layers, including orthophotos, point clouds, 3D building models and meshes, all from a single flight.
John Welter, president of Geospatial Content Solutions at Hexagon, said, "As a technology provider, we strive to offer innovative solutions and business models that meet our customers' needs. The collaboration with Cyclomedia showcases how geospatial partnerships can deliver innovative products that serve the public, solve problems and democratise geospatial data."