Suspended belief - extreme chimney demolition in Austria
By Lindsay Gale16 November 2010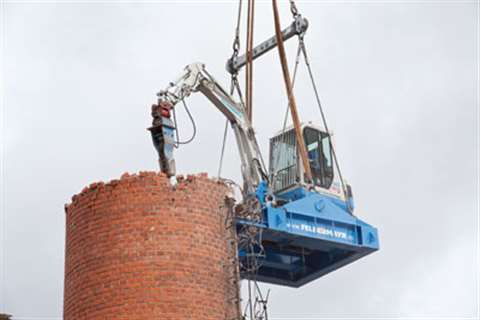 The demolition division of German contractor Felbermayr adopted an adventurous approach when it had to demolish a 100-year-old brick chimney formerly part of a heating plant at the Vereinigte Fettwarenindustrie plant in Wels in northern Austria. The chimney had become redundant following the heating plant's conversion from burning oil to natural gas, resulting in lower emissions to the atmosphere from the plant
Due to the nature of the site, with other buildings in close proximity, the use of explosives was ruled out. Quite apart from this, Felbermayr was also reluctant to expose those around the chimney to the dust that would result.
The solution finally adopted by the company for the demolition was to suspend a 4.7 tonne Takeuchi mini excavator sitting on a specially fabricated frame from a Liebherr all-terrain crane, which then lifted the excavator to the top of the chimney where it demolished the chimney from the top down using a hydraulic excavator. Two I-beams protruding from the front of the frame were used to keep the excavator and frame in contact with the structure of the chimney and at the correct distance away from it to ensure maximum efficiency and safety.
Prior to the work being carried out, Felbermayr naturally had to convince the relevant regulatory body, TUV, that the work could be carried out safely. According to site manager Bernhard Radler; "Given the way we planned to do the work, you can imagine that this was no easy task since the primary aim of TUV is the promotion of safety, but our TUV contact was very cooperative." After detailed discussion, TUV agreed that the method could be used.
However, before the demolition could begin, Felbermayr had to clean the inside of the chimney to remove the soot that had built up during the chimney's working life. According to Mr Radler, this was necessary in order to prevent the demolition rubble from mixing with contaminated substances. If this occureed, the arising debris could not be recycled. To carry this out, suction equipment was used operating at 8 Bar pressure to remove some 20 cubic metres (705 cubic feet) of soot from the inside wall of the structure, which was subsequently analysed and appropriately disposed of.
Considerable efforts were also made to protect the other structures around the chimney from damage from falling debris. Roofs were reinforced with joists and ceiling supports, as well as covered by layers of geotextile membranes, with bales of straw acting as splinter shields.
Once these protective measures were in place, the actual demolition could begin, with the crane hoisting the excavator to the top of the chimney and supporting it as it worked its way down. All involved with the demolition were agreed that it was no normal job and the operator won the utmost respect from all personnel on site. In one day of hammering, the chimney was brought down to a height of 8 m (26 ft), at which point, the excavator was lowered to the ground, from where it then demolished the rest of the structure. The operator considered carrying out this stage of the job to be less safe than when he was working suspended from the crane but nevertheless was quoted as saying; "Even if it is not so safe, I prefer it." It is not hard to imagine why he felt this way!