Sustainable district in Amsterdam
By Sandy Guthrie12 September 2017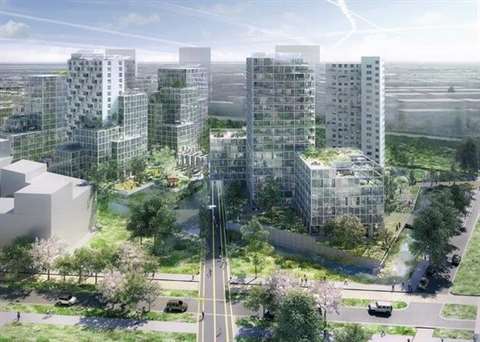 A new, low traffic district with approximately 1,350 homes is to be created in Amsterdam, the Netherlands, following the acquisition by the Bam Group's area and property developer AM of the former Bijlmer prison from the Rijksvastgoedbedrijf (the Central Government Real Estate Agency).
AM – as leading partner in a consortium with AT Capital, Cairn and the designers OMA and LOLA Landscape – will develop the new district, Bajes Kwartier. The consortium is paying more than €84 million for the site.
Bam said that all new buildings would be completely energy-neutral and the houses would be well insulated. Most of the energy needed will come from solar panels. In addition, wind energy will be provided comes from roof elements with built-in wind turbines. The organic waste from the district will be transformed into electricity.
Warmth in winter and cooling in summer will comes from heat pumps in the buildings. There will be no connections to natural gas, and each house will have a hot water tap from a sustainable heating system.
It said some 98% of the prison's building materials will be reused. Concrete and cement will be broken with new techniques and reused. Old cell doors will be used to make a bridge. Bam added that even the bars would be reused – as balcony fences.