Svargo to build broadcasting centre in Moscow
By Laura Hatton04 September 2015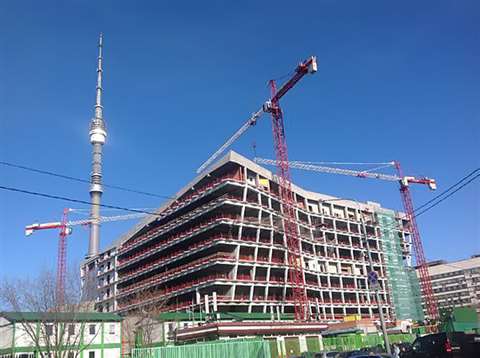 Russian contractor Svargo Group has put four Potain tower cranes on the build of a new broadcasting centre in Moscow, Russia.
The nine-story building is being built for Russian television channel NVT. The cranes, including two MC 235 and two MD 265 tower cranes, were supplied by Moscow-based GlavArendaKran (GAK), part of the Rentakran Group.
The building will house news and television studios, offices, a control room and a restaurant. It will include inclined facades, multiple elevation points and concrete slabs arranged in a jagged form, a spokesperson said.
The cranes have been on site since the summer of 2013. Work includes lifting precast concrete and buckets, fittings and other equipment, with loads weighing up to 6 tonnes. The MD 265, which has a higher capacity, is also lifting concrete pumps and metal window frames weighing up to 8.5 tonnes.
To carry out the work, the 10 tonne capacity MC 235s are configured with 55 metre jibs and will reach a final working height of 56.7 m. The 12 tonne capacity MD 265s have been configured with 60 m jib and will reach a final working height of 66.2 m. The cranes are working nearly 24 hours a day in three shifts, and have cold weather packages.
Grigory Danilov, GlavArendaKran director, said, "This TV centre is unique, not only in Russia, but throughout Europe, and its design will dominate the local area. The Potain cranes are helping build a complicated design with architectural combinations and methods that have never been used before in Moscow."