Swedish subsidiary for Wirtgen
By Sandy Guthrie28 March 2014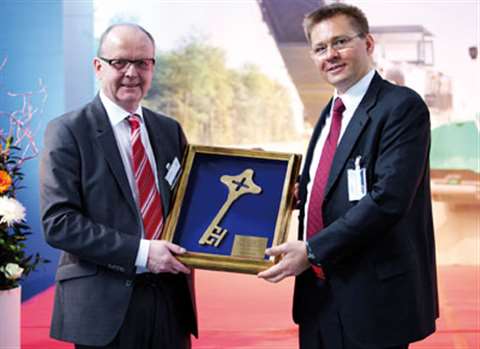 German-based roadbuilding and quarrying equipment company Wirtgen Group has opened a new subsidiary in Alvesta, Sweden – a move it said would consolidate and expand is position in the country.
It said that there were high-specification rooms and state-of-the-art equipment for the team of 25 at the 15,000m² site at Alvesta – both for the employees in the three-storey main building and for the service team in the workshop, as well as the original and spare parts warehouse.
The new building has eight borehole heat exchangers reaching a depth of up to 250m, using geothermal technology to extract energy for heating and cooling. The modern system supplies the entire office complex.
Wirtgen said all its group subsidiaries were bound by the same quality standards as the German brand headquarters, adding that this served to ensure "identical conditions for optimum customer service everywhere in the world".
Wirtgen Sweden managing director Lars Görefält said, "The new premises allowed us to also expand our range of training courses. Know-how is a major key to success. Our customers will profit from increased expert knowledge in their day-to-day operations."
More than 200 guests attended the opening of the Wirtgen Sweden premises, along with representatives of the four Wirtgen Group product brands – Wirtgen, Vögele, Hamm and Kleemann.
Görefält and Wirtgen Group managing partner Stefan Wirtgen performed the official opening.
Görefält said, "With the new subsidiary in Alvesta as our main location, and two branches in Frövi and Gothenburg, we are always close to our customers in Sweden, too, and perfectly positioned to meet their needs."