Swerock adds Rockster mobile crusher
By Leila Steed04 July 2019
Sweden-based Swerock Recycling has added a new Rockster R1000S mobile crusher to its fleet.
The Rockster mobile crusher incorporates a Volvo Tier 4f engine that produces low NOx emissions and a hydrostatic drive, which maintains a constant crushing power and reduces diesel consumption.
Niklas Johansson, sales partner at Biocare Svenska, said: "High throughput of this compact machine, perfect transport dimensions and excellent access for maintenance have convinced my customers that the Rockster crusher is the right one for them."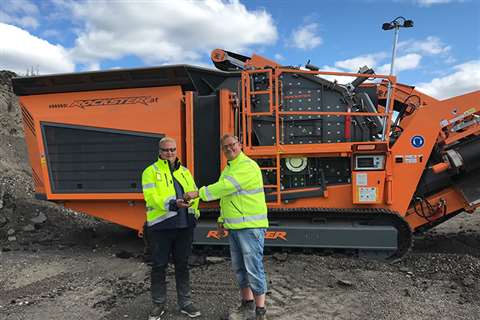 The R1000S features a hydraulically lowerable screen box, swivelling catwalk and swivel-up door. The manufacturer added that service work, maintenance and the replacement of screen meshes can be carried out quickly and easily.
Swerock's new R1000S will be used for recycling of demolition debris. It can recycle used asphalt to within zero to 16 mm and crush concrete to between zero and 70 mm.
According to Rockster, Swerock supports a resource-efficient society and is aiming to reduce the environmental impact of its recycling activities and emphasises the efficient reuse of construction waste.
"For a recycling company like Swerock, the environmental impact of the machine is an important purchasing criteria," Rockster added.
"The company sees itself as an environmentally friendly service provider and wants to contribute to the recycling of construction waste for the protection of raw materials and the reduction of waste."