Sykes Pumps dewaters Hinkley Point C
By Leila Steed25 February 2020
Sykes Pumps, a division of specialist rental company Andrews Sykes, is providing pumping systems and services to the UK's Hinkley Point C nuclear power station, in order to manage the amount of water on site.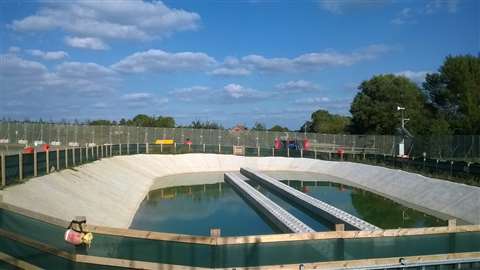 Hinkley Point C is located on the coast of Somerset and is subject to heavy rainfall and tidal surges. It is being built by the Bouygues and Laing O'Rourke joint venture company Bylor.
Due to the size and scope of the site, Sykes is supplying a range of equipment and systems to manage the differing water levels around the site.
A spokesperson for Bylor said, "This is much more than a pump hire agreement because of the size and complexity of the site.
"In addition to the right equipment, Sykes Pumps has provided us with a consultancy-based service that ensures we have the right solutions in place for different areas of the site and the varying pumping needs of different elements of the construction programme."
In order to manage the water levels effectively, Bylor has divided the site into water management zones (WMZs) and provided Sykes with the maximum flow rates for each WMZ, which were calculated from more than 100 years of storm level data.
For one of the WMZs, Sykes is using three PX30 heavy duty electric submersible pumps to manage the in-flow of tidal surges during the construction of Hinkley Point's sea wall.
Bylor's spokesperson said, "At high tide, we needed to be able to pump 350 litres of water per second away from the site. The best approach for this was a submersible pump designed for high flow rates and high heads, which is exactly what Sykes Pumps provided."
The contractor is also renting Super Wispaset 100 4″ diesel pumps and Super Wispaset 150 6″ pumps from Sykes Pumps. These are being used at various locations around Hinkley Point C to pump groundwater and rainwater into 'dirty' water storage lagoons.
"Some of the excavations are as deep as 35 metres, which means a lot of water, silt and sediment. That's why water storage lagoons are a critical element of the water management strategy, allowing us to test the water before it's returned to natural water courses," said Bylor's spokesperson.
In addition, Sykes is supplying fourteen electric surface-mounted pumps and ultra-sonic control systems with control rooms for each WMZ.
Bob Lima, Sykes Pumps engineer, said, "The control systems mean they are extremely low maintenance and will respond rapidly to water conditions in real time.
"Each WMZ has been specified with a pumping capacity that meets the maximum 100-year resilience required for the specific location, with automated adjustments to flow rates and rapid start up of the pumps with automated priming.
"The system also provides fault monitoring and the flow will automatically switch from duty pump to standby in real time if a fault is detected, enabling the on-site team to call our engineers out for a maintenance visit."