Tadano crane's quick bridge removal
A Tadano ATF 400G-6 crane has helped remove a 34 t bridge spanning France's Autoroute du Nord in a single lift.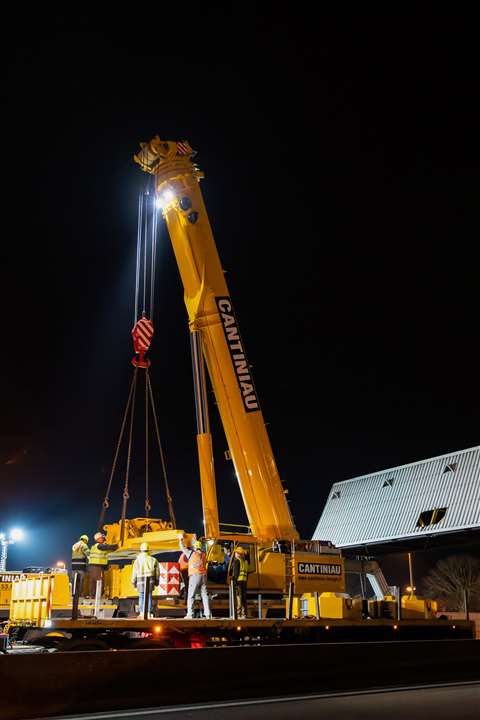 It was supplied by crane service provider Cantiniau Levage, based in Feignies in northern France near the border with Belgium, which has a total fleet of 13 cranes including the new model and five additional Tadanos ranging from 40 to 130 t. The client was demolition and earthworks specialist company Renaud.
Cantiniau Levage delivers most of its crane services during the day, but for this job, with its requirement for mininal traffic congestion, the bridge had to be removed at night and traffic diverted via the east and west rest stops.
Tadano said the ATF 400G-6 proved the right choice due to its load-swing-free lifting to the strongest main boom in its class and its exceptional lifting capacity.
Only a few hours were needed for the setup, especially mounting the 96 t counterweights on the crane for lifting the overpass, and then taking down the all-terrain crane.
Positioning and moving the crane with the counterweight was also described as effortless, despite challenging environmental conditions including difficult visibility and a strong wind.
The bridge – which measured 35 m (114 ft) long, 5 m (16 ft) wide, and 5 m high – was lifted in a single piece in one lift and set down at the rest stop in the construction site area. For this to happen, the overpass was fixed by means of a fourfold reeved double hook and enough spaced fastenings to counteract any load swing.
The maximum lifting height was 20 m (65 ft), the boom was telescoped to 35.5 m (116 ft), and the lifting time was 15 minutes.