Tadano is first new crane for Erregi
By Alex Dahm23 April 2020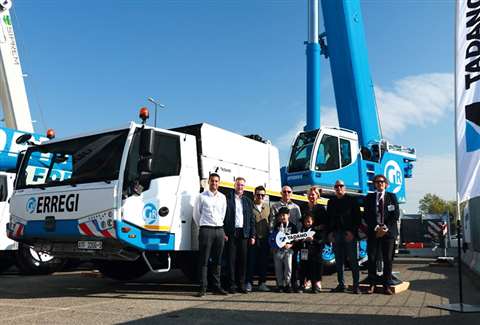 Until now the 40-year old Italian industrial services company Erregi has only worked with used cranes.
Now its first brand new crane, a 220 tonne capacity all terrain, has been delivered by manufacturer Tadano in Germany. The ATF 220G-5 will work in the northern Italian industrial region of Brescia, primarily installing prefabricated concrete panels for industrial buildings.
Giuseppe Romele, Erregi CEO,commented, "Including the 220, we now have a fleet of 11 cranes, including various 80, 100, and 200 tonners. The all terrain model really stands out. All things considered, it has more good qualities than any of the other cranes. Point 1: fuel costs. Only the optimised superstructure engine is running while we're on a job, so we're able to save an average of 4 or 5 litres of fuel thanks to the dual-engine concept. Point 2: time saving. Our 220 has a robust main boom and an 18-metre boom extension, which offers a large range. This means it's very rare for us to have to change it or set it up again. Point 3: transport. The 220's flexible counterweights allow for optimal counterbalancing of the trucks we're carrying along."
A second winch is fitted, in addition to a boom extension and remote control. It allows easy handling of the heavy and often cumbersome prefabricated concrete panels. Manipulating and positioning the elements is made much easier and damage to the corners is less likely, Tadano said.