TAH expands truck fleet
By Leila Steed10 February 2020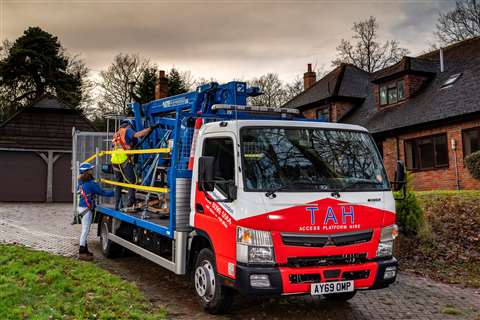 UK-based TAH Access Platform Hire has expanded its transport fleet, with the addition of a new Fuso Canter 7C18 truck.
Supplied by Orwell Truck & Van, the 7.5 tonne vehicle will be used to transport TAH's tracked CTE Lift tracked platform, which has a reach of 23m and weighs around 2,900kg.
Derek Mark, general manager at TAH Access Platform Hire, said, "We have to contend with a lot of weight restrictions on the roads in this part of the world, and 7.5 tonnes tends to be point at which these kick in.
"No other vehicle in this GVW class carries the weight as well as a Canter. It has an unrivalled payload capacity which we use to the full, and means we can get our 23m spider to just about any location we need to reach."
With a payload of 3,410kg and a 3 litre turbodiesel engine, the Canter 7C18 is fully automated and includes dual-clutch DUONIC transmission with Eco Mode.
TAH, which offers both self-drive and operated access equipment in Greater London, also had the truck fitted with an electric winch, a radio remote control kit and a chassis-mounted toolbox.
Manufactured by Mitsubishi, it is the second 7.5 tonne Canter model in the company's truck fleet.