Take action to eliminate downtime today
The mother of all problems in construction
In construction, 60% in productivity growth is wasted and this leaves our industry far behind the global economy, costing millions each year. Downtime is the central productivity barrier, but downtime is much more than just machines sitting idle. It also means missing spare parts, injured operators, and lost revenue. It's flawed processes, failed partnerships, and environmental strains. Every link in the construction value chain has its own downtime story to tell.
Collaboration as a catalyst for change
The eliminate downtime journey set out a year ago and over its course, one element seems to get us closer to the goal: collaboration.
"At Trackunit we believe in eliminating downtime. And we have this goal and this mission that can actually be achieved if we - as an industry - do it together.
Eliminating downtime is also about avoiding downtime between fleet management systems, ERP systems, CRM systems, controllers on the machines and assets on the job site - there is a big downtime problem right there in front of us that we have to eliminate and collaboration is the only way forward" - Soren Brogaard, founding member of the initiative
Change starts internally
Collaboration does not necessarily mean starting huge projects with all the big players in your network tomorrow. Collaboration starts within your organization - within your team. The learnings from the internal projects will give you a much better chance to succeed with larger endeavors. One of the companies that have embraced collaboration and the eliminate downtime journey is Finnish Renta.
"We are all here at Renta HQ really excited about the eliminate downtime movement. We have proactively created internal projects regarding telematics capabilities, and writing whole new solutions to support the movement. We have also taken it as one of our digitalization cornerstones." - Joel Särkkä, Renta
The Eliminate Downtime Benchmark gives you a guideline for where to start.
Invest 5-10 minutes today and take part in the downtime survey. You will get a custom benchmark report in return. The report shows in which areas you perform better (or worse) than your industry peers and suggests recommendations for improvement that you can take to your teams and use as a starting point towards a more productive future with less downtime
https://trackunitfeedback.typeform.com/to/j8AfOd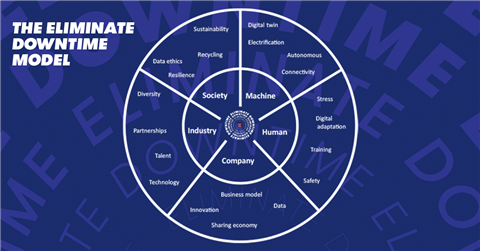 The downtime model
The survey is based on the Downtime Model which has been developed in close collaboration with industry leaders of the Eliminate Downtime Committee. The model reflects the many facets of downtime and gives us as an industry a common language to talk about the various dimensions to the issue at hand. The model consists of five different dimensions addressing downtime from different perspectives; Machine, Human, Company, Industry, and Society. Read more about the model https://www.trackunit.com/company/blog/blog-posts/elephant-in-the-room/
What is eliminate downtime?
https://www.trackunit.com/company/eliminate-downtime/ is backed by visionary leaders, startups and executives from tech and construction. The individuals and organizations joining the movement are a demonstration of the wide-felt need for change: We all believe that by sharing and working together we can deliver on the bold promise: By 2025, we will eliminate downtime.
Take part in the journey - take the survey now