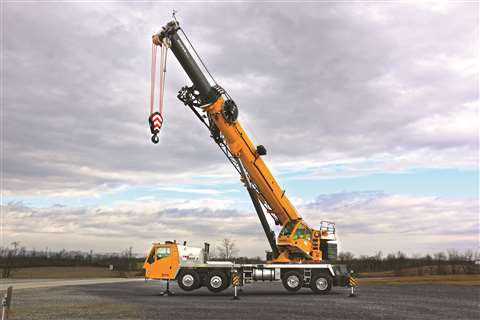 It is an exciting time in the truck crane market with two of the biggest manufacturers announcing new models ahead of the ConExpo show in Las Vegas, early March. Truck cranes are ideal for placing equipment, steel erection, equipment maintenance, concrete work and prefabricated building construction.
Crane giant Terex announced the release of its 100 tonne (110 US ton) capacity T 110, said by the manufacturer to be a "top-performing crane in the 100-110 tonne class". The crane has a 60 metre main boom and a 84 m maximum tip height with jib. The X-pattern outriggers provide a stiff lifting platform while reducing the crane's weight for easier transport.
The T 110 comes with the IC-1 control system – helpful during set up, making it safer and easier to use – as well as electro-proportional joysticks and 18 tonnes of self-removing counterweight.
Dave Frerking, truck crane engineering director at Terex Cranes, says, "A purpose-built chassis is designed to support the crane operation, from the ground up. This provides customers with excellent lifting capabilities while maintaining compactness and rigidity to handle heavier loads.
"Truck cranes with a purpose-built chassis allow integration of standard components, from the engine to the tyres, which facilitates maintenance and helps with maintenance costs, comparable with commercial carriers."
Terex says that the main market for its new model, as with the majority of its truck crane fleet, is North America – a solid, long-term trend for Terex. The T 110 is said by Frerking to cater for customers who are looking for a strong load chart but do not need all terrain capabilities.
For USA-based Manitowoc, a 'next generation' truck crane has been announced for its Grove division. The TMS9000-2 follows the mantra of 'lighter, longer and stronger' and is a 100 tonne (115 US ton) capacity crane, similar to the new Terex model.
Terex's new 100 tonne T 110 truck crane unveiled at the ConExpo show in Las Vegas in March 2017. Unlike other US-market truck cranes, the Terex T 110 has a two-seat driver cabin for moving between jobs
Improvements on previous models include a lighter chassis that "increases roadability" and helps the company's customers to meet North American gross vehicle weight requirements. It is 363 kilogrammes lighter than its predecessor, the TMS9000E, and its reduced gross vehicle weight gives a wider range of flexibility in carrying counterweight, cribbing and other items.
The Grove has a 51.6 metre six-section Megaform boom with twin-lock pinning system. Its improved reach is to allow customers to complete a wider range of applications, all from a compact chassis, with a width of 2.6 m and a length of 13.4 m. The TMS9000-2 has manual or hydraulic swingaways, along with additional inserts, to provide further reach options.
Manitowoc says that the truck crane is the strongest four-axle truck crane on the market with the boom and chassis being stronger than on previous models.
To make sure Manitowoc designed a truck crane that met its customers' needs, the company involved them from the beginning of the design process, as Harrison Hipple, product manager for truck-mounted cranes at Manitowoc, explains, "The Grove TMS9000-2 represents a significant advance in truck crane power and flexibility. We know for a fact that customers are eager to have this new crane join their fleets because they have been with us from the beginning, helping us design a crane that will have a real impact on their own profitability."
Also fitted on the new Grove is parent company Manitowoc's Crane Control System (CCS), now seen on many of the company's cranes of different types and supplied on all new models. A series of cameras is also mounted on the cranes to assist operators while driving and operating the crane.
Spoiled for choice
USA-based Link-Belt's newest addition is the HTC-86110, released at the end of 2015. The company says that this model has become one of its top sellers because of improvements made over the crane's predecessor – the HTC-86100.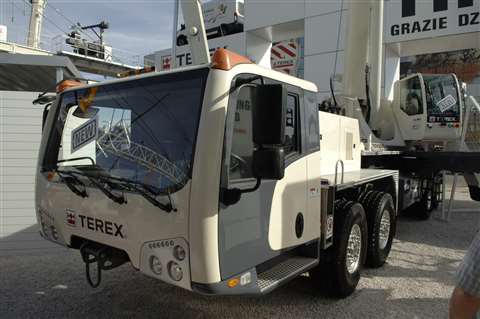 The 110 US ton (100 tonne) capacity 86110 has a 50 metre boom that Link-Belt says "outreaches truck crane competition and challenges the European-built all terrain cranes in its class". Maximum main boom tip height is 52.6 metres. There is no greasing to do on this boom as the telescoping sections of the six-section pin and latch sections run on Teflon (polytetrafluoroethylene) impregnated wear pads.
The Link-Belt has a 17.6 m on-board fly that has four offset positions of 2°, 15°, 30° and 45°, and what the manufacturer describes as an innovative approach for erecting and stowing. At the Bauma, Munich, exhibition in 2016, Link-Belt introduced an all-wheel steering version of the 86110 named the HTT-86110. Differences between the HTC and HTT are that it has rear steerable axles with super single tyres instead of conventional axles with dual tyres.
Regarding road regulations and engine exhaust emissions, Rick Curnutte, Link-Belt product manager, telescopic truck and all-terrain cranes, says, "Every emissions mandate poses a challenge of finding new ways to nullify the weight increases that result from additional components used to accomplish the emission standard. Since transportation regulations have changed very little, we have to find clever ways to maintain the gross weight, and maintain weight balance on the axles."
Link-Belt says that it holds the largest market share in the North American truck crane market, and for 2017 it expects to see a steady market with nominal growth.
Cutting costs
One of the most important factors when buying a new truck crane is how cost-effective it is during ownership and through its entire life cycle.
Frerking at Terex says, "Truck cranes typically have a simpler drive train and suspension layout compared to AT cranes. They do give up some off-road capability but the simpler design leads to reduced maintenance and operational costs over the life of the crane.
"Truck cranes are also designed for higher road speeds common in the United States. Terex truck cranes are designed to maintain a speed of 105 km/h.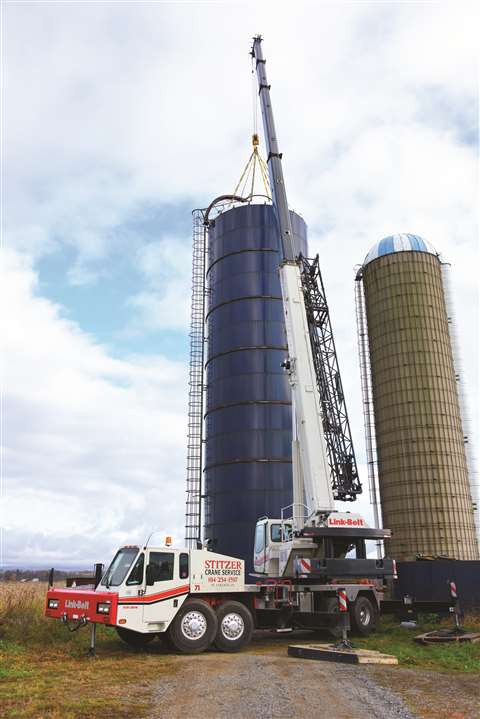 The smaller classes of truck crane tend to have a much simpler design overall than similar sized AT cranes. As they approach the 100 tonne level, the sophistication between truck cranes and ATs starts to become much more similar, but most of the running gear components are common with heavy Class 8 trucks, which also helps to reduce costs."
Truck cranes are best known for doing 'taxi crane' work, which means that they are expected to work on their own and without support vehicles to perform multiple jobs each day. Link-Belt believes that its product line lives up to that challenge.
Curnutte says, "The carrier engine intentionally delivers more than enough power to get to a job quickly. The transport configuration saves time and money getting to each job, and even during set up and tear down. The transmission, suspension, axles, wheels, and even tyres are all shared components from the commercial truck industry so replacement parts are readily available and cost-effective."
It is an exciting time in the truck crane market with two of the biggest manufacturers announcing new models ahead of the ConExpo show in Las Vegas, early March. Truck cranes are ideal for placing equipment, steel erection, equipment maintenance, concrete work and prefabricated building construction.Crane giant Terex announced the release of its 100 tonne (110 US ton) capacity T 110, said by the manufacturer to be a "top-performing crane in the 100-110 tonne class". The crane has a 60 metre main boom and a 84 m maximum tip height with jib. The X-pattern outriggers provide a stiff lifting platform while reducing the crane's weight for easier transport.The T 110 comes with the IC-1 control system – helpful during set up, making it safer and easier to use – as well as electro-proportional joysticks and 18 tonnes of self-removing counterweight.Dave Frerking, truck crane engineering director at Terex Cranes, says, "A purpose-built chassis is designed to support the crane operation, from the ground up. This provides customers with excellent lifting capabilities while maintaining compactness and rigidity to handle heavier loads."Truck cranes with a purpose-built chassis allow integration of standard components, from the engine to the tyres, which facilitates maintenance and helps with maintenance costs, comparable with commercial carriers."Terex says that the main market for its new model, as with the majority of its truck crane fleet, is North America – a solid, long-term trend for Terex. The T 110 is said by Frerking to cater for customers who are looking for a strong load chart but do not need all terrain capabilities.For USA-based Manitowoc, a 'next generation' truck crane has been announced for its Grove division. The TMS9000-2 follows the mantra of 'lighter, longer and stronger' and is a 100 tonne (115 US ton) capacity crane, similar to the new Terex model.Improvements on previous models include a lighter chassis that "increases roadability" and helps the company's customers to meet North American gross vehicle weight requirements. It is 363 kilogrammes lighter than its predecessor, the TMS9000E, and its reduced gross vehicle weight gives a wider range of flexibility in carrying counterweight, cribbing and other items.The Grove has a 51.6 metre six-section Megaform boom with twin-lock pinning system. Its improved reach is to allow customers to complete a wider range of applications, all from a compact chassis, with a width of 2.6 m and a length of 13.4 m. The TMS9000-2 has manual or hydraulic swingaways, along with additional inserts, to provide further reach options.Manitowoc says that the truck crane is the strongest four-axle truck crane on the market with the boom and chassis being stronger than on previous models.To make sure Manitowoc designed a truck crane that met its customers' needs, the company involved them from the beginning of the design process, as Harrison Hipple, product manager for truck-mounted cranes at Manitowoc, explains, "The Grove TMS9000-2 represents a significant advance in truck crane power and flexibility. We know for a fact that customers are eager to have this new crane join their fleets because they have been with us from the beginning, helping us design a crane that will have a real impact on their own profitability."Also fitted on the new Grove is parent company Manitowoc's Crane Control System (CCS), now seen on many of the company's cranes of different types and supplied on all new models. A series of cameras is also mounted on the cranes to assist operators while driving and operating the crane.Spoiled for choiceUSA-based Link-Belt's newest addition is the HTC-86110, released at the end of 2015. The company says that this model has become one of its top sellers because of improvements made over the crane's predecessor – the HTC-86100.The 110 US ton (100 tonne) capacity 86110 has a 50 metre boom that Link-Belt says "outreaches truck crane competition and challenges the European-built all terrain cranes in its class". Maximum main boom tip height is 52.6 metres. There is no greasing to do on this boom as the telescoping sections of the six-section pin and latch sections run on Teflon (polytetrafluoroethylene) impregnated wear pads.The Link-Belt has a 17.6 m on-board fly that has four offset positions of 2°, 15°, 30° and 45°, and what the manufacturer describes as an innovative approach for erecting and stowing. At the Bauma, Munich, exhibition in 2016, Link-Belt introduced an all-wheel steering version of the 86110 named the HTT-86110. Differences between the HTC and HTT are that it has rear steerable axles with super single tyres instead of conventional axles with dual tyres.Regarding road regulations and engine exhaust emissions, Rick Curnutte, Link-Belt product manager, telescopic truck and all-terrain cranes, says, "Every emissions mandate poses a challenge of finding new ways to nullify the weight increases that result from additional components used to accomplish the emission standard. Since transportation regulations have changed very little, we have to find clever ways to maintain the gross weight, and maintain weight balance on the axles."Link-Belt says that it holds the largest market share in the North American truck crane market, and for 2017 it expects to see a steady market with nominal growth.Cutting costsOne of the most important factors when buying a new truck crane is how cost-effective it is during ownership and through its entire life cycle.Frerking at Terex says, "Truck cranes typically have a simpler drive train and suspension layout compared to AT cranes. They do give up some off-road capability but the simpler design leads to reduced maintenance and operational costs over the life of the crane."Truck cranes are also designed for higher road speeds common in the United States. Terex truck cranes are designed to maintain a speed of 105 km/h.The smaller classes of truck crane tend to have a much simpler design overall than similar sized AT cranes. As they approach the 100 tonne level, the sophistication between truck cranes and ATs starts to become much more similar, but most of the running gear components are common with heavy Class 8 trucks, which also helps to reduce costs."Truck cranes are best known for doing 'taxi crane' work, which means that they are expected to work on their own and without support vehicles to perform multiple jobs each day. Link-Belt believes that its product line lives up to that challenge.Curnutte says, "The carrier engine intentionally delivers more than enough power to get to a job quickly. The transport configuration saves time and money getting to each job, and even during set up and tear down. The transmission, suspension, axles, wheels, and even tyres are all shared components from the commercial truck industry so replacement parts are readily available and cost-effective."