Talking tracked platforms
By Euan Youdale15 October 2019
Tracked platforms, comonly known as spider lifts, have been a mainstay in the European market for many years and there developments in other areas of the sector, with:
growth in Asia and North America.
greater competition from new manufacturers, particularly in the younger markets.
the ongoing requirement for greater capacities, working heights, outreach and power options.
CTE expansion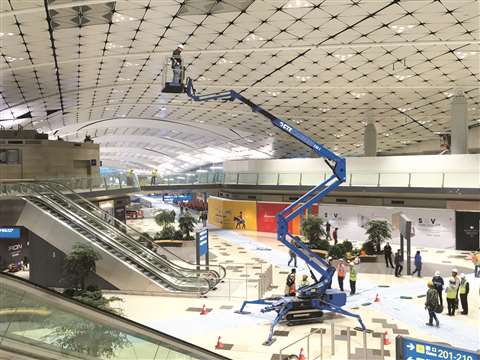 One of the manufacturers looking to expand its tracked offerings in these areas is Italy-based CTE, having previously concentrated mainly on its truck mount offering.
Giovanni Adami Carbonara, CTE Traccess brand manager, who this year moved to the company from CMC, also based in Italy, said, "We are currently focused on the development and production of new models of spider lifts. Besides our latest model, the Traccess 200 and the Traccess 270 that will be ready by the end of 2019, we will introduce other models of intermediate height to satisfy our customers needs and complete the range."
After the introduction of two electric models in recent times, the Traccess 170E and Traccess 230E, it was decided the time was right to increase the working height. The new Traccess 200 has a petrol engine, 20m of working height, 8.9m of outreach and 250kg of capacity. It has a double articulated boom plus telescopic boom and jib. The turret rotation is 320 degrees and there are the expected proportional electrohydraulic controls in the basket and engine start and stop controls from the basket.
Carbonara also foresees the introduction of new models with working heights of more than 27m, designed with flexibility across a range of applications in mind. "Adding to that, the spider is synonymous with 'extreme access solutions' and solves many problems. We expect greater developments for it in the private and rental sectors."
New CMC offering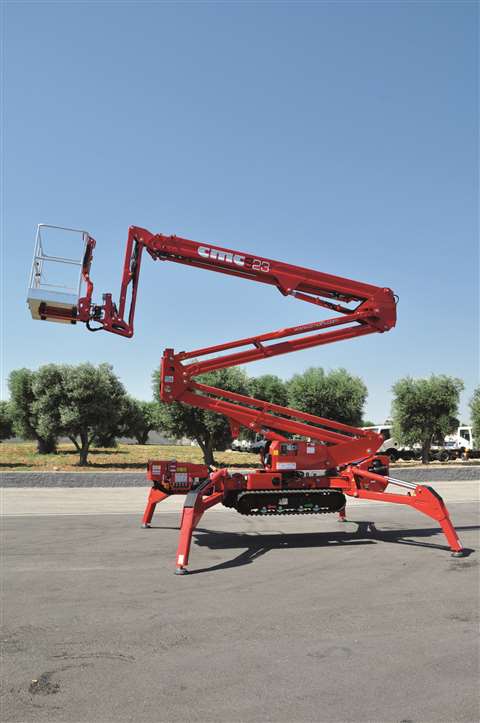 Alessandro Mastrogiacomo, the new export sales director at CMC recently announced its new S22HD, S23 and S15F models. The company has also recently decided to expand its tracked platform offering over its truck mount offering. The S22HD has single pantograph with jib, is self-loading on a trailer and weighs only 3000kg. The S23 double pantograph with jib, boasts compact dimensions, and is also self-loading.
Mastrogiacomo says lighter and easy to operate platforms with increased performance and a reduced need for maintenance are the requirements of the day. In this light the company introduced the new S13F and S18F at the JDL Exhibition in France, in September and at the GIS Exhibition in Italy, in October. They are fully hydraulic and easy to use.
Falcon Lift side reach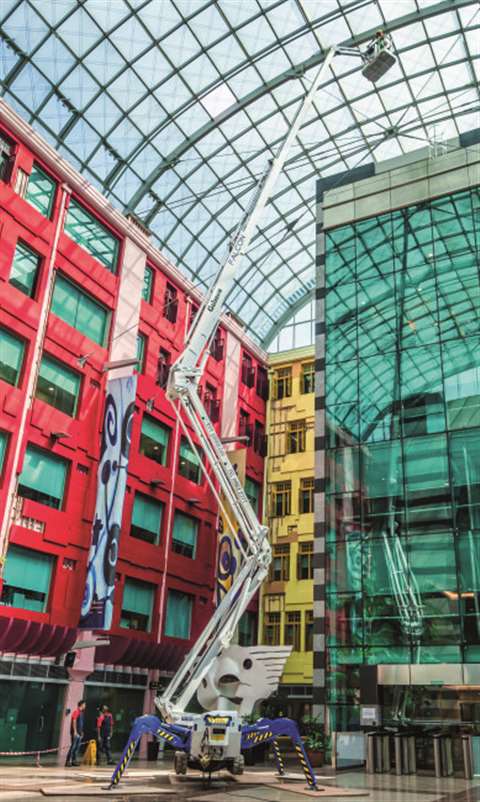 According to Brian Falck Schmidt, sales director at Falcon, one of the problems in the industry comes from manufacturers looking over each others' shoulder, rather than designing their own products from scratch. "Manufacturers seem to copy each other to fulfill end users need. At Falcon Lifts we do not try to do what the other companies do; we want to diversify and offer what other companies do not."
Its latest models are the Falcon Spider FS320 C Vario and FS330Z Vario. The main feature being unmatched side reach, says the company, along with fast and safe operations through auto set up and the home function. The FS320 C Vario has a double jib, while the FS320C Vario has straight telescopic boom and double jib. Both offer a strong and full adjustable chassis. Dimensions are below 2m.
Schmidt says customers are requesting bigger baskets, full remote control, GSM modules, dual power (diesel and battery) and colour display on remote controls.
Teupen capabilities
Martin Borutta CEO and Shareholder of Teupen, adds to that list and says the industry is seeing a demand for increased capacities, bigger baskets and battery-operated systems.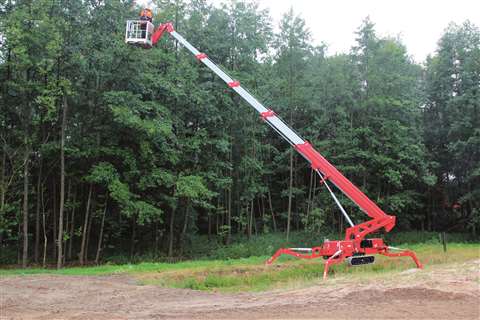 The company's latest two models include the Leo35Tplus, launched at Bauma Munich in April 2019 and the Leo30Tplus launched at Platformers' Days in Hohenroda last year.
Their main features are a 400kg and 300kg load and the availability of four basket sizes of 0.9m, 1.2m, 1.5m and 2m. The radio remote control has a two-line display, with a fuel indicator and platform capacity, start/stop and memory and home function.
Also on offer is a selectable horizontal outreach that has been optimised for the work in hand and an electric emergency lowering system that can be used from the basket and the ground.
In addition, there is a material lifting device that has a 450kg capacity. It is optionally available with 80V battery drive.
The rubber tracks ensure an optimum traction even on soft surfaces. For driving on slopes or to optimise the floor clearance, the chassis can be adjusted hydraulically in height and width. With a large slope angle of about 21 degrees and a gradeability of 17 degrees, the high hydraulic outrigger setup makes it possible to work on slopes of up to 30% or on stairs. There is a choice of four different platform sizes from 0.9m to 2m, which opens up possibilities for different work environments.
The next models to be launched by Teupen will be the 34m working height Leo34GTplus and 38m working height Leo38GTplus. The articulated tracked platforms will have 300kg/400kg basket load and outstanding horizontal outreach when they are launched, says the company. The equipment will be able to work in the negative area and will have four basket sizes: 0.9m, 1.2m, and 1.5m
Palazzani technology
Serena Mingardi, at Palazzani, believes that as well as the increased working height and outreach, there is a demand to work more quickly, yet at the same high safety levels.
But she says there is also increasing competition thanks to a greater number of manufacturers launching models. "The market is moving fast and there are new technological features every day," adds Mingardi. To keep up with the times, Palazzani has introduced the plus series, incorporating a range of new features. There has been an increase in speed and operational efficiency thanks to the introduction of its CAN bus system, which increases the speed of the machine during aerial work. There is also greater precision thanks to more fluid movements.
Its latest launch is the Ragno XTJ 37+ at Bauma during April. It extends the existing range of Palazzani's models from 17m to 52m working height and will be available in both crawler and wheel versions as well as Bi-energy (Diesel+AC), ECO (AC+DC) and Hybrid (Diesel+DC) power options.
It features a classic Palazzani's telescopic boom with telescopic jib, featuring 37m of working height, and an outreach of 14.5m, as well as -5.5m negative working, within a 2.6m set-up area. Compact with dimensions of 7,800mm x 1,200mm and 2,000mm high, it has a capacity of 120kg-230kg and 330kg.
Genie boom options
On the subject of tracked boom lifts, Genie launched the S-65 TraX at bauma in April. It is currently available in the EMEAR region and North America.
The largest of five TraX models, it incorporates Genie's Xtra Capacity (XC) features, brought over from its wheeled booms lifts, with a dual lift capacity of 300kg (660 pounds) unrestricted and 454 kg (1,000 pounds) restricted. This is twice the lift capacity of its predecessor.
Like all five Genie TraX models, the new S-65 TraX also provides the manufacturer's four-point system and patented active oscillating axle. A step ahead of traditional skid steer systems that have a full-length track on each side of the unit, the four-point design features four independent triangular steel tracks encased in rubber at each corner of the unit. Combining the benefits of a 30° steer angle with the drive and steer capabilities of a traditional front-wheel steer machine, each triangular-shaped track swivels 22° up and down to maintain constant contact with the ground.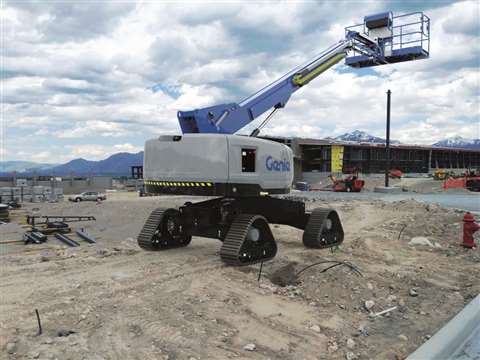 There is 40% to 45% gradeability depending on the model. This new model also offers automatic envelope control, load sense technology and the ability to perform zero-load field calibrations.
Dino track alternative
Tracked lifts generally would be considered lightweight, not having a counterweight, but using outriggers for the stability, says Teemu Ristelä, regional manager at Finland-based Dinolift.
"While a tracked lift typically is a very versatile solution for indoor and outdoor access, as we see it there is demand for a MEWP that is less of a compromise when it comes to outdoor operation."
The self propelled Dino RXT Series, launched back in 2017, uses a 4x4 wheeled chassis instead of tracks. The machine is not targeted towards indoor use but more to safe all round access outdoors where there are weight and ground pressure limitations. "Beneficial to a wheeled chassis over a tracked one is the lack of additional matting under the tracked carrier to prevent marks on lawns or pavements." The Dino's RXT low pressure flotation tyres enable access to very gentle surfaces without additional protection.
The RXT is designed to be operated 99% of the time from the basket, rather than from ground level, as with tracked platforms. Also, unlike tracked lifts and more like tarticulating boom lifts, the RXT allows the operator to stow the machine to transport mode with the basket in either end of the machine, there is no structure dictating which way the machine is stowed.
"While Dinolift also produces the XTC Series tracked lifts we think the biggest benefit of the RXT Series over a tracked lift is the travelling speed – up to 10km/h on level ground compared to a typical 1-2,5km/h of a tracked lift."
The Dino RXT Series consist of two models – the 22m 220RXT and 28m Dino 280RXT.