Tandem lift and hold for Wiesbauer
By Alex Dahm21 November 2017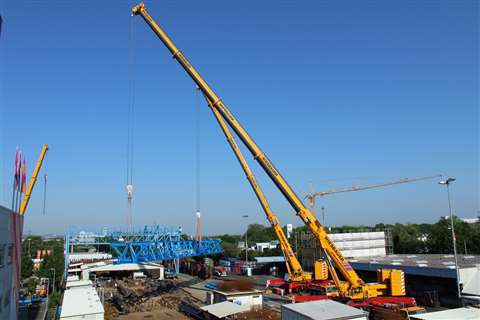 Specialist contractor Wiesbauer used a pair of large wheeled mobile telescopic cranes working in tandem to lift and place a 45 metre gantry crane in Germany.
Bietigheim-Bissingen-based crane and specialized transport company Wiesbauer chose a 700 tonne capacity Terex AC 700 and a 500 tonne capacity Demag AC 500-8 from its fleet. The 58 tonne gantry crane was installed at the Gebr. Lotter KG steel yard in Ludwigsburg. It was a job described as a unique challenge in many ways.
Commenting on the job, Marco Wilhelm, responsible for the job planning at Wiesbauer, said, "The distances that had to be spanned and the associated radii, together with the load's weight, were what made us decide to use our AC 700 and AC 500-8 for this project."
First of the challenges was to unload components of the awkward, 15 metre-tall, gantry crane from the delivery truck. After that the main beam was moved into position using both cranes together. There it had to remain suspended for final assembly as there was insufficient room in the yard to put it down.
Operations at the steel company had to continue, both while the cranes were being set up and during the lifting and installation works. The same applied when disassembling the cranes after completing the lift. The steel yard operates six days a week.
Choice of setup position was restricted to only one place where both cranes could be erected side by side. A 42 metre lifting radius, spanning the whole yard, was needed for one crane. Wiesbauer planned for the AC 700 to deal with that. A maximum radius for the AC 500-8 was 24 m.
Loaded with 140 tonnes of counterweight, the cranes lifted the main beam to a height of 15 m before swinging it into place. Over the next few hours a third telescopic crane was used to assemble the rest of the crane to the suspended beam. "Keep in mind, however, that the two cranes and their booms are characterised by outstanding stability, so this didn't pose a problem at all," said crane operators Günther Mühleck and Steven Zillmann.
The crane was assembled as scheduled in two working days.