Teamwork pays off in Siberia
Austrian concrete cutting specialist Tyrolit has worked with Russian customer Aktivmontage on a project to reduce a 250 m (820 ft) hydroelectric power station chimney in Siberia to a height of 150 m (492 ft).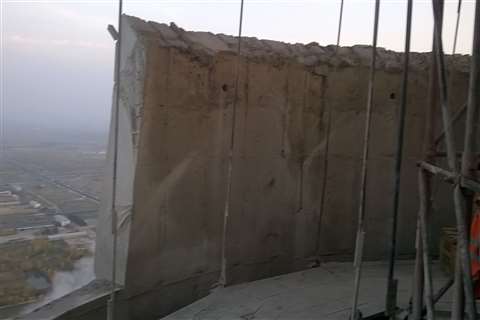 As the chimney was no longer up to standard and was also near a residential area, demolition using explosives was not possible and controlled deconstruction was the only option.
The challenge involved in the deconstruction consisted of gaining access at the dizzying height, working in tight conditions, and once in place, cutting through reinforced concrete ranging in thickness from 20 to 50 cm (8 to 20 in). The condition of the chimney meant that it was not possible to use wall saws and it was necessary to ensure that workers neither fell nor suffered exposure at minus 25° C.
For on-site support, Aktivmontage called on Tyrolit, as the two companies have already completed many successful projects. Tyrolit recommended the SK-SD hydraulic wire saw system and the diamond wire DWM***-C with a diameter of 10.2 mm (4 in) and 46 beads/m for concrete.
The Aktivmontage team spent more than two months preparing for construction of the steel scaffold inside the chimney and commissioning the integrated lift. The plan was to remove the chimney block by block from the top down. The team had to take into account the fact that the chimney wall got thicker towards the bottom, so blocks of concrete up to 50 cm thick had to be cut through.
The individual concrete blocks, each weighing 2 t, were removed level by level and lowered to the ground using a cable on the outside of the chimney.
Around 800 m (2,624 ft) of diamond wire were used in the project.