Technology debuts from GKD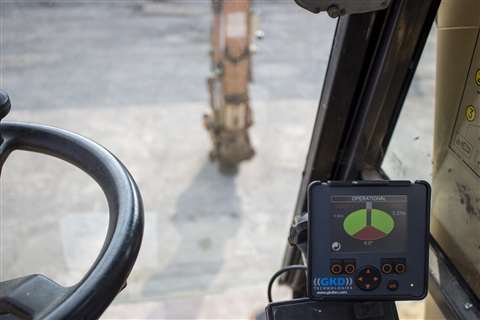 UK-based GKD Technologies, which designs electronic sensor technology and software for use as safety warning devices to protect people, machines and equipment in construction, earthmoving and rail industries, is using Intermat to launch two new electronic safety systems for construction machinery.
Making its European debut, the Sensor Height & Slew system has been designed for construction job-sites, where machines, especially excavators are operating in restricted areas and height-confined spaces.
The retro-fit system is designed not only to safeguard the operator but also to prevent potential machine damage.
The Sensor Height & Slew line offers the ability to monitor and control height, or slew, or a combination of both height and slew. The programming of height and slew limits is said to be carried out easily using the new integrated display with soft button controls.
The recently upgraded GKD 2RCi model will also be on display on the stand at Intermat. The 2RCi is a rated capacity indicator designed to increase safety during lifting operations. All lifting equipment and excavators have a specified safe working load, stated by the manufacturer, to safeguard both the operator and the machine.
The 2RCi is a flexible safety system which in its basic form is a simple load indicator – but can be configured to incorporate height and slew monitoring. The 2RCi is also available with intelligent motion cut facilities to control the safe movement of height, slew and or load.
In response to changing requirements, especially for highway construction, this latest version offers the option of a "virtual wall" function.
The virtual wall or envelope control function can be programmed to the safe parameters of the machine's required working area, working in conjunction with the slew and height control. This prevents the excavators boom operating outside its safe-zone.
This function increases the usability of the machine and allows for optimisation of the working area. Should the machine approach its pre-set limit an external audible alarm will warn the operator. The optional intelligent motion-cut, if installed, will stop the machine and only allow safe movement.