Technology gaining ground in concrete sector
By Helen Wright23 January 2014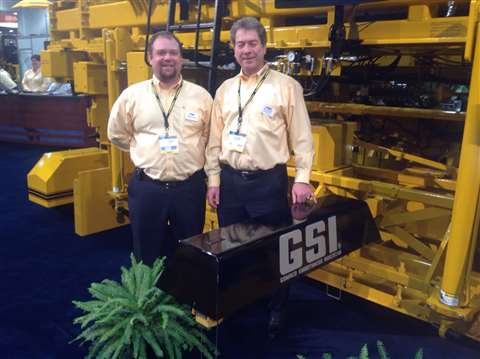 Machine control technology is increasingly being adopted in the concrete paving sector thanks to the efficiency and accuracy improvements it can offer, according to manufacturer GOMACO.
Speaking during the World of Concrete exhibition in Las Vegas, US, GOMACO International managing director Rory Keogh said a shortage of skilled operators was also fuelling growth.
"Taking some manual functions away and using machine control technology provides consistency, and improves the quality, accuracy and speed of operations," he said.
"We are seeing more and more contractors making the transition from using string lines to stringless technology."
GOMACO manufactures concrete paving machines, and showcased its G+ control system at the exhibition, together with its GSI smoothness indicator system. The company's machine control manager Matt Morrison said an important factor was that contractors could upgrade their systems over time.
"A lot of contractors want to grow into full 3D machine control, but the big cost at the outset can put them off. We offer the option to start with 2D systems and upgrade - a building block approach - and it's proving successful.
"Our technology interface also integrates with international providers like Topcon, Leica and Trimble so contractors don't have to invest in extra kit migrate towards machine control."
And Mr Keogh said the manufacturer was confident that 2014 would be a good year for international arm of the company. "In terms of unit sales of concrete paving equipment, GOMACO International expects growth of between +5% and +6% this year. With the emergence of Central Asian markets, we are expecting good results there."