Tele turbine tower installation
By Alex Dahm05 October 2018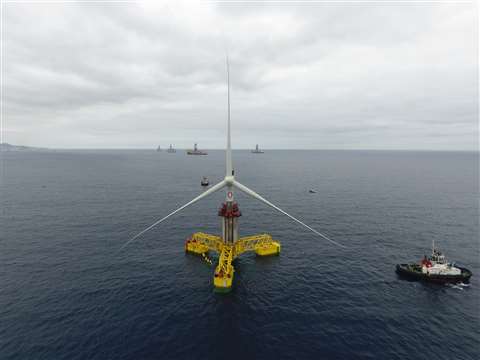 A different approach to turbine installation has been taken on a new telescopic turbine tower project in Europe. The first self-installing telescopic offshore 5 MW wind turbine has been installed in the Canary Islands off the Spanish coast. Claimed as a world first, it is part of the H2020 ELICAN project led by ESTEYCO, where UK-based international heavy lift and transport specialist ALE is part of the consortium.
The concept uses a self-floating gravity-based structure (GBS) and a self-lifting telescopic tower, both made of concrete. It can be assembled onshore, with the turbine, and then towed to site. ALE completed the tower lifting operations, the coupling and the offshore installation. Money is saved because "it does not need large, costly offshore equipment for its installation, thus reducing the overall installation cost (about 30%), ALE says.
A Siemens-Gamesa 5 MW turbine was used on a three-section tower. ALE lifted the upper two (named T1 and T2), weighing 360 and 240 tonnes and each 33 metres tall. For safety ALE controlled all the equipment used for the offshore manoeuvres via wi-fi from a vessel. In June 2018 ALE used its new horizontal guidance system to lift the T2 section with its nacelle, weighing 540 tonnes. The following month it lifted the T1 and T2 sections with the nacelle, weighing 960 tonnes.