Tele vision: commonality, serviceability and productivity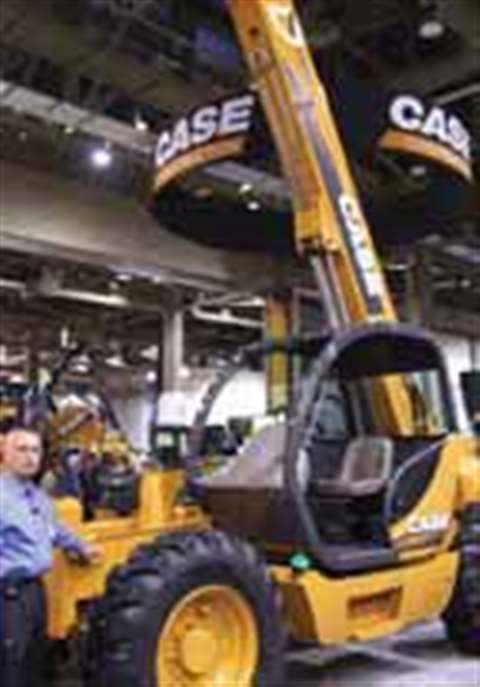 The World of Concrete and Rental Show events gave manufacturers the chance to show some enhanced models, and ALH the chance to ask them about prospects for 2008. John Wyatt reports.
Common themes at this year's first two trade shows, World of Concrete and the Rental Show, were commonality, serviceability and productivity. Manufacturers say one of the major requests they receive from customers' field testing a new machine is to make as much use as possible of common parts. "Productivity" could mean any number of things; but as an example, faster boom cycles or even more mph. And "serviceability" means just what it says, a more intuitive lay out to the components and mechanics for easier maintenance. All three were to the fore at the Las Vegas shows in January and February.
World of Concrete is never light on telehandlers, or at least talk of them. New Holland, as an example, was scheduled to have brought one of its three new models, the 427, 428 or 459, to the show, but things don't always work out. "The boat didn't arrive on time," jokes the company's President and CEO Terence Sheehan.
Beginning at last year's show, the company has introduced those three models, the 7,000 to 9,000 pound machines, to good feedback, as Sheehan says. He says the logic for adding handlers to the company roster was to offer its dealers a complete range of products.
New Holland's Edgar Chavez, director of marketing, says by the third quarter of this year, two new handlers will be introduced that "complement the range." The machines are manufactured at the Lecce, Italy facility. The company also announced its whole product range will be Tier III-compliant by the middle of this year. "Quite a few of the machines we're shipping today already are Tier III-compliant," says Sheehan.
"We do have over 220 New Holland dealers in North America, and that's our channel to the market, so we did have very good feedback from our dealers and that made us very happy. They say it's the right kind of product," says Sheehan.
The new kid on the block Case Construction brought along its TX842 8,000 pound telehandler. The company says the handler complements its range of construction equipment and places them as a "one stop shop" for its distributor, says Jim Fox, product specialist with Case. The company has around 400 dealers throughout the US.
Case introduced three models to the line, the TX742, TX842 and TX945, 7,000 to 9,000 pound machines. Fox says the key imperatives to the range are operator comfort, visibility, productivity, good fuel economy, and serviceability. All models feature the Case Family IV 4.5 liter turbocharged engine. The machines can travel up to 22 mph in forward gear, 17 mph in reverse.
Fox says the company entered the telehandler market, not only because it fills out its product line, but also because "there still is a large market for the telehandlers. I don't know if all the suppliers out there have the distribution network that we have. We have a big distribution network to work with." He says dealers are now beginning to receive these models in the first quarter 2008.
"It's a nice, simple machine. Easy to operate, which is critical in today's environment – you don't want anything too complicated. Well proven components: Case engine, Dana Spicer axles, four speed powershift transmission," says Fox.
On home turf in Las Vegas, Xtreme Manufacturing had its full line of telehandlers on display, including its massive XRM1267 machine, introduced at last year's show. Additionally, the company is a distributor for the European Dieci low pivot boom models. According to President Don Ahern, a model larger than Xtreme's XRM1267 could be ready by next year's WoC.
"This is our third season of shows and it's been good," says Xtreme's Tony Regno, used equipment manager and executive project manager. He adds that the company's "most popular" is the Xtreme 8,000 pound XRM 842.
What the company did bring new this year was its new XLR 4010X loading ramp. The ramp has a 40,000 pound capacity made of heavy duty steel construction. Its dimensions are 10 feet wide, 30 foot length and weighs 9,500 pounds. Its list price is $18,600.
Another large capacity machine to the market is Pettibone's Traverse T10056, on display at World of Concrete for the first time to the public. An addition to the Traverse line, this unit has a maximum lifting capacity of 10,000 pounds and a maximum lifting height of 56 feet.
The company also brought along its new Marketing Manager Sandra Lytikainen, whose position became effective in November. She moves over from customer service manager, and her new responsibilities include trade show logistics, advertisement placement, lead management, the dealer-marketing Co-op program and the company's merchandise program. She will work closely with the company's product manager, Dan Blondeau. The two are based at Pettibone's headquarters in Baraga, MI. Although it originally reported to ALH that it would not be attending Conexpo, Pettibone confirmed at WoC that it would be at the March event. So, there's another chance to view its range of products.
At the American Rental Association's Rental Show, held in February, Genie Industries showed its redesigned GTH-5519 compact handler with several enhancements. The cab has a new makeover, with its FOPS grid integrated in the cab structure, underneath the glass, reduced cab height by 2 inches to 6 foot, 4 inches. The floor-mounted pedal has been repositioned for better operator comfort, and an elevated armrest is ergonomically placed for the hand to fall into the joystick.
The unit now lifts 1,900 pounds at 11 feet at horizontal reach, giving it 200 pounds more capacity than the previous model. Also new is the choice of a Deutz or Perkins engine Tier III compliant. The engine compartment has been redesigned for better access to the components.
And lastly, the company has upgraded the machine's hydraulics. The flow on the auxiliary line uses a reversible and continuous flow functionality through a three-position electrical switch, as well as full proportional control.
According to Luke Webber, product manager with Genie, the unit is ready to go into production.
He says the changes were made for three reasons: improve activity, performance, and serviceability. The machine is built in Perugia, Italy. There are no plans to manufacture these stateside, Webber says.
Before its big splash at Conexpo with two of the largest capacity telehandlers in the North American market, Manitou North America brought two of its latest truck-mounted forklifts to WoC. The TMV 55 vertical masted truck-mount forklift has a lift capacity of 5,500 pounds with a lift height of 156 inches. The unit has three-wheel drive, hydrostatic transmission and a Perkins 52 horsepower engine. Its TMT 55-4 way telescopic truck-mount forklift, also introduced at a company dealer event last October, is a four-way steering model that has the same lifting capacity as the TMV 55 model, with a lift height of 135 inches and forward reach of 56 inches.
"The interesting thing about the four-way bi-directional truck [TMT 55] is we get a lot of interest from other industries: pipe, steel yards, foundries, people that handle long loads. That truck can be used as a yard machine or a delivery vehicle. The masted truck is primarily a delivery vehicle," says Ryan Ford, Manitou NA's construction and agricultural product specialist.
Of the Manitou machines on show, it is still the telescopics that are the biggest pull, says Ford. The company brought its enhanced MRT 2150P rotating telescopic handler to the show. Its updates include a Tier III Mercedes intercooled turbo diesel engine and a larger cab. The larger compartment has improved visibility due to its curved windshield and new instrument panel, the company says. Ergonomic joysticks are another addition to the cab, plus all fluids are housed outside. Its other changes are an updated lighting package and paint/decal scheme.
The unit offers 10,000 pound capacity with more than 67.5 feet of lift height (forward reach of 59 feet, 8 inches), as well as continuous rotation and frame leveling for easy load placement. This machine sits alongside Xtreme Manufacturing's XRM 1967 as one of the highest reach handlers available on the market.
"This is a great show. Great for getting in touch with people that use our products," Ford says.
JLG brought along its latest super compact model G5-18A (see ALH feature in the January/February 2008). Skyjack brought its new ZoomBoom 10056, and MEC, Gehl and Mustang all brought at least one of their telehandler products. Faresin of Italy had a booth at WoC but decided to wait until Conexpo to show its line of handlers.
Despite it being a Conexpo year, held in the same location, and with the economy softening, it was encouraging to see the good levels of attendance at WoC, reporting its second largest show ever this year, yet 2007 proved to be the largest. Figures are still not available for the Rental Show, although it perhaps wasn't quite as busy as in recent years. Depending which way 2008 sways for the telehandler market, next year could see a quite different business environment.