Telehandlers are pushing the boundaries when it comes to operator safety, comfort and control. New engine emission laws have concentrated the minds of manufacturers too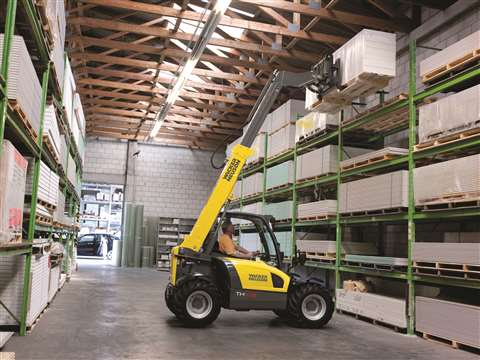 Telehandlers are pushing the boundaries when it comes to operator safety, comfort and control. New engine emission laws have concentrated the minds of manufacturers too. Euan Youdale reports.
Memories of Bauma may have melted into the distant past for some, but it is worth revisiting to remind ourselves of the wealth of new telehandlers on show, and because they represent a new era in design and operator friendliness.
At Magni Material Handlers, the new Italian telehandler manufacturer, the challenge lay in introducing the latest technology, safety systems and operator comfort from scratch.
Founded by Ricardo Magni, a long-time president of Manitou's Italian telehandler joint venture, the company showed a selection of machines from its two ranges at Bauma, which comprise rotating RTH models in 18 to 30 m sizes and HTH heavy duty, fixed boom models with lifting capacities of 15, 25 and 30 tonnes.
The RTH range includes a patented outrigger design, incorporating a combined telescoping and pivoting system, that provides a wide wheel base and allows for an extended distance between axles with enough space for Stage IV Final engines.
Both the RTH and HTH models will come with a Magni-designed, pressurised cab, including a touch screen dashboard and air conditioning as standard. An RFID tagging system at the end of the boom will automatically recognise Magni attachments and automatically adjust the working ranges of the machine.
Magni has already signed an agreement to use JCB's Ecomax engines in its machines and although the sales arrangement for its rotating models is not formal it has the potential to give Magni a significant boost as it enters the European market.
Mr Magni said as many as half of the estimated 200 machines the company expects to produce this year will be supplied to JCB dealers. One strategy for Magni is to try to migrate users to larger machines, from 21-25 m class handlers to 30 m machines. "I think we have to bring something different. My experience is that when you do something a little higher, everyone follows it."
As mentioned, the engine, particularly in light of new emission regulations, is one of the major issues when it comes to telehandlers. JCB has used the introduction of its high torque, low emission Ecomax diesel engines erformance, with the adoption of high back-off brakes, transmission dump on the brake pedal and variable speed cooling fans among the changes.
Developed to meet the EU Stage IIIB/US Tier 4 Interim emissions standards, the Ecomax Tier 4i engine has no requirement for diesel particulate filters (DPFs). This, says the company, leads to low cost and more efficient operation. According to the manufacturer the engines offer 7% improved fuel economy and 15% more torque
"JCB has focused on the complete Loadall design, which is engineered specifically to work in construction and agriculture. That includes more than 110000 hours of engine testing and an investment of more than UK£80 million to deliver the most efficient range of engines," said Tim Burnhope, chief innovation and growth officer.
There are three engine ratings available to construction Loadall customers: 55kW, 81kW, and the range-topping 93kW engine, which is standard on the 550-80WM and 550-80 models. The manufacture is expecting its 55kW engine to prove particularly popular with the plant hire market. Though delivering slightly less outright power than the engine it replaces the Ecomax engine produces 6% more torque and 5% more power at low revs than the previous Tier 3 engine, said the company.
"Based on annual operation of 1000 hours, a new generation Loadall using a 55kW engine, will use up to 7% less fuel, saving customers up to 1890 litres of fuel or £1361 over the first three year of use," adds Mr Burnhope.
Renewals
Manitou used Bauma to showcase its renewed mid-height series of telehandlers, including the MT 835, MT 1135 and MT 1335. The three models now incorporate identical designs and components, the company said. They all have maximum capacities of 3500 kg, feature a Perkins type IIIB/Tier 4i engine, have overall widths of 2.28 m and turning radii of 3.85 m.
The MT 835 features a lifting height of 7.75 m, a capacity at maximum outreach of 1150 kg and its overall length and height measurements are 5.24 m and 2.42 m, respectively. The MT 1135 has 11.05 m of lifting height, a 1200 kg capacity at maximum outreach with an overall length of 5.37 m and overall height of 2.42 m. Lastly, the MT 1335 has a lifting height of 12.55 m, 1000 kg lifting capacity at maximum outreach, an overall length of 5.86 m and an overall height of 2.42 m.
According to Manitou, these units are ideal for non-residential work including infrastructure and confined environments. "As they all have identical design and are easy to maintain whatever the model, the mid-height construction range is particularly adapted for hiring," said Olivier Traccucci, Manitou's marketing manager, construction market.
Renewal has been on the agenda at Haulotte too, with the evolution of the HTL ange representing seven models in the 10 m, 14 m and 17 m height. Safety, comfort and performance are the three key words attributed to the range, says Stéphane Hubert, marketing director for Europe and North Africa. The first of those is represented by a rear axle locking system and a smart tilt corrector, standard on the 14 m and 17m models, to ensure stability. Standard across the range is Road Mode which prevents any boom and outrigger actions when you are driving.
Ergonomics were priority of the design and include a Smart Control 4 in 1 joystick, electronic and backlit dashboard with centralised information for the operator. The load moment indicator is positioned to be easy to read and includes an automatic cut off when a tilting risk is detected. Meanwhile, the driving position is designed to reduce fatigue with a fully adjustable seat containing shock absorbers.
The all-important performance is taken care of through hydrostatic transmission that distributes continuous power and an inching pedal for smoothly approaching a structure. On the 14 m and 17 m models is the Flow Sharing management system which directs the hydraulic flow for proportional control.
It is the addition of performance-enhancing attachments that will shape the Haulotte models of the future. "We will keep our position as being a full line manufacturer within the AWP segments with a complementary range of telehandlers, therefore, we will mainly put our attention to enlarging our range of specific attachments," explains Mr Hubert.
Asked if there were any plans to expand the range upwards, beyond the range-topping 4 tonne capacity, 17 m lifting height of the HTL 4017, Mr Hubert adds, "This will be driven by the application requirements of our customers - we intend to adhere as much as we can with their needs, even if it leads to an increase in the load capacity. Applications trends such as mining or shale gas extraction for instance both reveal heavy load requirements.
"We can see big telehandlers mainly in the US market. These telehandler are more popular because of the working site configuration; the user needs to have the best performance and big capacity of load and height for major construction projects, for example," adds Mr Hubert.
Energy saving
As mentioned, a significant feature of new telehandler design are energy saving systems and engines to meet emission regulation. Merlo showcased its energy saving solutions at Bauma.
For example, the Panoramic 50.8 is an 8.8 tonne machine that can lift up to 5 tonnes nd features a maximum lift height of 8m. This machine boasts a new, hydrostatic transmission that the company says increases performance and reduces fuel consumption.
Merlo claims the new machine could save customers more than €4,300 a year in fuel costs through its new EPD system that provides three operating modes to tailor output to the task in hand. This means that engine RPM can be managed to provide maximum performance with minimum fuel consumption
JLG was concentrating on this capacity level too at Bauma, among others. The company introduced its new PS family of products, including the 3706PS and a 3707PS, which have a maximum capacity of 3.7 tonnes with either a 6.1m or 7.3 m maximum lift height.
The two larger models in the family, the 4014PS and 4017PS, are equipped with stabilisers and have a lift capacity of 4 tonnes, a maximum lift height of 14 m and 17 m, respectively. The power train in the PS series features Stage IIIB compliant engines and a variety of horsepower and transmission options to satisfy a wide variety of applications.
Also on show was the 2505H, a compact telehandler featuring a maximum capacity of 2.5 tonnes and lifting height of 5.6 m. It offers improvements over the previous generation in cooling capability and also has increased visibility. The 2505H comes standard with a Deutz TD2.9L; 55kw; Stage IV compliant engine and a hydrostatic transmission.
Brian Boeckman, JLG global product director, confirms that a main area of focus is engine technology. "Engine manufacturers have focused on increasing the efficiency of their engines while increasing the power density of their products."
But there is another area of focus at JLG: "One of the biggest innovations that JLG has introduced in recent years has perhaps come from a very unlikely place…tyres," says Mr Boeckman. "In many rental markets, tyres represent the single largest maintenance cost a telehandler fleet operator has."
JLG worked with Bridgestone/Firestone to develop a tyre specifically for telehandlers which offers customers up to 3 to 4 times the life of the previous tyre, says the company.
Ultimately, it is the performance that wins the day. As machines become increasingly flexible and strong, there is a requirement to tackle ever tighter boundaries. An example comes with Wacker Neuson's latest pair of compact models. The TH412 mini-telehandler offers small dimensions, while the compact TH625 falls in the popular 2x2 m class.
With regard to their size, there have been some technical innovations. For example the TH412 comes into its own in tight working areas, like the narrow lanes of high-bay warehouses. Despite its compact dimensions, the TH412 mini-telehandler is designed like a traditional telehandler, says the company with side engine, all-wheel steering, central positioning of the boom. At a length of 2.92 m and a width of 1.56 m, the TH412 achieves a stacking height of 4.31 m.
Both compact models offer all-wheel steer with what the manufacturer describes as generous steering angles for stacking and transportation work. "We will continue to produce telehandlers below a lifting height of 10 m, and no roto models," said a company spokesman.
BOX STORIES:
First 20 m from JCB
CB has launched its first machine capable of lifting loads to 20 m at Bauma. With a lift capacity of four tonnes, the new JCB 540-200, which has a lift height 3 m greater than its nearest JCB rival. It follows the 5 tonne capacity JCB 550-80, the heaviest payload Loadall.
"The 540-200 has been designed with the customer firmly in mind and will satisfy a demand for increased lift heights and forward reach capabilities from construction and industrial customers, said " JCB chief innovation officer Tim Burnhope
The boom of the 540-200 has been specifically designed for the construction market, using lighter, higher grade material to improve the capacity of the machine at reach.
It utilises a 5-stage boom to bring machine length down to a minimum and maximise site manoeuvrability. The boom is driven by an internal extension ram and chain system, providing proportional extension of the boom. This means boom extension markers are only needed on the first intermediate boom, making the machine easier to use.
To maximise stability while working at these massive heights, the stabiliser package is set forward, providing a compact yet stable machine footprint and complete operator peace of mind.
Redesigns from Genie
Terex AWP launched the Genie GTH-844 in January 2013, and will begin production of the Genie GTH-1544 in July 2013 for the ANSI market.
Additionally, the European range of Genie Compact, High Reach and Rotating Telehandlers feature four newly redesigned models: the compact GTH-2506, high reach GTH-4014 and GTH-4018, plus the latest rotating model, the GTH-5021R, combine the most compact dimensions and tightest turning radius in their respective classes to manoeuver in confined spaces, claims the manufacturer.
"The Genie GTH-844 and the GTH-1544 are new from the ground up. Both models feature Tier 4 interim engines, new and stronger frames and booms, quick attach carriages for fast installation of the latest attachments, ergonomically designed operator stations, side mounted engine compartments which help to facilitate great visibility, and the latest, most efficient hydraulic systems," says Scott Krieger, senior product manager, booms and telehandlers.
The compact GTH-2506, high reach GTH-4014 and GTH-4018, and the rotating GTH-5021R are designed for challenging tasks on rough terrain due to high lift capabilities at maximum reach, says the company. They are available with a range of attachments for industrial and construction applications. A streamlined chassis, equipped with the latest Stage IIIB Perkins or Deutz engines, is powered by a hydrostatic drive transmission.