Telehandlers: Far and wide
Specialist market research and forecasting company Off-Highway Research (OHR) expects the global market for telehandlers to reach some 75,000 units this year.
About two thirds of demand for this type of machine is in Europe and North America, the regions which represent the vast majority of production. While telehandlers sell in other parts of the world, there is competition from other types of equipment such as locally built mobile cranes in Asia.
The outlook for the segment is reasonable. Although sales this year are likely to be down from the high seen in 2018, volumes should stay high at some 70,000 units per year for the next few years.
In a bid to address a comparative lack of interest in telehandlers outside of North America and Europe, Manitou has launched models aimed specifically at emerging markets, and is opening an assembly plant in India to produce them.
The identical Manitou MXT 840 and Gehl TX 408 telehandlers are aimed at Asia, the Middle East, Eastern Europe and Russia, and are designed to be more rugged and easy to use than their counterparts produced in Europe – as well as more affordable.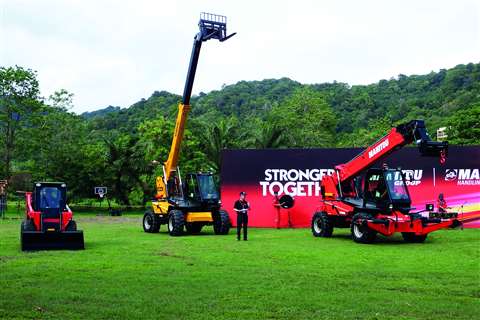 The main specifications are a 7.6m lifting height and a maximum capacity of 4 tonnes. They are particularly suited to building construction and can easily extend to two storeys.
The equipment also has three steering modes: two-wheeled steer, four-wheeled steer and crab mode. They have 39cm high clearance and are therefore suited to difficult terrain. Transmission consists of a torque converter gear box, while power comes from a 95hp, Stage IIIA engine.
Michel Denis, President and CEO of Manitou, said, "We see in these markets that the usage can be very hard. For example, we have a number of customers in Russia running them 24 hours a day, seven days a week." In response, the telehandler units have undergone 2,000 hours of endurance testing.
Rugged qualities
Manitou has presented a third telehandler, the MXT 1740, with equally rugged qualities. It has a 17m lifting height and 4 tonne capacity. It will be available in the first quarter of 2020 and will be attractive to markets like the Middle East where 18m telehandlers are the primary choice of customers.
The company believes there is room for up to 60,000 telehandler units in the Asia and Middle East markets alone, "Our choice [in these new products] is justified by the telehandler needs that are growing significantly in the short and long term due to progressive modernisation projects."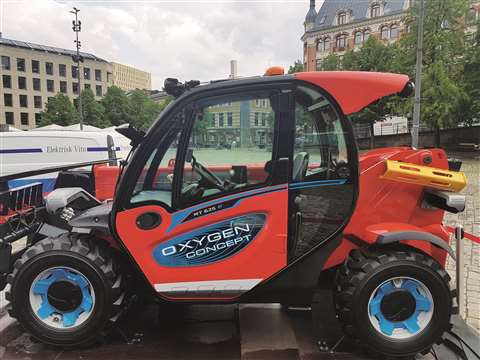 It is thought the models are ideal for replacing cranes, wheeled loaders and other material handling techniques used extensively for the type of work a telehandler does.
Manitou is also breaking new ground with the launch of its 100% electric range, known as the Oxygen line. Two new telehandlers feature in this range alongside a new access platform.
The MRT 2550 h Oxygen Lab telehandler is a hybrid prototype version of the diesel MRT 2550 model, capable of operating in 100% electric mode. Retaining the same characteristics as the diesel-powered version, it has 25m lifting height with a capacity of 5 tonnes.
Responding to mining activity requirements, the company also introduced the high-capacity diesel MHT 12330 telehandler at Bauma. It has a lifting height of 12m, with a capacity ranging from 33 tonnes with forks to 36 tonnes with hook. It is equipped with a 182kW Deutz Stage V engine.
Italian manufacturer Magni is firmly placed in the mature markets, specialising as it does in the more complex and expensive rotating telehandler. While the company believes the global market for these more niche rotating machines is around 3,000 units per year, it also sees growing opportunities in the segment, which is expanding at an annual rate of 30 to 35%. Magni plans to keep up with this demand by expanding its production capabilities. The new 33,000m2 facility is expected to be finished by May next year, with the first two buildings – making up 10,000m2 – due to be completed this December.
In an enterprising move, Magni will rent 10,000m2 of the facility to its suppliers, incorporating three companies that provide logistics, painting and steel handling. Having these suppliers in such close proximity will save Magni around €500,000 a year, explains Sales Director Eugenio Magni. It also means Magni will have the capacity to produce 3,500 machines each year and it will open up new possibilities for the company.
Powerful turns
One of the models on the new production lines will be the recently launched 13.26 RTH, which was designed to be the most powerful rotating telehandler in the world, says the company, with a 13 tonne capacity and 26m height. At the full 26m, it can still carry 8 tonnes. Returning to the subject of cranes, Magni suggests this rotating model can compete with a 40-45 tonne mobile crane, which he says is more expensive for the same work. Magni adds, "A crane has to be rented with an operator. But you can rent our machines without an operator."
New products are also on the horizon, as the manufacturer heads up the capacity and height spectrum. ConExpo, taking place in Las Vegas next year, will see the launch of a new rotating machine, although the details are not yet available.
The premise that rotating telehandlers provide a convenient alternative to cranes is shared by JCB, which launched its first rotating model in June this year. The Hydraload 555-210R is the UK manufacturer's response to the growth in popularity of rotating machines with heavier lift capacities across Europe. It offers a maximum lift capacity of 5.5 tonnes and maximum working height of 20.5m.
"Rotating telescopic handlers have become a genuine cost-effective replacement for smaller mobile cranes, offering rapid set-up and the ability to carry out technical lifting operations," said a JCB spokesperson.
To minimise set up time, the outriggers have auto one-touch deployment, stowage and levelling. Competitive lift end cycle times and high auxiliary flow rates for efficient winch work, boost productivity further, says the manufacturer.
The machines are powered by JCB's Ecomax engines, offering parts and service commonality with other Loadall models. The JCB LiveLink telematics system is fitted as standard.
Compact class
While the relatively niche sector of rotating machines is becoming increasingly mainstream, so is compact equipment. Expert in compact telehandlers, Ausa started manufacturing these machines in 2008. The range comprises three models – the T144H, T204H and T235H – which have the boom positioned on the side. It allows a more spacious cab with 360° visibility but reduces total width.
The T144H is 1,405mm wide and has a load capacity of 1,350kg and a lifting height of 4m. Thanks to its small dimensions, it is the only telescopic handler on the market in the 1 and 1.5 tonne category that can be placed on a traditional trailer.
The Taurulift T204H and T235H models in the 2 and 2.3 tonne categories have a lifting height of 4.4 and 5m, respectively. The company says, "Safety and the electrification of the machines are the two main trends in the sector nowadays." For example, the load indicator on the T144H has an automatic overload limiter.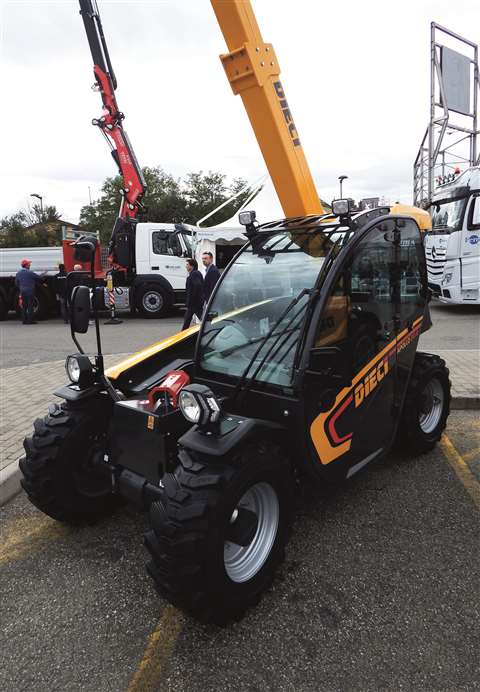 Sticking with the compact theme, Dieici has introduced the 2 tonne capacity ultra-compact Apollo 20.4. The model has 4m maximum working height, complemented by a small footprint – it is 1.5m wide and has a 1.8m transport height. The machine is at prototype stage and will be added to the product line in the second quarter of 2020.
Haulotte's new HTL 3207 telehandler is the most compact telehandler that the company has offered to date. The model uses a hydrostatic transmission alongside an inching pedal for smooth driving.
The company says that thanks to proportional movements, manoeuvring is intuitive, secure and precise. The HTL 3207 provides a maximum lift capacity of 3.2 tonnes and is designed to lift any type of load up to a height of 6.85m.
With a short turning radius and a length of 4.67m, this new machine can access narrow spaces. It has been built to be user friendly, with a spacious and ergonomic cab offering enhanced visibility.
With the introduction of the 8m TL43.80HF and 7m TL30.70 models, Bobcat now offers a choice of 13 compact rigid frame telehandlers, covering capacities between 2.6 and 4.3 tonnes with lifting heights from 6 to 18m.
The new TL43.80HF ups the capacity in the range to 4.3 tonnes, in combination with the almost 8m lift height. The box welded frame, low load centre, long wheelbase and new rear counterweight help to make it more stable. This has allowed overall dimensions to be minimised, resulting in a width of 2.3m and length of less than 5m from the rear to the fork face.
Its sibling model, the TL30.70, provides a maximum lift capacity of 3 tonnes and a lift height of nearly 7m. Its 2.1m width and stability makes the machine a suitable tool for pick-and-go applications or for lifting materials on housing and commercial property developments. With a reach of 4m, it can carry a load of more than 1 tonne, while at maximum height it can lift up to 2 tonnes.
The range is powered by Bobcat's own compact Stage IV D34 engine, for the highly regulated markets in EMEA. Combined with a low profile engine hood, visibility has been improved on the engine side.
In contrast to Bobcat, Tobroco Giant has recently entered the telehandler market. The company's first offering in this sector is the 4548 Tendo HD, with a second machine set to arrive later this year.
The 4548 Tendo HD is particularly compact at a width of 1.6m and height of 2m, and with an inside turning radius of 1.2m. This machine is capable of lifting objects weighing up to 1.4 tonnes to a height of 4.8m on forks and has a capacity of 1.5 tonnes at ground level or 1.2 tonnes at full height.
The Tendo also has the option to be equipped with crab steering. This means it can drive laterally offset for better manoeuvrability close to structures.
The new GT5048 telehandler, which will be released later in the year, will replace the existing model. When it becomes commercially available, the new telehandler will be powered by a 36kW Kubota diesel engine with catalytic converter (DOC) and DPF that meets the latest EU Stage V standards.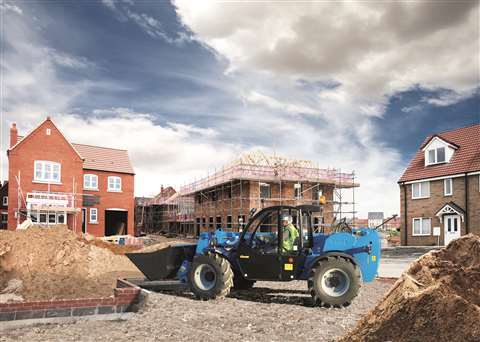 Genie has also been working on improving its emissions. The company says that its GTH-3007 compact telehandler will now feature Stage V compliant engines.
The Stage V units have been available to European countries and Turkey from July, 2019. As the higher-capacity brother of the Genie GTH-2506 compact telehandler, weighing 5,970kg, the GTH-3007 telehandler shares the same rugged durability.
Terex AWP EMEAR (Europe, Middle East, Africa and Russia) Product Manager Zach Gilmor said, "Unlike other heavier units by other brands, our GTH-3007 telehandler combines the full capacity of a 6.89m machine with the power that only a 74hp Stage V engine can provide."
The GTH-3007 boasts a maximum lift capacity of 3,000kg, a vertical reach capacity of 2,500kg at a maximum height of 6.89m, and a horizontal reach capacity of 1000kg at 3.99m.
Coupled with a 2.55m inside turning radius and 45cm ground clearance, its compact dimensions offer a machine length at front wheels of 4.06m, a machine width of 2m and a machine height of 2.07m.
Made to last
The GTH-3007 telehandler includes a two-stage boom with no chains or cables, durable heavy-duty steel fenders, Dana axles with dual brakes and full-time planetary four-wheel drive and four-wheel steer.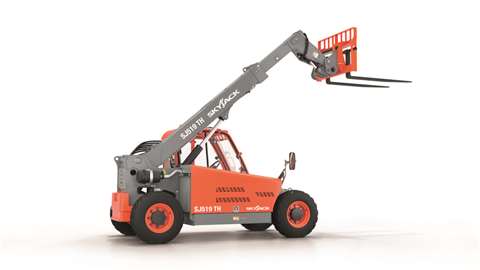 Skyjack says it has also experienced an increased demand for compact units. "Operators are continuing to utilize the compact telehandler for a wide range of applications as a result of its versatility through the use of attachments and its ability to manoeuver easily around jobsite debris and tight corners," says Braden Spence, Junior Product Manager at Skyjack. "To address the high demand for the compact telehandler, Skyjack launched the SJ519 TH."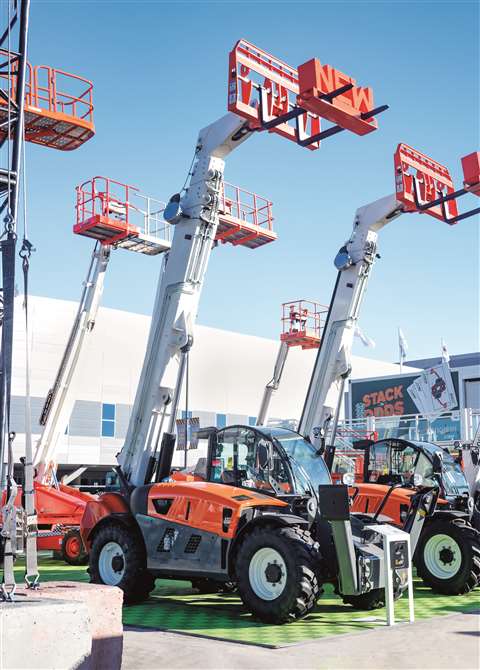 The SJ519 TH, designed for the North American market, offers a 2,490kg lift capacity and a maximum lift height of 5.8m. At its maximum reach of 3.4m, the SJ519 TH can still lift a rated load of 1,995kg, Skyjack says.
Fellow US company Snorkel launched two new telehandlers at Bauma 2019: the SR1442 and SR1745 (branded as the SR9244 and SR1045 in the Americas) join the existing SR626 in the company's range.
The new four-wheel-drive telehandlers have enclosed cabs with heat and air conditioning.
The SR1442 is capable of lifting up to 4.2 tonnes with a maximum lift height of up to 13.5m, and a maximum forward reach of up to 9.5m. The larger SR1745 has a maximum lift height of up to 16.4m, with a maximum forward reach of 12.6m, and can lift up to 4,535kg.
Traversing loads
The Pettibone Traverse T944X is aimed specifically at North America.
An important feature is its extendable, traversing boom that moves loads by traveling horizontally. The 4,080kg capacity machine has up to 180cm of horizontal boom transfer, allowing users to precisely place loads at full lift height through tight openings.
With the Traverse, the specified lift height of 13.5m is nearly identical to the 13.4m landing height. This is in contrast to a traditional fixed boom pivot, where the true landing height is generally significantly less than the advertised lift height, as operators have to account for withdrawing the forks out of the load with enough rearward travel for the fork tips to clear the landing zone.
Keeping track
UK-based equipment rental firm Ardent Hire, which claims to have the largest telehandler fleet in the UK and to be JCB's largest telehandler customer in Western Europe, has been working with JCB and Trackunit over the past 18 months to develop a set of telematics data to inform its Site Manager software.
Site Manager is designed to help customers better track the performance of their rental equipment by sending text and e-mail alerts directly to site managers.
The system also prompts users to off-rent under-utilised equipment, highlights out-of-hours use, and shows when equipment is being idled excessively, along with providing other alerts.
Site Manager currently has more than 500 users, and Ardent says this figure is growing daily.
In the New Year, a new version of Site Manager, V3, will be launched.