Telematics: data holds the key
By Andy Brown10 September 2018
The word telematics encompasses many different aspects: fleet usage, fuel consumption, complex machine information and location tracking are just some of the aspects. Regardless of how you break it down though, it comes down to something beautifully simple – data.
Telematics is all about generating data – the next stage is how this data is used to improve the performance, cost-efficiency and longevity of construction equipment. All major OEMs have their own telematics programmes, and there are a number of bespoke firms which also offer this service.
A key point is that telematics is not a 'one size fits all' option, and telematics software is increasingly being adapted for the specific needs of its users. For example, Trimble offers several options to meet a wide variety of needs.
Bespoke services
The firm's VisionLink fleet management software makes it easy to monitor assets and fleets on a jobsite, with features for tracking machine utilisation, fuel consumption, maintenance schedules, machine health and more, while their TrimFleet technology is designed for aggregates and ready mix vehicles within the construction materials industry. It helps monitor the exact location of each truck, as well as where each one is in its delivery cycle. TrimFleet allows dispatchers to monitor concrete quality and dispatch processes in real-time.
Another solution offered is an excavator productivity weighing system that helps optimise mass-haul and other loading operations, through payload tracking and real-time material movement visibility.
Regarding how customers use telematics data, Enrico Borella, product manager for telematics services at Komatsu, classifies this in two different ways: classic and advanced. "Classic utilisation is to locate the machine, verify working hours, fuel consumption and monitor usage for security," he says.
"Advanced utilisation can be defined as fleet management, such as dispatching machines to a particular location, identifying inefficiencies, productivity analysis, improving machine selection, operator efficiency and analysis and feedback."
Borella makes the point though that, "Too much data kills the data, companies are drowning in a sea of data. What they want from a system is actionable data to take business decisions quicker and stay ahead of competition."
Bespoke offerings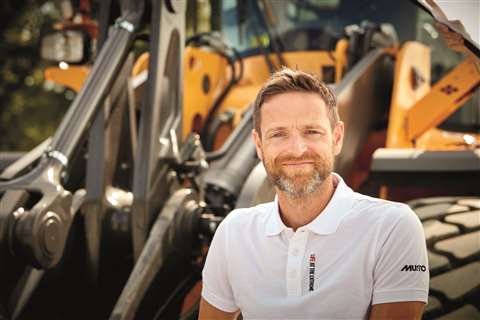 Marnix Reedijk, product manager for productivity and efficiency services within Volvo CE Sales Region EMEA says that providing easy to understand data is key and that, with so much information available, getting to the heart of what is important is vital.
"There are so many possibilities when it comes to telematics, but different customers can have different needs. Some just want to get all the data available directly imported to their own systems and analyse everything in extreme detail. Other customers only want to follow up on their fuel consumption," he says.
"I think the hardest part is going from spotting improvement potential in the telematics data, to actually making a change to the daily operations.
"Volvo puts a lot of effort into this part. We have the telematics data to see where potential improvement could be made and then, together with the machine experts, we can set up a plan to make this improvement. This could be changes to the way operators drive their machines, or even the set-up of the worksite in order to be more productive."
Doosan recently announced that, since the launch of the company's DoosanConnect fleet and asset management system, the company has increased its presence to now cover approximately 60,000 of the company's excavators, wheeled loaders and articulated dump trucks worldwide.
The system is designed to increase efficiency in site management and equipment operation through real-time data monitoring to check engine and hydraulic system parts of Doosan machines and other construction equipment and to provide information, mapping and visuals on their location and availability. Doosan customers receive a monthly report on equipment operations to ensure efficient deployment with detailed information on service hours and fuel consumption.
Tracking the location of machinery is a main tenant of telematics, and rental software vendor, inspHire, has recently added new Asset Tracker functionality to its product portfolio. This links with Google Maps, giving users the ability to pinpoint the location and status of all their inventory.
Alongside the Asset Tracker, inspHire has centralised telematics data within its rental management software. Bringing two systems together allows users to view and quickly cross-reference their telematics and rental data.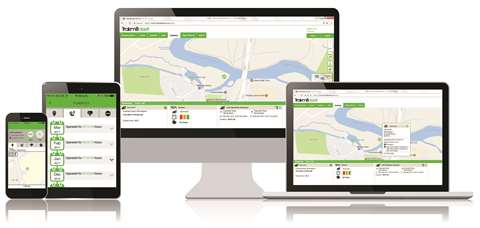 Elsewhere, UK-based telematics specialist Trakm8 has recently signed a deal with Colas CZ, providing the Czech division of the French civil engineering giant with a telematics solution.
Colas CZ is installing a variety of telematics devices from Trakm8's T10 range into a mixed fleet of cars and construction machinery such as excavators, cranes and asphalt pavers working to build the Czech road network.
All of the devices report into the Trakm8 Asset system, which enables fleet management of plant and vehicles from one dashboard. Trakm8 Asset provides GPS locations, hourly utilisation reports and fuel consumption measurement for plant.
Standardisation
A key development in this sector has been the standardisation of machine data. The Association of Equipment Management Professionals (AEMP) standardisation has mean that, rather than being limited by a requirement to use proprietary software systems from each individual manufacturer with their brand-specific data, the industry is able to have full access to telematics across mixed fleets.
This change, along with rapidly improving technology, has led to a shift, as chief commerical officer of Trackunit, Soeren Brogaard Jensen, explains.
"The world of telematics has changed enormously over the last few years and continues to do so. New technology is available to us, so it all comes down to how we decide to use it.
"Instead of just looking at telematics as a spare part that provides theft protection, we now use telematics to its full potential by solving real problems. From just gathering data, we have moved on to exploiting and interpreting various data sources in combination to make our customers obtain real change with telematics."
Prevention is better than cure
One of the key uses of telematics is preventative maintenance, detecting existing problems early in order that they can be resolved before they escalate into larger, and more costly, failures. Predictive maintenance solutions are based on analysing machine data, historical failure data, and industry knowledge to predict an upcoming failure so that planned maintenance can be performed.
Telematics can be used to change the way operators drive their machines, or even the set-up of the worksite
This is one of the uses, but the benefits that arise from combining and analysing data are far-reaching. Keith Gelinas, senior vice president and general manager at Orbcomm says, "Combining telematics data with logistics data could allow for greater insight into drivers who are particularly tough on their machines, flagging the need for driver coaching. It could flag a technician whose machines have less problems in the field, providing an opportunity to share best practices.
"For heavy equipment OEMs, this data could facilitate better design and performance of their machines. Bringing business data into the analysis could result in a decision not to spend $40,000 on parts when a machine is coming towards the end of its useful life."
The construction industry is one of the least digitised industries, but it has taken a real step forward in recent years, with telematics being a prime example. Five years ago, many in the industry saw this as a way to track their fleets – now the awareness is there that telematics can save companies both time and money through a myriad of ways.
It will be interesting to see what developments the next five years bring and, as Gelinas says, telematics can benefit everyone. "From better maintenance outcomes, to improved asset lifecycle management to better machine design, the insights gained when data is shared benefits the entire ecosystem, from OEMs, to leasing companies, to equipment owners."