Telematics launch for John Deere engines
By Neill Barston23 April 2015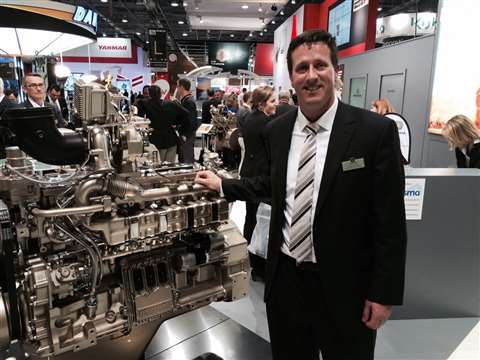 John Deere has released a diesel engine-based telematics system at Intermat, which has targeted the OEM equipment market.
The company said its Powersight system combines several monitoring functions evaluating machine performance, and a web-based remote diagnostic service, which has been developed to assist with improving uptime of equipment.
The system is available for John Deere Tier 4 Final/Stage IV, Stage IIIB/Interim Tier 4, and Stage IIIA engines/Tier 3 engines.
"Using the suite of services in John Deere Powersight, customers can achieve more uptime, increased profitability and greater productivity," said John Radke, manager worldwide customer support for John Deere.
Geoff Stigler, John Deere's director of marketing support, EAME region, added that the new system's ability to diagnose any potential systems issues remotely would prove particularly useful. He said Powersight had been designed to be user-friendly, communicating with contractors through mobile phones or tablets, providing live monitoring that could identify any issues at an early stage.
The company's latest series of Stage IV/Tier 4 Final off-highway diesel engines have been showcased at Intermat. These range from 2.9 to 13.5 litres, which have an integrated emissions control system developed for different power bands.
For the 36 to 55 kW power range, models use an exhaust filter with a diesel oxidation catalyst (DOC) and diesel particulate filter (DPF), without cooled exhaust gas recirculation (EGR) or selective catalytic reduction (SCR). In the 56 to 104kW power category, the PowerTech PWL 4.5 litre engine has a cooled EGR with SCR and a DOC.
The company said that its engines in the 93kW and above power range have been developed with an emissions control system of cooled EGR, a DOC,DPF and SCR.