Telescopic crawler cranes: tools of the trade
By Christian Shelton11 June 2018
The sector is expanding as this versatile machine proves itself around the world. CHRISTIAN SHELTON reports
The flexibility of telescopic crawlers means they are suited to a wide range of applications. This makes them key tools on the construction site. "Telescopic crawler cranes combine the advantages of a telescopic crane with those of a crawler crane," explains Wolfgang Beringer, Liebherr spokesperson. "Our crawlers' travel gear provides excellent off-road capacity and superb manoeuvrability, as well as allowing the crane to travel under full load."
The German manufacturer offers three models of telescopic crawler crane: the LTR 1060, LTR 1100, and LTR 1220; with capacities of 60 tonnes, 100 tonnes, and 220 tonnes, respectively. Beringer says the main market for Liebherr's telecrawlers are Germany, USA, UAE, Australia, Belgium, and that its best seller is the LTR 1100.
Telescopic cranes have a number of features that make them attractive to rental firms and end users, especially when compared to using lattice boom cranes. "These include short set-up times, easier transport, and the variability of the boom system," Beringer qualifies. "The boom can be extended or retracted automatically and rapidly to the desired length, enabling it to easily pass below obstacles.
"Also, our LTR 1220 can be telescoped with the boom which, in principle, is not possible with lattice boom cranes. And because a crawler crane does not need to be supported it can be rapidly set up on site and can go into action immediately."
In comparison to all terrain cranes, where more than 90 percent of the buyers are crane rental companies, Beringer says Liebherr is selling approximately 30 % of its telescopic crawler cranes directly to construction companies, with most of the rest going to rental firms.
Proven value
US manufacturer Link-Belt says its telecrawlers are proving popular with rental companies. "Telecrawlers have proven their value in rental fleets – ranging from large, multi-national companies to smaller, regionalised companies," elaborates Scott Knight, Link-Belt product manager for lattice boom and telescopic crawler cranes. "Applications and markets for telecrawlers vary by tonnage class. The under 95 tonne class we find is predominantly being used for foundation, power transmission, utility, and general industrial work. In the over 95 tonne class, the telecrawlers are more likely to be used for general contractor, industrial power and gas plants, and bridge work. Then the workload moves more into wind farms, refineries and industrial applications the higher in tonnage you go.
"Internationally, smaller classes of telecrawlers are most common but in North America larger sizes are more widespread, especially the top end of Link-Belt's telecrawler offering with the TCC-1100, TCC-1400, and most recent addition, the TCC-2500."
The 250 US ton (230 tonne) class TCC-2500 has a seven-section 13.8 to 67.9 m pin and latch boom which, Link-Belt says, is the longest in its class, and eight boom extension modes. Regarding attachments, the TCC-2500 has a three-piece offsettable fly jib available as 3.6 m, 12.1 m, or 20.4 m. It can also have two 7.62 m boom extensions for an overall tip height of 105.46 m. This attachment comes with hydraulic offsets as standard for 'up-and-over' capacities, says Link-Belt.
The TCC-2500 also has a matching front and rear wide winch design. "The new wide design allows the winch to handle its maximum permissible line pull through the fourth layer," explains Knight. "The rear auxiliary winch can be removed for transport weight reduction and a power pinning system mitigates work at height exposure."
Link-Belt points out that the TCC-2500 is a purpose-built design (like the rest of its TCC line) rather than an all terrain crane upper conversion. "Our goal from the beginning was to supply a simplified crane design that is quick and easy to assemble and is operator-friendly," comments Knight.
The attributes of the TCC-2500 have been used to good effect by North American crane rental company Dawes Rigging and Crane Rental (Dawes), part of All Family of Companies, which used one as an assist crane on the construction of Rocksprings Wind Farm in Texas, USA. The 149 megawatt wind farm comprises 69 wind turbines, an electrical substation and an underground transmission line generating enough electricity to power up to 69,000 households.
One of the main challenges Dawes said it faced was that the layout of the wind farm that meant the crane had to travel long distances between the turbines – sometimes covering up to three miles (5 km) a day over rough terrain. Over the course of the job the crane travelled approximately 70 miles (113 km), Dawes said.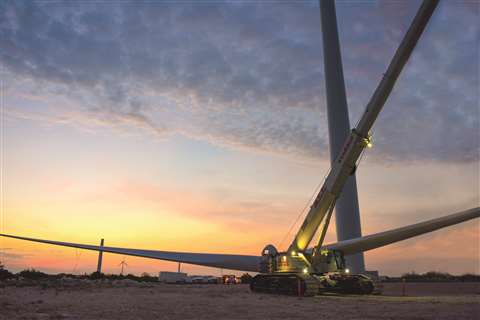 Dawes using a Link-Belt TCC 2500 as an assist crane on the construction of Rocksprings Wind Farm in Texas, USA
It was also used to help manoeuvre the lattice boom of a 600 tonne capacity crane (that was being used to erect the wind turbines) under a powerline, as well as build a number of rotors that the lattice boom couldn't get to.The crane has now been transported to Kansas where it will be used for further wind turbine work.
US manufacturer Manitowoc also highlights the suitability of telecrawlers for a wide selection of jobs. The company has five in its range: the GHC30, with a capacity of 30 tonnes; the 45 tonne GHC50; the GHC55, with a capacity of 50 tonnes; the 70 tonne capacity GHC75; and the GHC130, which is rated with a capacity of 120 tonnes.
Manitowoc says its GHC series cranes are ideally suited for a range of applications, including: wind farm construction; utility work; barge work; crane assembly; laydown yard work; foundry work; and highway, bridge and tunnel construction.
Rocky ground
US construction company, Mosites Construction & Development, used a Manitowoc Grove GHC75 telecrawler to erect a Manitowoc MLC165-1 crawler crane on a river bed, where access proved difficult.
The work is part of a US$93 million infrastructure project that will add seven new bridges along four miles of highway on the Pennsylvania Turnpike near Pittsburgh, USA.
According to Manitowoc, the Pittsburgh-based company chose the MLC165-1 to build the pier caps, but conditions on the job site made erecting the 165 tonne crawler crane difficult. The site was located at the bottom of a creek bed, where trucks could not easily traverse the wet, uneven soil to deposit the crane's parts for assembly.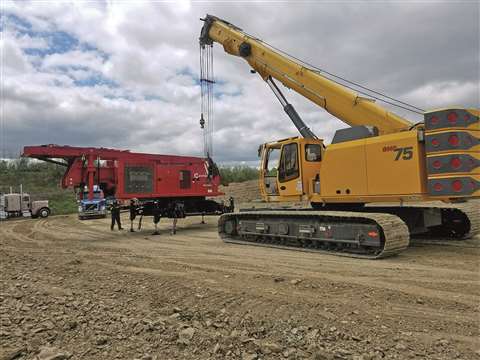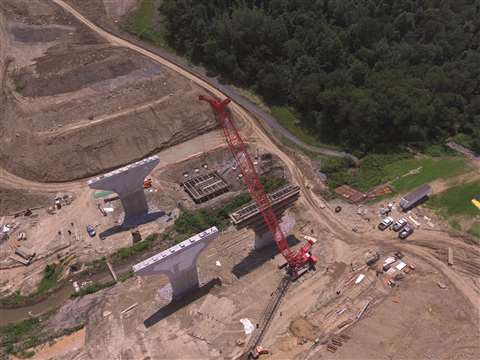 "The MLC165-1 had the size and capacity we needed to build the pier caps, so choosing it was easy," explains John Dove, superintendent for Mosites. "But since we were working on such uneven terrain, erecting it on the job site was a challenge. Our trucks couldn't travel down the 17 per cent grade to the bottom of the creek bed, so we needed a manoeuvrable lifting solution that could get the MLC165-1's components to a level area where we could assemble them."
According to Manitowoc, the GHC75's combination of crawler manoeuvrability, telescoping boom versatility and pick-and-carry function enabled the contractor to move the crawler crane's parts into position.
"The GHC75 was the perfect crane for the situation we were in," Dove continues. "The crane can be 4 % off level and still make picks, which is ideal in a swamp. We were able to extend the GHC75's tracks and tackle the terrain without spending time and money on additional matting."
This ability to tackle such a wide range of tasks that other cranes cannot provides telescopic crawler cranes with a competitive edge compared to other crane types in the wider crane market. "The contractor learning curve is catching up to the product that is available. In other words, customers are talking about the usefulness and capabilities of telescopic crawler crane," confirms Knight from Link Belt. And with an ever-increasing tick-list of successful jobs around the world across a whole host of applications, awareness of just how useful telecrawlers are can only increase.