Terex all terrains on Monterrey Metro
By Laura Hatton21 May 2015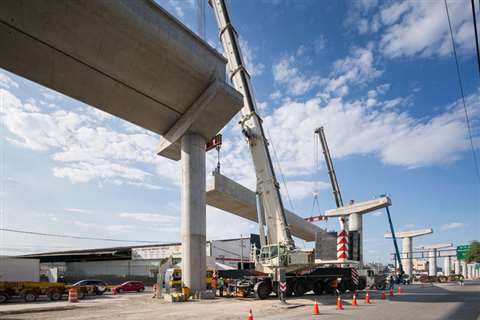 The Monterrey Metro in Monterrey, Nuevo León, Mexico, is undergoing an expansion project with the addition of a third line.
The third Monterrey line is being built by a consortium of Alstom Mexicana, Constructora Garza Ponce and Constructora Moyeda construction companies. The consortium was awarded the contract by the State of Nuevo León
Once complete, Line 3, as it is being referred to, will connect the Line 2 terminus at General Zaragoza northeast to Hospital Metropolitano. The 7.5 km stretch of railway will have 26 trains and nine stations. It is expected to serve an additional 280,000 passengers daily, bringing the total number of daily passengers using the Monterrey Metro to 760,000.
The construction of the new line includes installing a number of U girders. Each U girder weighs 230 tonnes and is 37 metres long, 1.85 m high and 5.2 m wide. The girders had to be placed to heights between 15 and 22 m.
To move and install the girders, all terrain crane types 350 tonne capacity AC 350/6 with 64 m main boom and a 500 tonne capacity AC 500-2 with 56 m telescopic boom were chosen.
Arturo Moyeda Morales, Constructora Moyeda CEO, said, "We chose to use two Terex all terrain cranes — an AC 350/6 and an AC 500-2 — because they had the capacity to lift the girders and the cranes are roadable, needing only six flatbeds each to transport the counterweights. In addition, a crew of 12 people can set up the cranes in just three hours.
"Once a crane was moved and we had the go-ahead from the transit authorities, a lift could be done in less than 30 minutes per girder. It was the right equipment for the job," Moyeda added.
Challenges during the project included working in the confined spaces of the Monterrey metropolitan area. In addition, Line 3 was to be constructed above the highway bridges, over pedestrian bridges and between power lines. During the planning stages, issues such as traffic patterns, old drainage lines and main water lines were also considered.
"Most of the lifts were done with minimal traffic interruptions and in very confined spaces, with a number of underground and aerial obstacles," said Moyeda. "On top of those site conditions, we also had to keep our crews productive in the Monterrey weather conditions, where temperatures can reach 115 degrees Fahrenheit [46 degrees Celsius] in the summer."
Line 3 is due to be completed in August 2015.