Terex Cranes debuts new rough terrain
By Hannah Sundermeyer08 May 2023
Terex Cranes has unveiled the new TRT 65 rough terrain crane, the latest model in the TRT product range, at the Italian construction tradeshow SaMoTer. The crane is ideal for several applications, including ports, construction, infrastructure, mining, energy, yard logistics and general lifting.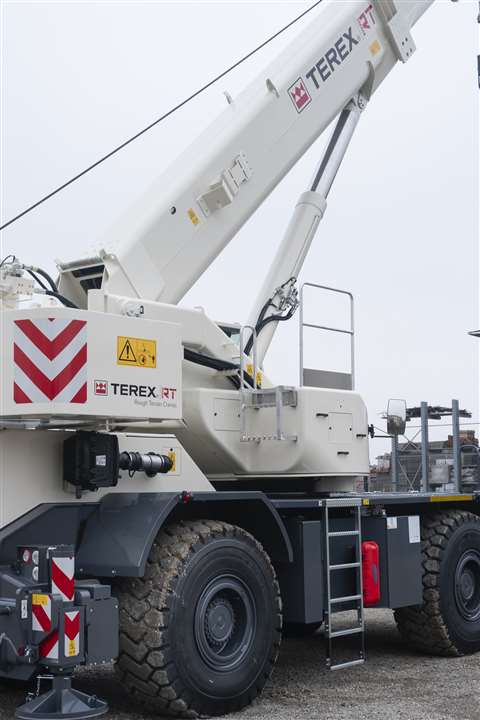 The TRT 65, with a 65-tonne maximum lifting capacity and main boom of 43.5 meters, is the fourth model of the TRT range. An important feature is the crane width of only three meters which allows the crane to be easily transported and maneuvered, even in congested job sites and narrow/confined areas, the company said. The TRT65 also features a synchronized, five-section boom.
"It was fantastic to showcase our new TRT 65 at SaMoTer," said Stefania D'Apoli, senior sales support manager RT cranes. "The show is highlighting how sophisticated technologies connect operators with machines, and our TRT is an ideal example, since it features the new generation of the Terex Operating System (TEOS). This technology improves usability and information flow using a new, 10-inch full-color touch screen display with an intuitive interface to maximise efficient and safe operation and maintenance. New features include the possibility to have a camera embedded in the touchscreen screen, enabling the operator to watch directly from the TEOS display. It was good to discuss the capability of our equipment with visitors at the show."
The TRT65 has Powershift (permanent 4-wheel drive) with two modes to satisfy operators driving style, either manual mode (three speeds forward and three speeds reverse) and automatic mode (6 speeds forward and 3 speeds reverse). Terex T-Link telematics, which provides customers with real time information on the performance of their crane comes as standard on the TRT 65, along with LED lights.
The U.S. version model (TRT 70US) is also going to be available in the coming weeks.