Terex crawlers for Peruvian Port
By Laura Hatton08 October 2014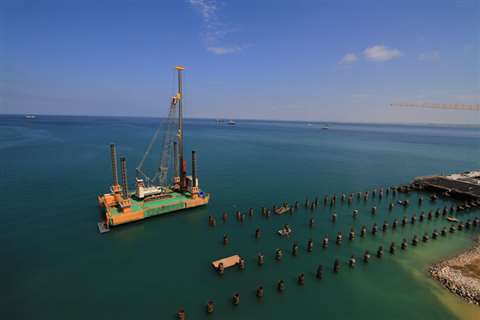 Portuguese group Mota-Engil has put two Terex crawler cranes to work on a US$ 230 million investment project at the Port of Paita in Peru.
The Port of Paita is in the northern region of Piura and is the second largest port in Peru. The crawler cranes will be used to help construct a pier at the container terminal of the port.
On site is a Terex HC 230 and HC 275 crawler crane. The HC 230 lattice boom crawler crane has a 230 ton (208 tonne) capacity and can be fitted with up to 88 metres of boom. The HC 275 lattice boom crawler crane has a lifting capacity of 275 ton (249 tonnes). Both crawlers were brought from sales provider Ferreyros in Peru and shipped directly to the site.
The crawlers are being used for tasks including dredging, placing rocks and installing pillars, ready to support the pier. To carry out the work, both crawlers have been installed on a vessel. They are operating 24 hours a day, in two shifts and are working at 85 % of their load chart.