Terex Finlay aims for growth
By Lindsay Gale25 March 2008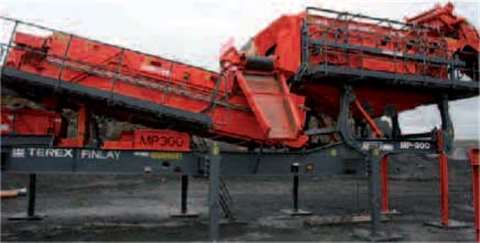 A recent dealer/customer event near Dublin, Eire, was the venue for the formal introduction of the company's new cone crusher, the C1540, announced in D&Ri's last issue, with the unit's public debut being at Bauma in April.
During the event, D&Ri had an opportunity to find out what the company's plans and hopes for the future are. In terms of equipment, Finlay is currently working on a new smaller jaw crusher, the J1160, and D&Ri understands that its R&D effort is also being directed to larger cone and jaw crushers. The company rules out going for the compact sector – Rodney Kennedy, senior sales manager told D&Ri "compact crushers are not our business" and that there would not be any new product under 30 tons. "We are going for the 40–50 ton equipment range, and we see a growth in the 60–70 ton range, so we will be looking at that as well with regard to new product."
The C1540 should enter series production in July, assuming it passes through its rigorous test phase, and Finlay hopes to sell some 30 machines during the year, with 2008 sales expected to be at east double this number. The company believes it should prove especial popular in a number of countries, such as Russia, the UK and South America, where a demand for high quality aggregates exists.
With regard to its position in the market, in 2006 the company had a turnover of £75 million (US$147 million and the expectation is that it should see at least £100 million (US$196 million) worth of business in 2007 Overall, the longer term target is to double its production over the course of the next five years. Using its existing global network of dealers, it will achieve this by further developing this network, developing a full line crushing, screening and washing solutions, and by making full use of the facilities, such as finance, offered by its being part of the Terex group of companies.
Celebrating its 50th century in 2008, Terex Finlay has been concentrating over the last two years on the development of its full line of crushers (of which it has sold 120 in 2006, its first full year of crusher manufacture), but has not ignored its more traditional washing system solutions. It recently introduced the MP300 horizontal washer, a number of which are already at work in the UK. This machine is targeted at the recycling market to help produce fine quality, cleaner end product.