Terex Utilities to show HyPower system
By Lindsey Anderson10 January 2017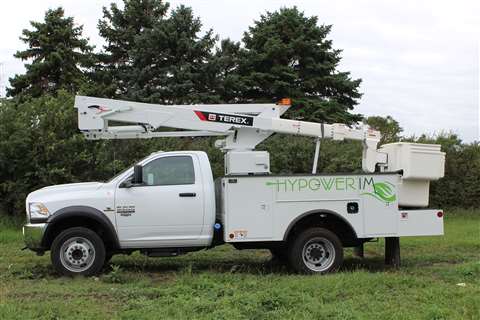 Terex Utilities will show its latest innovation in the HyPower Hybrid System for aerial devices at TechAdvantage 2017, Feb. 26-March 1.
"HyPower IM, an idle mitigation solution, provides a reliable, cost-effective way for electric cooperatives to meet their green fleet initiatives," said Joe Caywood, director of marketing.
The patent pending design offers a lighter weight system that reduces fuel usage and exhaust emissions, at a lower price point than other hybrid systems, the company said.
"The potential annual fuel savings is estimated to be about 1,500 gallons per unit with an investment cost that is approximately one-third less than current competitive hybrid systems," said Tyler Henderson, product development manager. "Those two benefits together add up to a great value for our customers.
In addition, HyPower IM can potentially eliminate up to 12 tons of CO2 annually per unit with the cab comfort and boom integration, according to the company.
"We listened to electric cooperative fleet and operations managers when designing HyPower IM to make it efficient and operator-friendly," Henderson said.
HyPower IM automatically switches from plug in battery-stored power when the truck is idling to engine-supplied power when hydraulic controls are engaged. Utility workers do not have to remember to engage the system to gain the benefit of utilizing the battery power system as it is integrated into the unit. In addition, the truck cab can be heated or cooled without the engine running.
"Throughout an eight-hour work day, on a typical trouble truck, the aerial's hydraulic controls are engaged for about one hour total run time," Henderson said. "The system utilizes engine power during the brief intervals the boom is used significantly. The transition is seamless and operators experience no lag time in hydraulic responsiveness. The HyPower IM design also features a best in class overall system weight which assists in chassis selection and payload capacity."
HyPower IM can be ordered with new Terex aerial devices or retrofitted on existing fleets using Terex devices. It is currently available for Class 5 Chassis, such as Ford, Dodge, and GM trucks, used with Terex Hi-Ranger telescopic aerial devices, such as the LT, LTM and TL series aerial devices. The HyPower IM LT40 also features a 45 feet, 6 inches of working height and 26 feet, 6 inches of horizontal reach with 400 pounds of platform capacity.
HyPower IM is a 48v Lithium ion battery system that charges from either a standard 120V plug in or the 12v chassis engine alternator during road travel. HyPower IM uses fewer, higher efficiency batteries versus other hybrid systems.