Testing transports
By Laura Hatton29 July 2014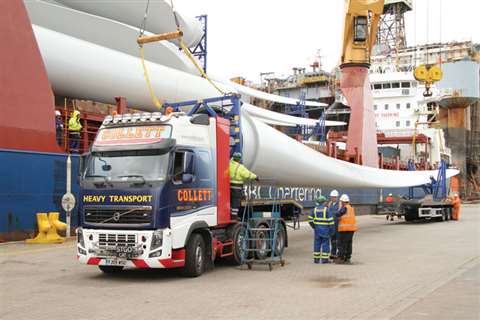 As wind turbine components keep getting bigger the challenge for transport companies and equipment manufacturers to overcome these difficulties gets ever more complicated. Laura Hatton reports
Whether onshore or offshore, the new generation of larger wind turbines is presenting a challenge for heavy haulage companies. Many are turning to new solutions to move larger components quickly and economically.
UK transport company Collett & Sons, for example, has a purpose-designed 110 tonne capacity straddle carrier to handle larger wind turbine components. The fleet also includes special purpose vehicles, including MAN 6x6 tractor units, for extra pulling and towing duties. Trailers in the fleet include 18 to 48 metre extendable and steerable blade types by Nooteboom, Broshuis and Doll. For transporting blades up to 85 m long the company uses blade trailers and bogies from Scheuerle and Doll. To transport tower sections up to 40 m long and a diameter of more than 4.3, but less than 5.5 m and weighing no more than 100 tonnes, Collett uses tower trailers, lift adapters and clamps from Scheuerle and Nooteboom.
For quayside and storage area operations, Collett uses self propelled modular transporter (SPMT). For manoeuvring offshore wind turbine components, nacelles up to 600 tonnes and tower sections up to 450 tonnes, the company uses Scheuerle modular systems with 6 to 600 axle lines, with a capacity of 40 tonnes per axle line.
"In 2014 we opened a new facility in Grangemouth, Scotland, to mirror the success of the Goole operation facility specifically to handle WTG components," David Collett, Collett & Sons managing director, said, "The first project has just been completed through this facility, where 3.4 MW turbines have been discharged, stored, handled and delivered to the Muirhall wind farm. A special feature of the facility is an identical 110 tonne capacity straddle carrier and top lift to handle components."
Due to the ever increasing size of components, transport company Felbermayr, from Austria, has adopted other methods of transport as road transport has been impossible on some projects. Wolfgang Schellerer, Felbermayr general manager, explains, "On the Munderfing project, due to the diameter of the bottom section and the first tower of the Vestas V 112/140, road transportation from Germany or Denmark was impossible. Therefore, we used the Rhein, Main and Danube channel [waterway] to Linz and from there we drove the challenging 100 km to the site.
"For the transport of tower sections we are mainly using 7-axle lift adapter systems with 3- or 4-axle dolly. For transport of blades we are using Nooteboom Telestep extendable trailers up to 50 metres."
New models
Issues for wind turbine transport companies are old infrastructure and, in particular, weight limits on bridges. In addition, wind parks are being created in forests and other areas with more limited access. To help transport companies deliver services that are economically effective, manufacturer of specialized transport equipment Goldhofer, has introduced new models for transporting the new generation of turbines.
New models include the Super Lift fourfold extendable flatbed semi-trailer, designed for transporting long rotor blades. "It can be used with 5- or 4-axle tractors and, in the latter case, with or without a single-axle dolly," a spokesperson said. Ground clearance behind the goose neck is 1,315 mm (700 mm in front of the bogie), while the lowered gooseneck has a minimum loading height of 550 mm (1,000 mm at the rear). The pendular axle bogie offers a stroke of 600 mm and a 60 degree steering angle. It has a retracted length of 13,500 mm.
Also from Goldhofer is the FTV 300, for transporting rotor blades. "The FTV 300 holds the turbine blade at the hub connection and can tilt it up to an angle of 60 degrees so that it is transported in a semi-upright position," a spokesperson says, "It can be mounted on a modular trailer or a self-propelled modular transporter. It has hydrostatic drive and electronic multi-way steering. In addition the pitch angle can be adjusted by rotating the blade around its axis."
For transporting turbine hubs, Goldhofer offers the STZ-MPA semi-trailer and heavy-duty modular trailers in the THP series. Goldhofer's STZ-MPA has the MPA axle system. It comprises just one wheel carrier, strut and suspension arm and offers a low loading height of 780 mm (lowered), a suspension stroke of 315 mm and 60 degree steering angle. For transporting heavy tower sections, Goldhofer offers the RA4 tower adapter, which can handle payloads of up to 180 tonnes.
From manufacturer Nooteboom is the Mega Windmill Transporter (MWT). It is for transporting components for turbines up to 4 Megawatts or more, the manufacturer says. "The MWT also enables to load and unload the towers without the need of a crane," the manufacturer says, "It consists of a Liftadapter with jeep dolly and 7-axle dolly, which is still seen as the most cost efficient way to transport the tower pieces for wind turbines."
Also from Nooteboom is the Super Wing Carrier (SWC) range, designed to transport long blades of 70 metres and more. The latest version of carrier from the SWC range is the Quatro Super Wing Carrier is based on the MCO-PX semi low-loader. The SWC has pendle axles and offers a steering angle of 60 degrees. The gooseneck is hydraulically adjustable when loaded and offers a maximum of 800 mm height compensation. It is suitable for transporting rotor blades from 50 up to 80 m.
From manufacturer Faymonville is the TeleMax flatbed semi-trailer. It is extendable up to 65 m and is suitable for carrying rotor blades up to 80 m long. From the same manufacturer is the VarioMax, for transporting wind components, including tower segments, generators, and rotor or turbine blades. "This is a particularly adaptable and versatile series of semi-trailers, consisting of a front and rear bogie, based on 3- to 9-axles," a company spokesperson says. Also from Faymonville is the MegMax trailer, a low bed with 1- to 5-axles, removable gooseneck and different low bed variants, with or without 1 to 3-axle free-swing dolly.
Also from Faymonville is the CombiMax, designed for transporting turbines, platforms, tower segments, generators, and rotor or turbine blades. The CombiMax has standard components and can be tailored individually. "The bogies are available with pendle axles, with axles on independent suspension in the Twin-Axle-II version, as well as in knuckle-steered variants," the manufacturer says.