Teupen innovates with Leo
By Euan Youdale12 February 2019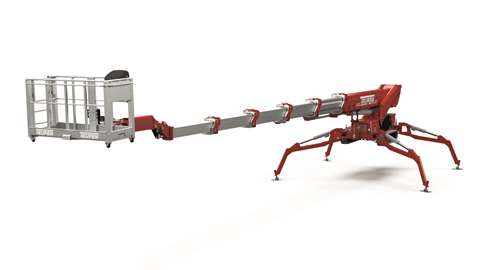 Teupen will present the new LEO35Tplus at Bauma. The model features a horizontal outreach up to 17m and a platform capacity of 400kg/300kg. The manufacturer says it offers advantages until now not possible in its class.
With minimum measurements of approximately 7.5m x 1.58m x 1.98m and a dry weight of 5,400kg, the platform can be precisely controlled via remote control. The control system is expanded with a start/stop device on the combustion engine and a two-line display, with fuel tank indicator, platform capacity, live load information, including the load limit in percentage. Important information is displayed directly to the operator.
The rubber tracks ensure an optimum traction even on soft surfaces. For driving on slopes or to optimise the floor clearance, the chassis can be adjusted hydraulically in height and width. With a large slope angle of about 21° and a gradeability of 17°, the high hydraulic outrigger setup makes it possible to work on slopes of up to 30% or on stairs. There is a choice of four different platform sizes from 0.9m to 2m, which opens up possibilities for different work environments.