More than 25 companies have now signed up for sponsorships at this year's World Demolition Summit, which takes place in London, United Kingdom on Thursday November 2.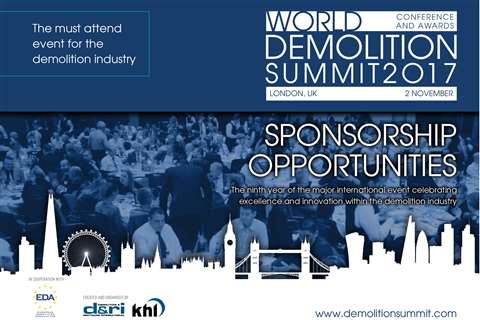 The event, which combines a one-day conference with an evening awards dinner, is now in its ninth year and is being held in the British capital for the first time.
It is organised by Demolition & Recycling International in co-operation with the European Demolition Association and with the support of the US National Demolition Association.
A big thank you to the following companies who are supporting the event.
Headline sponsor
Volvo Construction Equipment
Silver sponsors
Lehnhoff Hartstahl
Metso
Oilquick
Radius Crane
Sandvik Mining and Construction
Bronze sponsors
Arden Equipment
Dehaco
Demarec/Kinshofer
Dynaset
Evonik Industries
Guangxi Liugong Machinery
Kobelco Construction Machinery Europe
Kocurek Excavators
Komatsu Europe International
MB
Mantovanibenne
Rotar International
Stanley Infrastructure
VTN Europe
D&Ri100 sponsors
Brown and Mason
Erith Group
Keltbray
McGee Group
Priestly Demolition
Scudder Demolition
For more details of the WDS, please visit www.demolitionsummit.com