The big three: New Holland's M427, M428 and M459
By Access, Lift and Handlers12 March 2008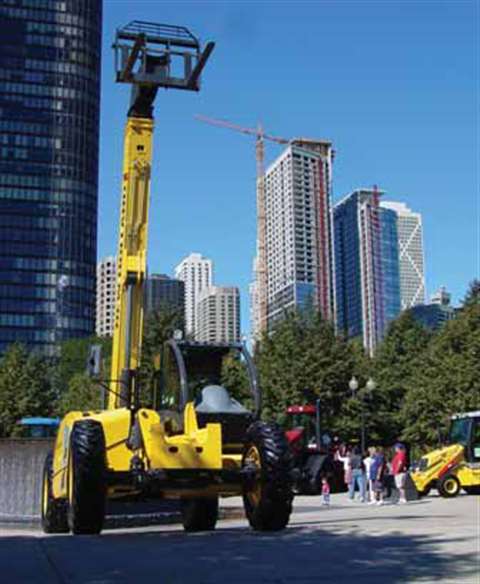 At this year's World of Concrete, New Holland showcased the first of three in its new telehandler line. The M-Series have been now available in North America since the summer. The M427, M428 and M459 Series models are "European-style," low boom profile machines built in Italy.
Each varying in degrees of lift capacity (6,600 to 9,000 pounds), its maximum lifting heights on the M427 and M428 are 42 feet, while the M459 reaches 44½ feet.
The units have a low-profile, rear-boom design and features a tight turning radius that offers good maneuverability in tight jobsites. It has optional stabilizers available on the M428 and M459. All units feature three steering modes (front, crab and four-wheel).
The machines are easily serviceable from ground-level with a flip-up hood for engine access. With a powershift transmission, the machines are capable of speeds up to 22 mph. The company says its low boom design allows for 360 degree visibility from the cab. It has single joystick that controls all boom functions and attachments. At this time, only the open cab option is available though the company says it will soon offer an enclosed cab kit.
The models have a universal coupler that allows the handlers to drop and pick up attachments quickly. As an option, auxiliary boom hydraulics are available to run a variety of hydraulically powered attachments. However, at this time the company is not authorizing the use of personnel baskets.
"They're versatile machines," says Paul Wade, brand marketing manager for telehandlers, New Holland. "If you look on every job site, you're probably going to see a telehandler. That's the first machine on the job and last to leave."
Back again
This is New Holland's re-emergence back into the telehandler market, after discontinuing its Manitou-designed model approximately seven years ago.
At this point, the machines are manufactured in Lecce, Italy and shipped over here. Wade says with no certain timetable that the company would eventually like to begin manufacturing the units stateside.
Yet, this isn't the last in the line of the series: next year, the company hopes to introduce two new models. The M357 will be a 6,600 pound machine with a 35 foot reach with the hopes of introducing to the US market in the summer; the M551 is a 10,000 pound machine that will have a 55 foot reach, its release not yet finalized. Furthermore, Wade says there is a possibility that New Holland could introduce a "mini-handler."
"That's an up-and-coming market," he says. "We don't have machines up there on the board but that is something we are looking at. We see that as a growing market."
It is interesting that New Holland has chosen to re-enter the North American handler market at a time when competition is tough and sales (this year) down on 2006.
"The whole reason why we came over here with the telehandlers is because it's a booming market," says Wade. "This year has been the exception. It's down a little bit. [But] the margin's been growing and we thought we needed a presence in it."
Obviously, the machines will be focused toward the rental yards as that market consists of 80% of sales, Wade says. "Our customers are pretty brand loyal, so it just makes sense. Instead of sending them somewhere else down the street for a handler, why not if we offer it?" he says.