The complete package
By Christian Shelton18 May 2017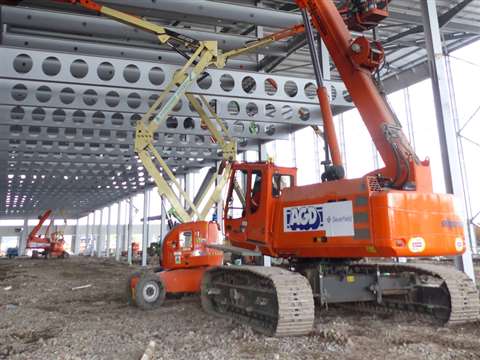 UK contractor, Steel Work Construction, is working on a large warehouse project, building the steel frame of a new packaging centre for US online mail order dealer Amazon in Tilbury, Essex, UK. To help with the construction, the contractor has utilised two 40-t Sennebogen 643 R telescopic cranes sourced from the rental fleet of UK construction equipment sales, rental and service company AGD Equipment.
In terms of the volume of steel being used, the warehouse will be one of the largest in the UK and will form a part of the London Distribution Park - a 28-hectare development area for industry and logistics companies in the port of Tilbury, Sennebogen said.
Sennebogen's 643 R telescopic crawler cranes are primarily being used for logistics tasks on the construction site and to lift the steel girders that will support the roof. There are 2000 steel girders weighing between two to six tons each. Sennebogen said that the telecrawlers are perfectly suited to the job thanks to their manoeuvrability, flexibility and four-piece 30-metre 'Full-Power' telescopic booms, which can be telescoped under load even while the crane is travelling on site. It reported that the packaging warehouse will have four-levels with a total height of 22 metres. This, it claimed, is where the compact dimensions of the 643 Rs come into their own; with a transport width of 3 m, Sennebogen said the telecrawlers could be easily transported to the site on a low loader trailer. It added that the 643 R telescopic crawler crane can be set up quickly, while its Maxcab comfort cab can be smoothly tilted backwards, by up to 15 degrees, to give the operator an optimal view of the work area while ensuring an ergonomic work posture.