The gains finally begin to outweigh the pain
India's economy is improving after disruptions to consumer spending and business supply chains from the November 9 demonetisation. On November 8, 2016, the government announced the demonetisation of certain banknotes to rein in the shadow economy and crimp the use of counterfeit cash. New banknotes were issued in exchange for the old banknotes, but the surprise nature of the measure caused cash shortages which disrupted the economy.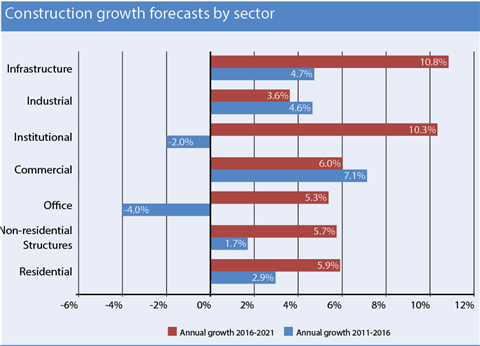 At IHS Global Insight, we expect the impact to be somewhat transitory, and that India's economy should achieve 7.0 to 7.5% growth as economic reforms continue to attract foreign investment. Indeed, foreign direct investment was up 33% in 2016 and continues to surge. Consumption deferred from the past few months appears to have resumed, with domestic passenger vehicle sales rebounding strongly in March.
Slow recovery
The federal budget for the new fiscal year provides for substantial tax cuts and spending increases to stimulate the economy. The new goods and services tax (GST), expected to be introduced between July and September 2017, may cool consumption during the second half of the fiscal year, but is unlikely to bring full-year consumer spending growth below estimates.
Fixed income, however, may take longer to recover and will have to be pulled by public spending since private investment continues to suffer from weak capacity utilisation and ongoing corporate and banking sector deleveraging.
On the other hand, better transmission of lower interest rates into lending rates, and a boost to sentiment following the GST's introduction should help an investment recovery in the second half of 2017 and 2018. By reducing double taxation and logistics costs, the GST should improve business competitiveness as much as sentiment.
The corporate tax for small businesses with an annual turnover up to INR500 million (US$7.75 million) is reduced to 25% from 30%. This should benefit about 96% of all Indian companies, according to Ministry of Finance estimates. The simplification of foreign investment approvals should also help secure additional foreign investment.
Agriculture, rural spending, social schemes, and infrastructure are the focus areas of 2017/18 budget spending proposals. The government plans to spend a total of INR1.9 trillion (US$29.5 billion) on the rural and farm sector, an increase of 24% from the current year. Throughout FY 2016/17, the government was the driver of investment growth, and things are unlikely to change much in the coming year, with fixed investment to be driven primarily by government spending.
The new budget boosts the government's capital spending by around 25% from the prior year's estimate. The infrastructure sector will receive the sum of INR3.96 trillion (US$61.3 billion), with transport allocated INR2.4 trillion (US$37.2 billion).
Foreign investment
Among the main infrastructure initiatives for 2017/18 are an INR48 billion (US$747 million) rural electrification scheme (with the government on course to meet its goal of 100% rural electrification of 20,000 villages by 1 May 2018) and INR190 billion (US$2.9 billion) for rural road schemes.
India's Foreign Investment Promotion Board (FIPB) will be phased out during 2017. The FIPB was established in the early 1990s to facilitate rebuilding India's foreign-exchange reserves after its 1991 balance-of-payments crisis. The FIPB provides a 'single window' to approve foreign purchases of more than 49% of companies' share capital in prescribed sectors.
Although it has successfully established more transparent online processing of FDI applications, more than 90% of foreign investment into India in 2016 bypassed the FIPB either because it was into non-prescribed sectors or because it involved purchases of less than 49% of the relevant equity.
The move will likely give further momentum to FDI into India – which IHS Markit currently projects to grown 44% in 2017 – and thereby strengthen the prime minister's 'Make In India' campaign.
A further reform will allow local governments to issue municipal bonds to fund projects, an important consideration given the stress on the banking system. Additional federal infrastructure investments will target railroads ($137 billion by 2020), "Housing for All" by 2020, road network extension (23,000 km over 2016-19) and further investment in power generation capacity and Modi's "Smart cities" initiative.
The forecast for the residential sector is strong compared to some countries, but about average compared to total Indian construction and weak compared to Indian population growth. We expect forecast growth to improve as urbanization, government spending, and an emerging middle class with an improving economy drive demand.
However, even with the "Housing for All" spending, public investment priorities remain largely allocated to infrastructure and select industries that can yield quick economic gains.
Office construction has suffered over recent history, despite India's IT industry. Improving global growth will improve demand for Indian professional services, while anticipated expansion in financial and business services will drive strong growth. The past performance of growth in industrial structures has been hampered by adverse trade conditions, particular imports from China.
As the Chinese economy continues to slow, exports will be only further encouraged, compounded by competition from other low cost Asian competitors such as Vietnam and Myanmar. The implication is that industrial construction will continue to be challenged. Growth will continue, but the rate of expansion will slow.
While the forecast includes market reforms to boost India's manufacturing industries and export competitiveness, this can only partially offset larger market forces. Commercial growth features the strongest performance in the private sector over the forecast, with expectations that improved consumer confidence will boost the critical retail channel, as well as tourism and business travel to provide lift to lodging and food service.
Infrastructure has been a top performing segment over the past five years, and it will remain the strongest over the forecast. The Modi government understands that delivering goods and services to the market, and even getting people to their jobs, is critical to continued economic development and has created the incentives and the targeted spending programs to meet the need.
Time to step up
Similar logic holds for institutional spending. For India to realise its potential, the education and health care systems require significant investment, and the BJP is also addressing this need.
Perhaps a little surprisngly, India's outlook has slowed somewhat over the past year, yet under the Modi administration, government policy is very much pro-investment and infrastructure spending has been a high priority.
Reforms have been slower and less wide-ranging than expected (and needed), yet the resources of India, especially its people, offer tremendous potential. Impetus from fiscal policy has been reinforced by accommodative monetary policy.
The challenge for India is to capitalise on this opportunity to aspire to the strong growth trajectory of nearly a decade ago.