The job that has everything
Few demolition projects can ever claim to offer every challenge in the book, but the former Glaxo Smith Kline (GSK) site on the western edge of London comes close.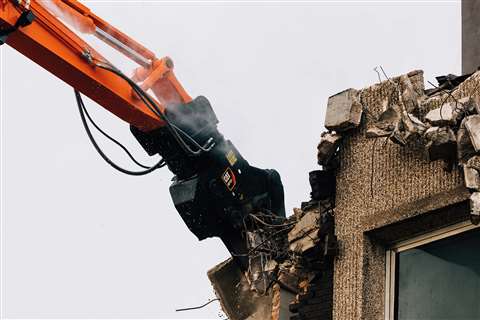 Listed buildings? Check? Canalside location? Check. Asbestos? Check. Functioning businesses next door? Check. Commercial value of £5 million (US$7 million)? Check.
And that's before you mention unexploded ordnance (UXO). Or as it is known in layman's terms, Second World War bombs. But whichever way you describe it, "unexploded" is a word that does not require much translation.
"Yes, we had to be trained in unexploded ordnance," said Robert Collard, managing director of R Collard, the company that bears his name and that has been on site since the middle of 2017. Luckily his employees have not found anything yet, but if the time does come they will be well prepared.
The project, which is preparing most of the 12 ha (30 acre) site for the building of around 2,000 new homes, is now in its second phase. The first phase ended in February.
It left around 30,000 cu m (more than one million cu ft) of material to be crushed and R Collard has two crushers permanently on site to handle the job.
"It's one of the largest demolition contracts inside the M25 [London orbital motorway] at the moment, and the client's biggest United Kingdom development," said Robert.
"This has a bit of everything."
On one level R Collard has just the experience to take this job on. Four years ago, it demolished a bakery on the other side of the canal. At that time the GSK site was empty, as different parts of the land were owned by different people. Eventually a pension company bought the site in its entirety. R Collard tendered for the demolition works and the rest, if not yet history, is now ongoing.
"We've demolished the factory buildings down to slab level, and now we're doing slab removal," said Robert.
"But it was a long, drawn out tendering process. There were a lot of planning issues that pushed back the start. Glaxo House is a Grade II listed building, so that will be saved and turned into office units."
The months since the start have not been without their challenges either.
"One building has an 18 m (59 ft) basement, so we had to shot pile on the road next to it to prevent the road from collapsing. Because of the canal, there is a high water table. It doesn't just soak away. The offices of a very high-profile confectionery manufacturer are next door."
At its peak the GSK project has employed more than 60 people, with 50 on site at the start of the second phase. Twenty-five people have worked on the soft strip alone.
In terms of equipment, it accounts for 12 large excavators. One of them, a Hitachi Zaxis 490 high-reach, was bought in November specifically for this project and features a 30 m (98 ft) arm and extending undercarriage. The other is a Volvo EC750E. The first of its kind in Great Britain, it was acquired the following month following a trip to Rotterdam in the Netherlands to see it in action.
"It has made a massive improvement to our production capabilities" is Robert's verdict.
As well as these additions to the fleet, the company has been able to turn its experience in areas outside core demolition activities to its advantage on this project.
"One of the factors that helped in tendering before we got this contract was our expertise in waste removal," said Robert, whose company once won a Chartered Institution of Wastes Management award for its reuse of waste steel.
"We put in a proposal that we would take a lot of waste from the GSK site by canal and we have since sourced an outlet where the waste can be unloaded.
"It needed a lot of liaison with the Canals and Rivers Trust to get permission to set up a loading bay, and we were fortunate that the site is situated on a bend in the canal. We have made a significant reduction in vehicle movements on the roads, and we still have a lot of waste to come out."
In recent years, the company has, in the words of its managing director, gone from being a regional demolition contractor to a national one.
The purchase of M Collard Waste Management in 2016 – the business had been owned by Robert's father, Mick, and Robert worked in it until the age of 23 – gave it a wider geographical coverage. This sandwiched a deal to buy Handy Skips and the opening of a metal recycling facility. Earlier, in 2014, it had installed a material recovery facility as its headquarters in Eversley, Hampshire. The summer of 2015 saw the opening of the company's own wash plant. According to Robert, the company can be involved in anything up to 15 jobs at any one time. Outside GSK, other sites in the portfolio include the Frenchay Hospital in Bristol – "a very high-profile city centre site", said Robert – and a DHL distribution centre near Heathrow Airport.
There has also been progress and recognition for Robert himself.
In January 2017, he was announced as the incoming chairman of the London and Southern Counties region of the United Kingdom's National Federation of Demolition Contractors. He takes up the role officially at the end of March and will serve for two years.
In the meantime, the company established in 1995 now turns over more than US$30 million and with one eye on the next generation invests more than $150,000 a year in training its workforce.
"We have a large asset value of equipment that needs to be kept busy. Clients are definitely becoming more demanding and putting project management teams on site. There is a lot more to be considered in terms of compliance with noise and vibration, and this is our biggest project to date."