The latest in tower cranes: what projects are being lifted?
By Niamh Marriott13 February 2023
Multiple new tower cranes recently brought to market and a plethora of lifting projects are good signs for the industry. Niamh Marriott reports.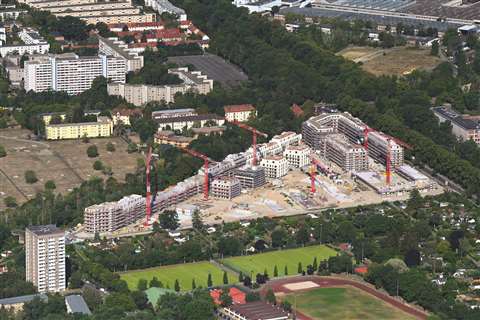 The end of 2022 saw a flurry of new tower crane action. As reported in the December issue of ICST, USA-headquartered manufacturer Terex introduced a new tower crane at the end of last year.
The new CTT 292-12 broadens Terex Tower Cranes' offer in the 200 to 300 tonne-metre class of flat tops. In addition to being a strong lifter, the flat top tower crane boasts a raft of high-tech features.
The trade show Bauma saw the launch of tower cranes from Spanish crane manufacturers Comansa, Jaso and Saez.
Comansa presented its new LCH300 hydraulic luffing jib crane which lifts 16 tonnes and offers a maximum jib of 60 metres, extendable from 25 metres in 5 metre increments. Its minimum working radius is 4 metres.
Jaso launched two new models at Bauma 2022. The flat top J235.12 lifts 12 tonnes and offers a tip load of 2.6 tonnes at its maximum 65 metre radius. The company also showed its new 24 tonne capacity low top J390.
Liebherr launched new models using synthetic fibre hoist rope and Manitowoc showed its self erecting Igo T 99 tower crane, among new top slewing luffing and saddle jib models shown for the first time at the exhibition.
All this new activity in the tower crane market suggests healthy demand for these types of cranes.
The projects they are now capable of working on continue to grow, and new technologies both software and hardware, are allowing tower cranes to work in bigger and more complex environments than ever before. 
Residential tower crane project
Since the summer of 2021, a new residential district aimed at alleviating the shortage of affordable housing in Berlin, Germany has been under construction.
Developer Ten Brinke Wohnungs-bau used seven Wolffkran cranes for the works.
The new residential complex extends across a 60,000 square metre property and is entirely constructed with prefabricated elements.
This required large cranes with high load capacities to lift walls, balconies, stair modules, and support columns weighing up to 12 tonnes.
Since the cranes had to stand close together and slew above one another, Ten Brinke opted for six flat top and one high top crane.
The flat tops included three 7032.12 Clear with 12 tonnes capacity and three 7534.16 Clear with 16.5 tonnes capacity. The high-top was a 7532.16 Cross with 16.5 tonnes capacity.
"To keep the overall height of the crane concept low and economical, some cranes were fitted with half-height tower sections of 2.25 metres. As a result, the tallest crane on the site was under 50 metres high," explains Oliver Manthei from Wolffkran.
Maximum load efficiency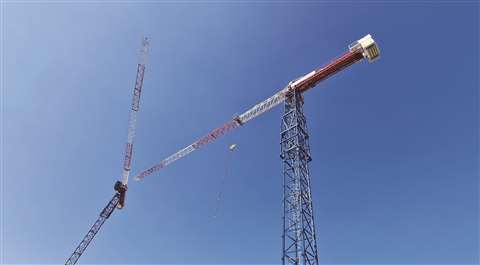 Cyprus-based Raimondi agent ConAgro installed two MRT111 flat tops in the Cypriot city of Paphos. The cranes are supporting the construction of the new university campus.
"We are thrilled to participate in this higher education project. The two machines were previously sold and put to work on another of the contractor's projects, Limassol Del Mar, a much-anticipated luxury beachfront development," explains Petros Rouvas, ConAgro CEO.
The cranes are expected to remain onsite for approximately 12 months.
"The MRT111 is a strong model to have in any fleet as it performs well in terms of maximum load and hoist speeds, as well as its tower height versatility.
"Additionally, in line with the market trends of the area, many jobsites require cranes with a maximum lifting capacity ranging between 8 and 10 tonnes," Rouvas adds.
The first MRT111 has a height under the hook of 30 metres and a jib length of 48 metres, while the second is freestanding at 36 metres with a jib of 50 metres. Both machines have 30 kW hoists and a drum capacity of 450 metres. Maximum hoisting speed is 100 metres per minute.
Tower crane prototypes
Wolffkran hired Wiesbauer and its Tadano AC 7.450-1 all terrain crane to erect the prototype of its 8076 compact construction crane.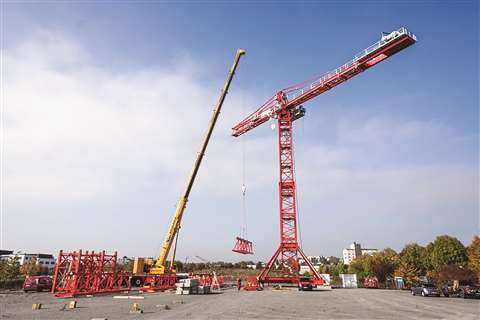 "The moment of truth is always when you erect a prototype for the first time – that's when you can really tell whether the crane you had in theory is the crane you have in practice," says Wolffkran product manager Michael Engert.
The construction crane had to be erected under realistic work site conditions from a single location with the smallest amount of effort possible and as quickly as possible.
Since the Wolff prototype had a height of 44.1 metres, the Tadano model had to reach a hook height of at least 54 metres to get the job done.
City skyscrapers
Two Potain MR 295 luffing jib cranes are leading the construction of a major new building in Marseille, France, designed to transform the city's skyline and help regenerate the waterfront area.
Work began on the 85 metre high Mirabeau Tower in July 2020. It will be one of the city's tallest skyscrapers.
The first Potain MR 295 crane was erected on a Y800 chassis at a free-standing height of 55.8 metres. It will climb every month until it reaches its final working height of 85 metres, with three anchor points securing it to the building.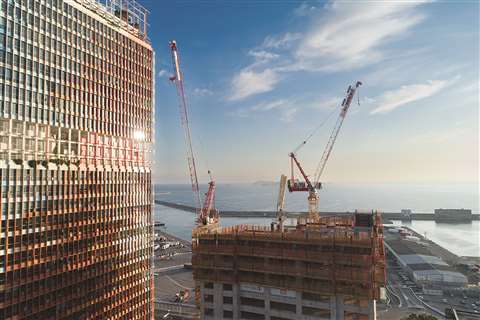 The second MR 295 was erected on a ZY854 chassis, which is mounted ona 15 metre concrete portal to give an initial free-standing height of 31 metres.
This crane will also climb throughout construction, eventually reaching 79.5 metres with four anchor points securing it to the building.
The cranes' configuration includes AK801 anchor frames, which are being used for the first time in France on this project.
These latest generation connectors boost performance by increasing the free-standing height of the crane and minimising the number of anchor points that are required.
Speaking on the choice of crane, lead contractor Léon Grosse says, "This model has already proven itself on many construction sites. It has a strong load curve and is adapted to the team's needs on this specific site."
The project is due for completion at the end of 2023.
Tower crane technology
Automation and power quality specialist CP Automation has launched a dedicated crane and power transmission department. Headed by business development manager Andy Swann, the department's team can meet the needs of a unique and varied crane market by supporting with projects such as overhauls and upgrades.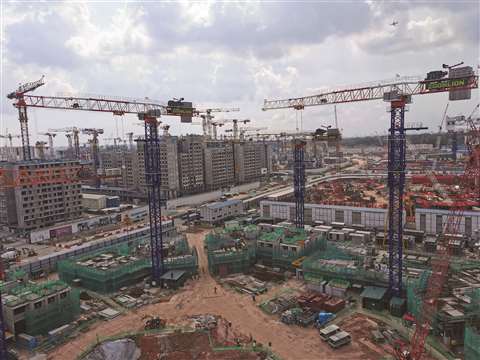 Although its business is predominantly focused on applications in drives, automation and power quality, CP Automation offers a limited range of products for crane and power transmission projects.
These include radio remote controls, variable speed drives (VSDs) and collision avoidance systems.
Following last year's acquisition of Magnetek's UK elevator business, CP Automation has launched a dedicated support service for crane applications.
Both existing and potential customers can now receive onsite support and solutions based on application needs.
Since launching the team, CP Automation has already worked with Tata Steel, Liberty Steel and Michelin.
Constructing stadiums
UK-based Ainscough Crane Hire's heavy cranes team supported main contractor Select Plant Hire in the installation of four tower cranes at Bramley-Moore Dock, Liverpool, as the steel installation work at Everton Football Club's new stadium continues to gather pace.
The tower cranes were transported to the site in sections. The first unit of the four tower cranes required for construction is now fully operational in the north east corner of the waterfront site.
The remaining three tower cranes have been installed on specially built bases in the north west, south west and south east corners of the site. The cranes' first job will be to help pull together all of the structural steel that will form the shell of the new 52,000 capacity stadium.
The tower cranes were assembled using a 450 tonne capacity Liebherr wheeled mobile telescopic crane.
Bob Beardmore, heavy cranes technical manager at Ainscough, says, "It was an absolute joy to support building what will be Everton's fantastic new stadium. I'm really proud to be part of this project."
Everton's new stadium at Bramley-Moore Dock is recognised as the largest single-site private sector development in the country, contributing an estimated £1.3 billion to the UK economy, creating thousands of jobs, and is expected to attract 1.4 million visitors to the Liverpool City region annually.
The scheme will have acted as a catalyst for more than £650 million-worth of accelerated regeneration as Everton's new stadium, alongside a legacy project at re-imagined Goodison Park, transforms North Liverpool.