The new Fassi F990RA in action
By Katherine Weir29 March 2016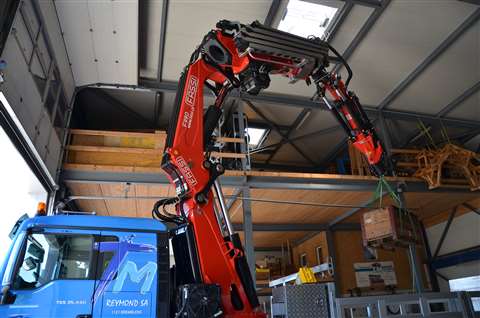 Italian crane manufacturer Fassi has released the new F990RA.2.28 xhe-dynamic heavy duty hydraulic loader crane with a maximum load moment of 84.3 tonne-metres.
It has an L616 jib that extends to a maximum outreach of up to 32 metres. The crane weighs 10,100 kilogrammes (8,750 kg without jib). Other features include: linkage, continuous rotation, RCH/RCS remote control, remote control outriggers, an optional XP facility and CE devices.
Switzerland-based lifting and transport company TM Reymond bought the F990RA to be fitted to a MAN TGS 35.440 8x2 with HydroDrive hydraulic transmission on the front axle and a fourth steering axle.
The crane's first job for owner Jean-Luc Reymond was at a cramped site on the outskirts of Lausanne, a city on Lake Geneva. The road was narrow and there was only limited room for deploying stabilisers on the right hand side of the vehicle. The F990RA's Fassi Stability Control (FSC/SII) system calculated the safe working limits and ensured the crane never moved beyond them, thanks to the combination of angle sensors and a moment limiter, the company said.
The challenges of a large tree to negotiate and the precision needed for the loads to be placed were conquered by using the winch to hoist large wooden planks for the terrace under construction. Flow sharing was also crucial, allowing the crane to perform four movements simultaneously while also lifting heavy loads, explained Fassi.
Here, the XP (Fassi Extra Power) system came into play, activating added power when required to increase lifting capacity, but proportionally reducing the speed of movement of the crane.
"I purchased the Fassi F990RA crane to further raise the bar of my specialism in an area where I have no competitors," said Reymond. "The crane equally allows me to carry out both challenging and 'lighter' tasks. In addition, the equipment includes a storage box that, if required, can be replaced by a fifth wheel tow hitch to transform the truck into a tractor that can be coupled to one of the five semi-trailers. This covers virtually all my transportation needs, from excavators to building materials."