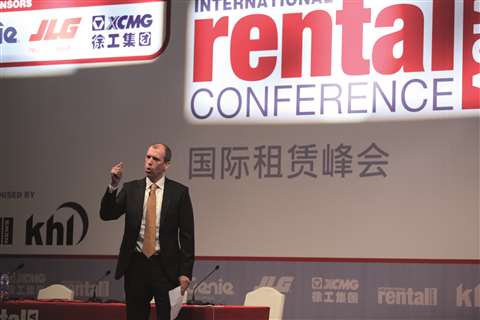 China's biggest access equipment rental company is getting bigger all the time. As of last November, when AI met up with its general manager at Bauma China, Shanghai Horizon, based in the country, had 4700 units in its fleet, more than double the amount compared to the same month in the previous year. Riwal, on the other hand, is well established as a rental giant in Europe, as well as being firmly established in the Middle East and beyond. Its CEO Norty Turner spoke at the International Rental Conference Asia, which took place in Shanghai the day before Bauma China started.
Chunyu Zhang, Shaghai Horizon's general manager, forecasts there are 30000 to 40000 access units in China. Two years ago, there were 10000 to 15000 units and by the next Bauma China in 2018 there will be at least 50000, he says.
The company is branching out in more ways than one. It used to be fully state owned but is now 76% privately held, and is listed.
Currently, 60%-70% of AWPs in China are used in industrial settings – workshops and factories, while the other 30% are found in utility-related projects, says Mr Chunyu. The lack of AWPs in construction is a result of the downturn in that sector and many high rise applications, particularly internal work for scissors, will follow when the market improves.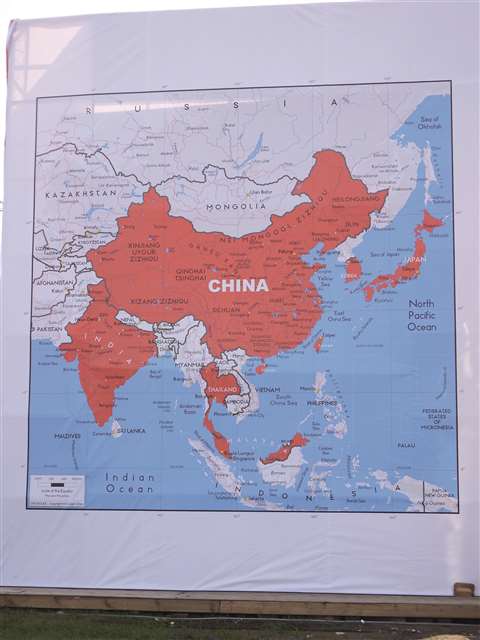 A map of China, shown on the JLG stand at Bauma China.
Compared to mature markets, in general, the number of scissors in rental fleets is proportionally higher in China, and this is set to continue. Scissors make up 83% of Horizon's fleet, reflective of the market in general, and in the near future that will grow to 90%. Putting the dominance of scissors into further perspective, Horizon has a higher proportion of booms compared to smaller rental companies.
The only concern in China's growing market is that the upswing of sales might not meet actual demand. "The speed is a little too fast, we worry the market will come to a standstill," says Mr Chunyu.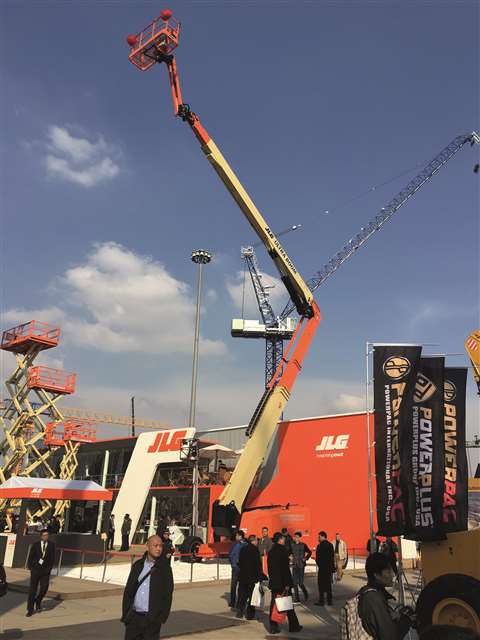 JLG's first 1100SJ telescopic boom designed for the Chinese market and launched at Bauma China was purchased by Shanghai Horizon.
The company has 18 depots across the eastern side of China, which will increase to 30 by the end of 2018. At the moment the rental company is also a distributor for Genie in Beijing and Tianjin, while there are plans to distribute for JLG in Guangzhou province where the manufacturer wishes to develop sales.
As Mr Chunyu explains, there is no legislation specifically for AWP use, although the China Construction Association (CCIA) is working with Horizon and three other companies to develop operator training in the country. "No one knows how it [legislation] will start, but this is just the beginning."
Good after sales service will be a vital element to access equipment's potential rise to meet the number of units found in the US market, for example. Although Mr Chunya believes part of the reason the service side of the business is not yet developed is the age of the market in China, which only really got started in 2012. While the service market is small it will naturally develop, as the age of equipment in the country increases. "So many machines are very young, so it will be three to four years before that area develops."
Looking to the future of Shanghia Horizon, Mr Chunyu believes the company could acquire smaller rental companies in the future to complement its organic growth so far.
Turning to advise from a European rental company, the overall cost of renting construction equipment is more important than the rental price paid, Riwal's Norty Turner told the International Rental Conference Asia.
He says the company had improved its operating profit margin some 169% in three years, after adopting 'The Riwal Way', which centres around improving customer value by 'working smarter'.
Riwal's way
Mr Turner said the company used the programme to improve five core elements: safety, machine availability, on time delivery, uptime and invoice accuracy.
"When a company calls to rent a machine, they expect us to say, yes, we have exactly what you need and if they say they need it at 8am, they expect it to be there at 8am and not a minute later."
He adds, "Customers also expect that machines are functioning well 100% of the time from the moment they expect to receive the machine until they are finished with it. That means delivering quality machines and if service issues arise that we resolve it quickly. Finally, we want to make the invoicing system as easy and as accurate as possible, to avoid time delays."
Mr Turner believes that dwell rate - the time between a company calling a machine off rent until it is back on the ready line for rent again - is of "major importance" to rental companies, as opportunity costs continue to rise.
He pointed to one example the company had faced with being a victim of "price pressure", but revealed how Riwal overcame such a problem to build a long-standing relationship with the construction company.
"One company in India, which rented 35 machines from us on one construction site, came to us and said they'd been offered a cheaper rate, and asked us to lower our price by 5%. We said no", said Mr Turner, "They then asked us to lower it by 1%, but we said no, again. The company then returned all 35 machines and went elsewhere.
"However, the company then suffered technical issues with the rental companies it had decided to go with, and it came back to us and re-rented several of the machines it had returned."
He adds, "This is where The Riwal Way comes in. If we can offer better customer value, then the overall cost is less for the customer, in terms of time and money. That's what it's all about - it's about cost, not price."
Mr Turner concluded by suggesting that rental companiesmust be prepared to change, to keep up with what companies wanted.
Meanwhile, at the conference, Xavier du Boys, CEO of Kiloutou, spoke about the importance for rental creating value and return on investment. He argued that extending the life of machines – through high quality maintenance – was an essential component in ensuring a return on investment.
He added that it was crucial that everybody in the rental organisation understand the importance of return on investment and how it can be achieved.