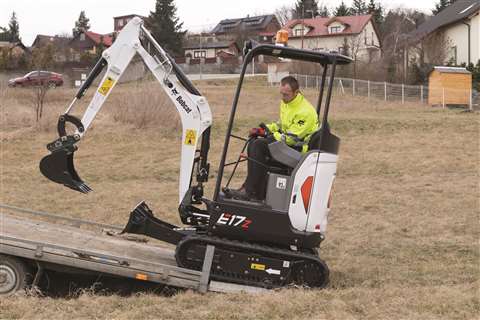 With a weight of less than 1.65 tonnes, Bobcat's E17Z is towable on trailers for 2200 kg of total weight
Even the largest construction undertakings will utilise compact equipment – machines traditionally ranging from 4 to 10 tonnes in weight, but now often considerably lighter.
While the new compacts may have lost weight, they remain remarkably stable and powerful, as advanced technology and engineering drives improvements across the board.
Case Construction Equipment has six new models of mini excavators in its C Series, ranging in weight from 1.7 to 6 tonnes. The firm says more models will also be added to the range in 2018.
The C Series excavators benefit from proven engines and hydraulic systems, and five of the six comply with Tier 4 Final emission standards.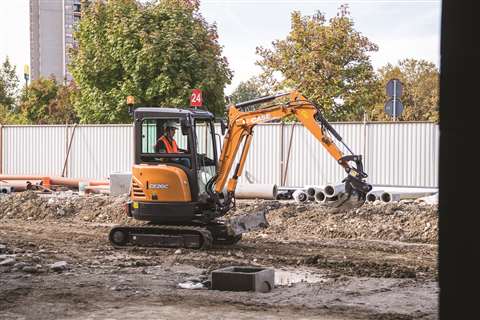 The new C series minis from Case have safety features including an emergency stop switch and a rear-view camera
The CX26C, for example, weighs just 2,504 kg, but delivers a dig depth of 2.4 m, and, with zero tail swing, is well suited to working in urban areas.
Three of the main advances Case has made to the machine are fuel efficiency (via its 18.5 kW engine), comfort and visibility (spacious cab with optional heating), and serviceability (fills, filter, gauges and grease points are all accessible from the ground).
Zero tail swing
Bobcat has also launched a new compact excavator with zero tail swing, the E17Z. This 1.7 tonne machne utilises Bobcat's Zero House Swing (ZHS) design, in which the front upper structure is also fully protected by ensuring the front corners are kept within the swing circle when the tracks are in the fully expanded position. As a result, the ZHS functionality on the E17Z provides the peace-of-mind of 320° of free rotation when working close to walls and other obstructions.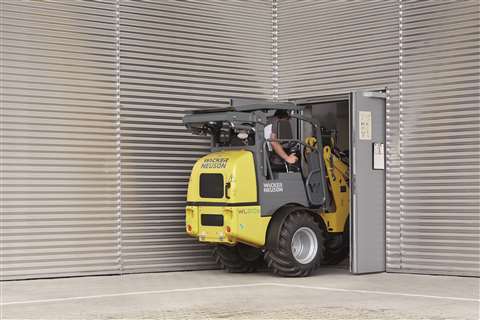 Bobcat has also advanced the machine's digging force and paid particular attention to smooth workgroup functions, as well as fast hydraulic performance in terms of low cycle times.
And with a transport weight of less than 1.65 tonne, the E17Z is towable on trailers for 2,200 kg of total weight.
With compact wheeled loaders, customers are looking for machines that are productive, versatile and durable.
John Deere has introduced two new models to the sector – the 244K-II and the 324K. Both machines include new features and options that can be utilised by the construction industry.
The firm says its 244K-II loader has increased power through its 52kW Tier 4 Final emission-certified engine, giving it greater breakout force with reach and stability.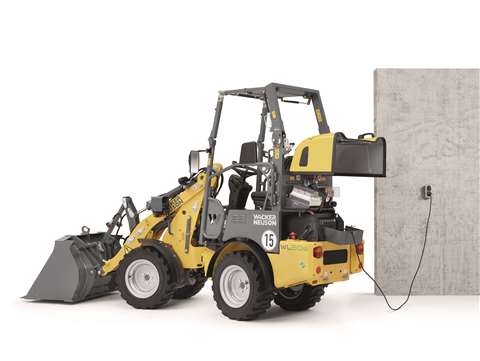 Stereo steering also delivers a smooth turning radius that John Deere says is up to 20% tighter than comparable loaders, as well as a travel speed of up to 27 kph.
The firm's 324K loader now incorporates a high-lift option, making it adept at dumping into feed mixers or quickly stacking lighter loads.
Both machines are compatible with a variety of John Deere's Worksite Pro attachments, and both have optional higher flow hydraulics to run heavy-duty attachments, such as cold planers.
Another option is a push-button-activated skid-steer-style coupler, allowing operators to connect to and release attachments without leaving the seat.
Power of electric
In 2015, Wacker Neuson presented the WL20e – the first wheeled loader with an electric drive. The battery-powered wheeled loader with a bucket capacity of 0.2 m3 has been further developed and is now available with a high-quality absorbent glass mat (AGM) battery, which is characterised by improved handling and lower maintenance.
With an AGM battery, the electrolyte is bound in a fleece made of glass fibres, making it a leak-proof system. Additionally, it is less sensitive to temperature and develops little heat when charging and during operation, which results in an increased electric power output. Another advantage of Wacker Neuson's new wheeled loader generation is the 'on-board' battery charger with 230 V, which has been integrated into the machine. With this, the battery can be charged easily with a cable at any plug receptacle, making operating the WL20e easier in everyday construction work.
In terms of the performance parameters of the WL20e, Wacker Neuson says they correspond closely to those of the diesel-powered model, even exceeding them in some aspects, including the tipping load, which reaches up to 1,509 kg, due to the weight of the battery.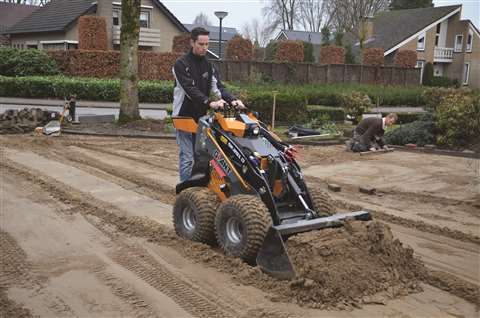 Tobroco-Giant's SK 251D weighs just 810 kg and has a maximum power output of 17.5 kW
The loader can operate under full load for up to five hours, starting with a full charge, and the battery's charge status is constantly visible on the operator's display.
With a height of 2.25 m and a width of just over 1 m, low and narrow passages, and transport on a trailer are straightforward, while a fold-down canopy and even a hydraulically lowerable canopy are available as options.
Tobroco-Giant's skid-steer loaders are small manoeuvrable ride-on machines, and the Dutch firm currently offers three models, with power outputs ranging from 15 kW to 18.6 kW. A fourth skid-steer model, the electric/hydraulic E-Skid, will be coming on to the market from next year. As with previous models, the Giant loaders incorporate components from brands such as Kubota, Parker, Honda and Hydac.
The loaders, with the smallest weighing just 750 kg, are driven by four hydraulic wheel motors which provide a high thrust and pulling force.
The current largest model in Giant's skid-steer range is the SK 251D, weighing 810 kg, and with a maximum power output of 17.5 kW and a tipping load of 293 kg.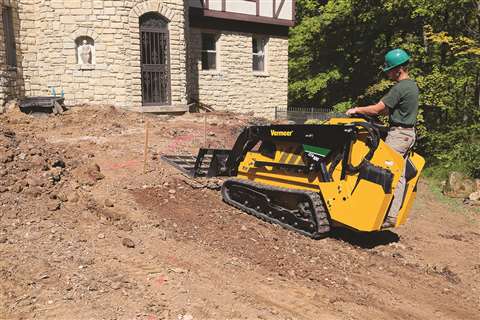 Vermeer raised the hinge pin height on its CTX100, increasing the efficiency of loading materials
Ride-on time
This year, Ditch Witch unveiled new mini skid-steer loaders and a stand-on trencher.
The US firm revealed four construction-grade mini skid-steer models, including the compact SK600.
Equipped with an 18.5 kW diesel engine, the machine delivers 272 kg-rated operating capacity and a 193 cm hinge-pin height.
Chris Thompson, Ditch Witch product manager, compact equipment, said, "The SK600 is designed specifically for projects that require operators to work in tight environments and hard-to-reach places."
The SK600 incorporates the Ditch Witch construction-grade design for enhanced durability and longevity, and Ditch Witch says operators will save time and money keeping the machine running smoothly.
An enhanced operator platform improves the machine's platform stability and ground clearance compared with similar models on the market. An auxiliary-control foot pedal allows operators to maintain hydraulic flow to the attachment, while optimised machine hydraulics deliver a smooth ride, for additional operator comfort.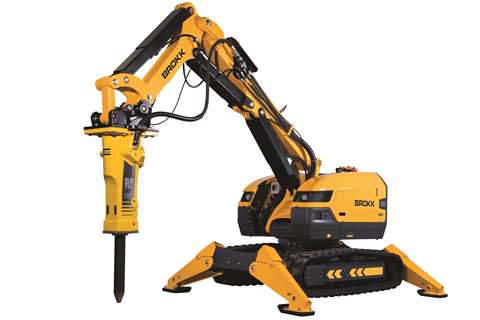 In demolition applications, compact machinery is often of vital importance, and Brokk's latest remote-control demolition machine, the B500, promises power and durability within a compact body.
Brokk says the B400 has 40% more demolition power than the Brokk 400, boasting the Brokk SmartPower electrical system, which maximises the power output of the machine at any given time, based on both environmental and operating factors.
Martin Krupicka, Brokk Group CEO, said the new model is a "remarkable demonstration of how far we have come in getting the most demolition power possible out of a Brokk machine without adding to its size, largely thanks to our new Brokk SmartPower system."
Using an Atlas Copco SB 702 hydraulic breaker, the machine is capable of delivering 1,472 joules with each blow. The reach of the B500 has also been extended, to 7.4 m vertically and 7 m horizontally.
Yet, the machine weighs just 5,200 kg, only fractionally heavier than the B400, with the same width and the capacity to use all the tools and attachments of its predecessor.
The Vermeer CTX100 compact utility loader features vertical lift boom arms, keeping the load closer to the machine and offering a higher lift capacity than a similarly-sized radial lift machine.
The SK600 incorporates the Ditch Witch construction-grade design for enhanced durability
With this model, Vermeer also increased the hinge pin height to 227.33 cm, increasing the efficiency of loading materials.
The CTX100 has a tipping capacity of 2,958 1,334 kg and a rated operating capacity of 467 kg. It has a 29.8 kw Kohler KDI Tier 4 Final diesel engine and a universal mounting plate to power a variety of attachments. It also comes standard with dual auxiliary hydraulic controls, which range from 30.6 L/min, up to 58.7 L/min, depending on the demands on the attachment.
Like other models in the Vermeer compact utility loader lineup, the CTX100 features a chariot-style, spring-cushioned ride-on platform, and the operator station features a single, pilot-operated joystick for smoother operation.
An operator presence system is integrated into the platform, in which the ground drive and attachment motion is suspended if the operator steps off the machine.