The X-Games calls on Fischbacher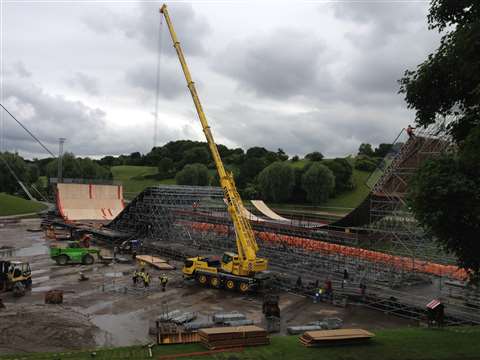 The X-Games are considered by many as the Olympic Games for extreme sports, including skateboarding, BMX, mountain biking and rally-car racing.
It was held in Munich, Germany for the first time at the end of June. One of the highlights was Big Air: the world's first floating ramp. The 53° skateboarding and BMX ramp was 26 m high, 112 m long, and was supported by a huge scaffold construction.
The scaffolding for the substructure and the material for the ramp were lifted using a Geda 1500 Z/ZP transport platform. Once the construction had been completed the 1500 Z/ZP was used to bring athletes to their starting positions.
The hoist was supplied by Munich-based rental company Fischbacher. The GEDA 1500 Z/ZP has two control systems and can be used as a pure material lift and a transport platform.
The transport platform control system has a speed of 12 m/min for the transportation of people, and a speed of 24/min for lifting building materials only. It has a load capacity of 2000 kg.