Three is the magic number in Boston
By Steve Ducker25 October 2019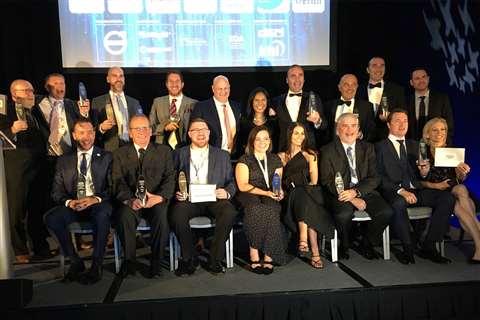 North America welcomed the global demolition community to a record-breaking annual celebration of innovation and best practice – but it was Europe who took the major prizes with Despe and Erith Contractors claiming three World Demolition Awards categories each.
With over 450 delegates registered, the awards – part of the 11th World Demolition Summit – took place in front an all-time high audience figure that was more than 50% up on the last time the event crossed the Atlantic, in Miami three years ago.
Erith and Despe soon found the trip worthwhile as they took the first two awards presented on the night, for Urban Demolition Over and Under US$10 million respectively.
Erith also closed the evening by taking the overall "best of the best" World Demolition Award for the second time in three years, for its Civils category win with the Hanover Square project in London. Despe, meanwhile took the coveted Collaboration Award for a joint venture with Vinci, Cardem, Sud Architectes and SNCF on the Lyon railway station in France. The Italian contractor also prevailed in the Contract under $1 million section for the Eurpillo Gateway project in Como.
Jet Demolition of South Africa celebrated a different kind of triple success, as its triumph in Recycling and Environmental gave it three consecutive first places in three different categories since 2017.
Other winners included C&D Demolition Consultants (Explosive Demolition), Liberty Industrial of Australia in the Industrial section, Coleman Group (Safety & Training), and Brandenburg Industrial Service Company (Contract over $1 million).
There were three winners of the two manufacturer innovation categories, with Genesis and PistonPower finishing joint first in Tools and Attachments, while Terex Corporation took the Plant and Equipment section outright.
British contractor Howard Stott Demolition won the New Entrant Award.
The World Demolition Summit was organised by Demolition & Recycling International in co-operation with the US National Demolition Association and with the support of the European Demolition Association.
The headline sponsor was Volvo Construction Equipment.
Full list of the 2019 World Demolition Awards winners:
The World Demolition Award - Erith Contractors
The New Entrant Award - Howard Stott
The Collaboration Award - Cardem, Despe and Vinci
The Contract of the Year Award (over US$1million) - Brandenburg
The Contract of the Year Award (under US$1million) - Despe
The Safety and Training Award - Coleman Group
The Industrial Demolition Award - Liberty Industrial
Manufacturers' Innovation (Plant and Equipment) Award - Terex Corp
Manufacturers' Innovation (Tools and Attachments) Award - Genesis Attachments and PistonPower
Recycling and Demolition Environment Award - Jet Demolition
Civils Demolition Award - Erith Contractors
Explosive Demolition Award - C&D Consultancy
Urban Demolition Award (under US$10million) - Despe
Urban Demolition Award (over US$10million) - Erith Contractors