Three Mammoet ring cranes, one job
By Christian Shelton12 September 2017
Three of Mammoet's biggest ring cranes are being used at the same time on one job site to help realise an ambitious construction schedule for Malaysian oil and gas multinational Petronas. Mammoet said that never before have three ring cranes of this size been used on one job site at the same time.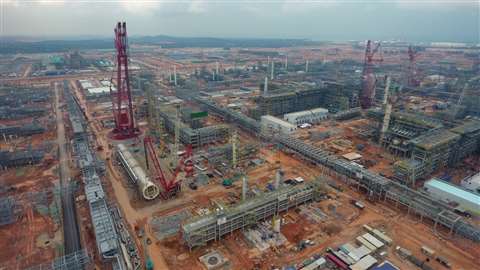 The Pengerang Integrated Complex (PIC) job site
The three Mammoet ring cranes being used are: the PT 50; the PTC 35; and the PTC 140. According to Mammoet, its ring track cranes combine a wide reach and high capacity on a small footprint with the ability to turn 360 degrees. Together the three cranes have a capacity of 10,000 tons and 225,000 ton metres.
The cranes are being used to construct the Pengerang Integrated Complex (PIC) which, when finished, will comprise oil refineries, naphtha crackers, petrochemical plants, liquefied natural gas (LNG) import terminals, and a regasification plant.
Mammoet has had a presence on the job site since 2016 and at some points up to 35 Mammoet cranes have been working there, the company said.