Three new contracts for Astaldi
By Sandy Guthrie24 November 2017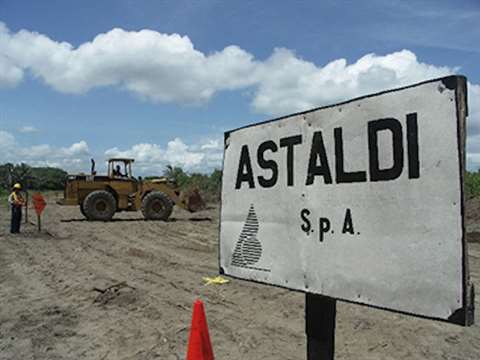 Italy's Astaldi Group said its de-risking strategy was continuing as it progressively repositioned its operations towards countries that presented lower risk than in the past.
It has been awarded three new construction contracts, with its share totalling approximately €400 million, for projects in Chile, Poland, and Honduras.
The Chilean project is for the Barros Luco Trudeau Hospital in Santiago. It is an EPC (engineering, procurement and construction) contract worth approximately €270 million (CLP200 billion) and is 100% Astaldi's.
The project calls for designing and building a new healthcare facility in the city centre, near the existing Barros Luco Hospital. The new facility will provide 967 beds and 28 operating rooms covering a total area of approximately 200,000m2, with two buildings each 10 storeys tall. One of these is underground to house, among other things, a department of nuclear medicine.
The works will take seven years, starting on site during the second half of 2018, after the design phase. The customer is Chile's Ministry of Health, and the works will be financed out of the state funds.
Honduras
In Honduras, the Arenal Hydroelectric Project (phase I-II) construction contract is worth €101 million (US$113 million) and Astaldi's share is 49%. It covers the construction of the largest private hydroelectric project underway in the country.
The project calls for carrying out the civil works needed to build an RCC (roller-compacted concrete) dam to a maximum height of 93.5m, as well as approximately 6km of hydraulic tunnels and related works. The works will last 33 months, and are planned to start before the end of this year.
The work will be performed by Astaldi, in a joint venture with the Italian company Ghella, which has the other 51%. The customer is Energias Limpias del Yaguala, part of one of Honduras' leading producers of electrical energy.
Poland
In Poland, a waste-to-energy plant for treating urban waste in the Gdańsk-Gdynia-Sopot metropolitan area has led to a contract for construction, plus operation and maintenance (O&M) activities for 25 years.
The total contract is worth approximately €280 million (PLN1.2 billion), of which approximately €110 million is for design and construction. Astaldi's share will be 51%. The remaining €170 million is for O&M activities, with Astaldi's share at 10%.
Construction activity is planned to last 48 months, made up of 12 months for design, and 36 months for the construction work.
The construction activities will be carried out in a joint venture by Astaldi as leader, with a 51% share, and Italian company Termomeccanica Ecologia with 49%.
For O&M activities, a company will be set up with Astaldi holding a 10% stake, Termomeccanica Ecologia 10%, and French company Tirù 80%. The customer is Zakład Utylizacyjny (municipalised company for waste management) in Gdańsk.
The contract is financed totally with EU funds and out of the state budget.