Tiger Trailers chooses Street Cranes
By Laura Hatton18 December 2014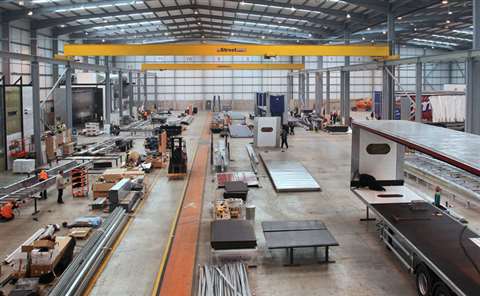 Commercial vehicle body builder Tiger Trailers has taken delivery of three overhead cranes from Street Crane.
One five tonne and two three tonne overhead cranes have so far been installed at the company's new facility. An additional five tonne crane has also been ordered to increase handling and lifting capacity, a company spokesperson added.
Tiger Trailers is run by John and Steven Cartwright as joint managing directors. John Cartwright said, "We have previous experience of Street's equipment and have found that this gives the reliable performance that we need to keep production moving. Having two cranes in each bay gives us greater manufacturing flexibility and ensures that our fitters are not standing around waiting for material or for a fabrication to be moved on to the next production stage."
The cranes are all single girder box beam units and are fitted with ZX series low headroom hoists, a spokesperson added. Also fitted are anti-collision systems and they are controlled via radio remotes.
Chris Lindley-Smith, Street Cranes sales director, said, "Our overhead cranes are designed for each application to support client production objectives such as lean and just in time manufacturing processes. All our equipment is designed to offer maximum availability with minimal maintenance requirements, giving the user very low life-time cost of ownership.
"We are really pleased to work with another North West manufacturer like Tiger Trailers in supplying the critical materials handling systems for their new business and it is a pleasure to see this new start-up get established so quickly and start serious production so successfully and efficiently."