Tight squeeze for H & S Autokrane
By Laura Hatton06 October 2014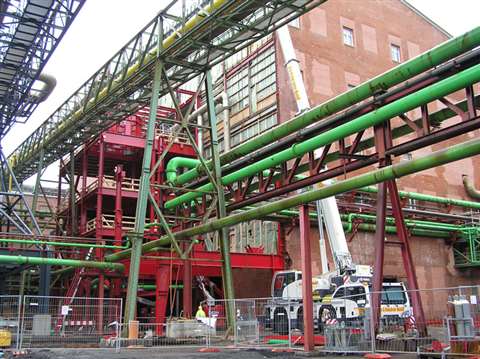 Crane service provider H & S Autokrane, based in Hesse, Germany, carried out a lifting task in a confined space at German fertilizer and salt producer Kali- und Salzwerke's site using its Terex Challenger 3160 all terrain crane.
The three-axle, 55 tonne capacity Challenger 3160 all terrain crane has a 50 metre single-cylinder telescopic boom and a lifting capacity of 35.6 tonnes when working with a reach of four metres.
A lack of space at the site meant that the crane had to lift the loads under pipeline bridges while working at a long radius. Jens Hartung, crane driver, said, "We had to hoist pipelines and steel elements up to a height of 42 metres for assembly in an existing steel structure." The approach was also a challenge, with some passages allowing for a width of 2.6 metres and a height of only 3.6 metres.
Other challenges included a high salt content in the air. In addition, due to a network of underground pipes, the maximum total crane weight for the job was limited to 40 tonnes, a spokesperson added. As a result, only half of the crane's outrigger extension and the full counterweight were used.
H & S field crew member Herbert Schug, said, "We were able to master even this task with our Challenger."