Tii Group to present models at IAA
By Laura Hatton19 September 2014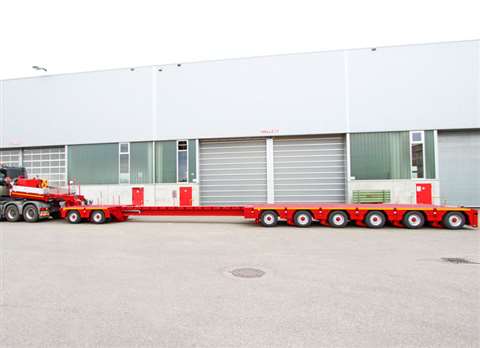 The Tii Group will present a number of products at the IAA Commercial Vehicles show from 25 September to 2 October 2014.
Jürgen Dirr, Wiesel and TruckWiesel area sales manager, said, "We are expecting a lot of visitors to the show. The interest from the logistics industry in our swap body lifting trucks and terminal tractors is growing year by year."
On show will be Kamag products, including Wiesel and TruckWiesel, the Scheuerle-Nicolas Euro-Compact and the Scheuerle-Nicolas Superflex. The Scheuerle-Nicolas Euro-Compact and the Scheuerle-Nicolas Superflex are being exhibited for heavy duty transports on public roads up to payloads of 120 tonnes at 80 km/h. The compact has a 65 degree steering angle on the front pendulum axle dolly and 60 degree on the rear bogie.
The Superflex has a freely positionable axle module, which can be removed and used without additional tools, the manufacturer said. Both front axle lines can be moved in 500 mm increments between the gooseneck and rear suspension when extended telescopically. For vehicles with a double-telescoping function, the axles can be moved towards both the gooseneck and the rear suspension, a company spokesperson added.
The TruckWiesel from Kamag has a hydraulic fifth wheel for a fifth wheel load of up to 18 tonnes. The selection is suitable for the transport of the range of semi-trailers. On show will be the terminal tractor to Euromot 3A regulations.