Time Versalift SAS officially opens
By Euan Youdale22 May 2017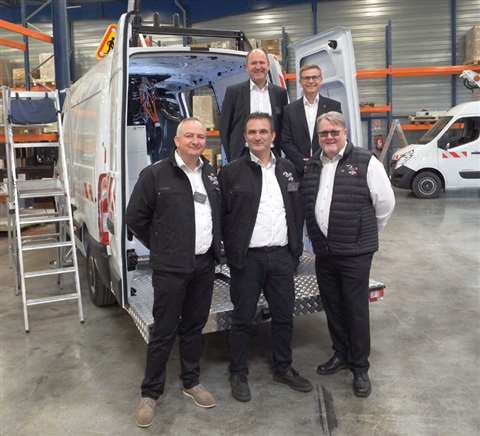 Time International has officially opened its new headquarters in Morlaàs, south of France.
The Time Versalift SAS division includes a state-of-the-art assembly plant, set up to produce up to 200 units a year and is the exclusive distributor of versalift products in France.
According to Kim Jensen, director general of the French operation, the French market is the biggest van mount market in the world. He told AI at the event that the focus is now to grow its market share in the country again, since the independently-owned Time France subsidiary ceased operations last year. Its then owners went on to start their own manufacturing company Klubb.
Time, which manufactured the platforms for the French subsidiary where they were assembled, will continue to provide the same service in its new wholly-owned facility and distribute the products itself in the country.
Those products will also include truck chassis mounted products from the Versalift range. Together with van mounts the organisation used to sell more than 400 units in France each year and the company estimates that some 6,500 Time Versalift units have been sold in the country over the 16 years it has been active there.
Time Versalift SAS was founded in April last year and started renting the new facility in Morlaàs in July. The first lift was assembled in November and is expecting to produce 10 machines per month from August - a new gantry crane is being installed in the near future to complete the assembly requirements. The company added that the location, close to Pau, was also ideally located for the Spanish market, which is picking up.
Laurent Cuyolla director of operations at the plant said the biggest challenge was not building the machines as it was already expert in this field. "We have all the support for that, it's easy for us. The most difficult thing is to explain the situation and that Time is back in the market – and we have the products, the service and the team."
"We just need to get over the first step and get known. Then the quantity of sales will come. I think we can sell 200 machines per year from next year on, we just need to get our presence known."