Times are changing in Turkey

Komatek is Turkey's largest construction equipment exhibition and has been taking place bi-annually in Ankara, for some 30 years. At this year's show, there was a sense that the construction industry could potentially benefit from the hoped-for political stability – as well as some support from government.
With this in mind, many of the world's largest construction equipment manufacturers were in attendance, including Asian giants such as Korea's Doosan Infracore and China's Zoomlion. German manufacturers, Liebherr and the Wirtgen Group, also took significant space at the show.
As for homegrown exhibitors, they were plentiful and had plenty to say about prospects for the future of the industry, both in Turkey and on a global scale.
Teksan, one of the country's leading manufacturers of gen sets, lighting towers and power systems, was at the show and the firm's Sales and Marketing Board Member, Burak Başeğmezler, described how Teksan was keen to follow the Chinese lead and look to globalise its products. He said the firm had a mission to "meet the electric power demands of end users and service providers around the world," and was clear that only with the best quality products could they make this happen. The firm already exprts to over 110 countries, with some 15,000 customers worldwide.
While many of the Turkish firms at Komatek are exporting a significant percentage of their products, the domestic market is clearly vital to them.
A spokesperson for MPG, which manufactures truck mounted knuckle boom cranes, truck mounted telescopic cranes, all terrain cranes, aerial working platforms and skid-steer loaders, said, "This market depends on the political situation. We still have some problems, but I think that from this moment, things will be better."
"I see it when customers have come to visit us. And there are some very big projects here, especially in Istanbul, but in ever city in Turkey we are seeing more construction."
Another Turkish company, MTB, which manufactures hydraulic breakers, was at the show, and Dinçer Alkan, the firm's Vice Chairman, echoed the sentiments of other exhibitors, saying, when he said how useful shows such as Komatek were to them. He said, "New and existing customers use it to come and have discussions with us. We are strong in the market, but we need to introduce our new products and extend our brand.
"Also, for example, we are constructing a new factory, north of Istanbul, which will allow us to double our productivity. These are things we need to talk about."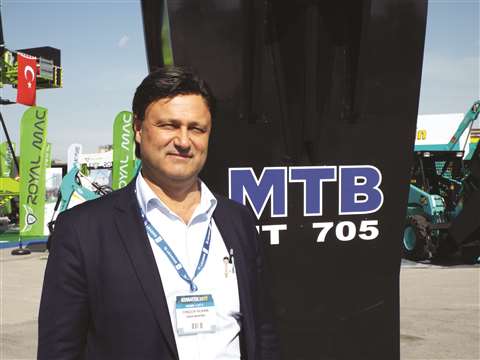 With Komatek being the biggest show in Turkey, one might think booking stands is a simple matter of making phone calls.
To the show's General Manager, Levant Baykal, it's not that simple. He said, "We had a number of problems coming up to the exhibition, But once we get to Ankara, there are always in the region of 30,000 to 35,000 people – nothing has changed there.
"The real problem for us was the exhibitor participation, with some very large companies not participating. We were worried that there would be a domino effect and others would follow, but that hasn't happened, largely because of the support we have from IMDER [Turkey Construction Machinery Manufacturers and Distributors Association].
"I think we have around 90% of the attendance we had in 2015, and I believe we have done as well as we could do – and we are the best achieving exhibition in Turkey. This year, there are a lot of foreign nationals coming here, which is good. This is probably the first time they have come here, and they are certainly interested in what's going on."