Tognum takes Rolls-Royce name
By Sandy Guthrie09 January 2014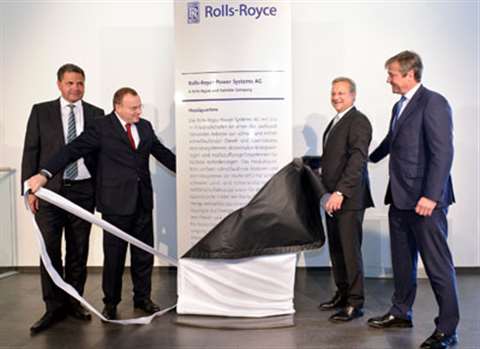 Rolls-Royce Power Systems is to be the new name for Tognum – whose main product is the MTU brand of engines – in a change that will take place immediately.
Since March 2013, the specialist manufacturer of large engines, propulsion systems and distributed energy systems has been a wholly-owned subsidiary of Rolls-Royce and Daimler, each with a 50% shareholding through a joint venture.
The group, for whom MTU Friedrichshafen is described as a core company, has been consolidated in the Rolls-Royce Group's results since the beginning of 2013.
The company said its regional divisions would also operate under new names with immediate effect. Tognum America, which is based in Novi, Michigan, US, will now operate as MTU America. Tognum Asia, which is based in Singapore, will operate under a new name of MTU Asia.
Dr Ulrich Dohle, who has been chairman of the executive board and CEO of the company since July 2013, said, "The new name Rolls-Royce Power Systems reflects the close industrial ties to Rolls-Royce.
"At the same time, our owners Rolls-Royce and Daimler have clearly affirmed their commitment to our traditional brands of MTU, MTU Onsite Energy and L'Orange."
The product portfolio includes MTU brand high-speed engines and propulsion systems for heavy land, rail and defence vehicles, and ships, as well as for the oil and gas industry.
Under the MTU Onsite Energy brand, the company markets diesel gensets for emergency, base load and peak load applications, in addition to cogeneration plants for the generation of combined heat and power based on gas engines or gas turbines.
The Norwegian subsidiary Bergen Engines manufactures medium-speed engines for marine and power generation applications, while L'Orange produces fuel injection systems for large engines.